Gallery
Gallery: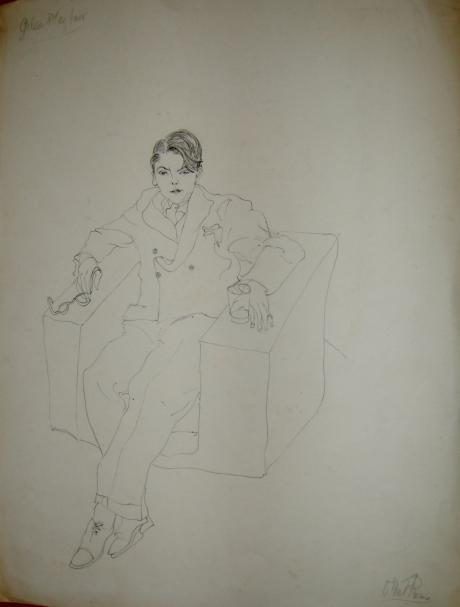 Oriel Ross, 1907-1994
Portrait of Giles William Playfair 1910-1996
Signed/Inscribed:
" Giles Playfair/Oriel Ross"
pen and black ink
34 x 24 cm 13.1/4 x 9.3/4 in.
Notes
Giles William Playfair (1910-1996); English author; son of English actor and theatre manager, Sir Nigel Ross Playfair (1874-1934).  Educated at Oxford, he became a professor and author; one of his most notable works was "Keane: Paradoxical Genius," his biography of actor Edmund Keane. He was also a critic of the death penalty and a campaigner for prison reform, and he wrote several works about these views. He was the husband of Caroline Rees, his first wife from 1939 to 1952. Ann Chatin Playfair was his second wife. Giles Playfair's biography of English tragedian, Edmund Kean (1787–1833), Kean: Paradoxical Genius, came out in 1939. Robert N. Green-Armytage (d. 1966); English book collector, publisher, editor, friend of Walter de la Mare. About 1950, the English bookseller, G.F. Sims, was regularly buying books and letters.
Artist biography
Actress. Born Muriel Swinstead, she trained at the Royal College of Music and made her debut on stage at sixteen in Karel Capek's The Insect Play in 1923. In 1928 she appeared as Nature in Diaghilev 's Ballet Ode and then went to New York, where she appeared on Broadway and in revue and cabaret. She returned to London in 1931 and was in work throughout the 1930s and 40s, when she was a member of Lilian Baylis's Old Vic Company. She was married to the 8th Earl Poulett from 1935 to 1941.