Gallery
Gallery: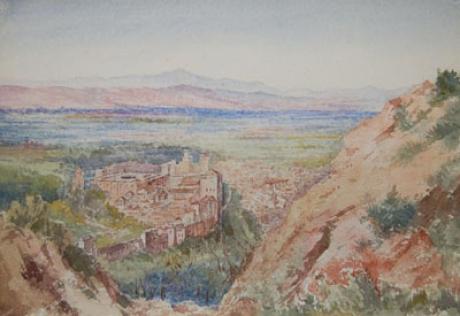 Rev John Louis Petit, 1801 - 1868
The Alhambra, Granada Spain from la Silla del Moro
Alhambra, Granada Spain from la Silla del Moro
pencil and watercolour
19.50 x 28.50 cm. (7.3/4 x 11.1/4 in.
Notes
The Alhambra ( literally "the red one"), the complete form of which was Calat Alhambra is a palace and fortress complex constructed during the mid 14th century by the Moorish rulers of the Emirate of Granada in Al-Andalus, occupying the top of the hill of the Assabica on the southeastern border of the city of Granada, now in the autonomous community of Andalusia, Spain.
The Alhambra's Moorish palaces were built for the last Muslim Emirs (Kings) in Spain and its court, of the Nasrid dynasty. After the Reconquista by the Los Reyes Católicos ("The Catholic Monarchs") in 1492 some portions were used by the Christian rulers. The Palace of Charles V, built by Charles V, Holy Roman Emperor in 1527, was inserted in the Alhambra within the Nasrid fortifications. After being allowed to fall into disrepair for centuries, the Alhambra was "discovered" in the 19th century by European scholars and travelers, with restorations commencing. It is now one of Spain's major tourist attractions, exhibiting the country's most significant and well known Islamic architecture, together with 16th-century and later Christian building and garden interventions. The Alhambra is a UNESCO World Heritage Site.
Completed towards the end of Muslim rule of Spain by Yusuf I (1333–1353) and Muhammed V, Sultan of Granada (1353–1391), the Alhambra is a reflection of the culture of the last centuries of the Moorish rule of Al Andalus, reduced to the Nasrid Emirate of Granada. It is a place where artists and intellectuals had taken refuge as the Reconquista by Spanish Christians won victories over Al Andalus. The Alhambra integrates natural site qualities with constructed structures and gardens, and is a testament to Moorish culture in Spain and the skills of Muslim, Jewish, and Christian artisans, craftsmen, and builders of their era. The first reference to the Qal'at al Hambra was during the battles between the Arabs and the Muladies during the rule of the 'Abdullah ibn Muhammad (r. 888-912). In one particularly fierce and bloody skirmish, the Muladies soundly defeated the Arabs, who were then forced to take shelter in a primitive red castle located in the province of Elvira, presently located in Granada. According to surviving documents from the era, the red castle was quite small, and its walls were not capable of deterring an army intent on conquering. The castle was then largely ignored until the eleventh century, when its ruins were renovated and rebuilt by Samuel ibn Naghrela, vizier to the King Badis of the Zirid Dynasty of Al Andalus, in an attempt to preserve the small Jewish settlement also located on the Sabikah hill. However, evidence from Arab texts indicates that the fortress was easily penetrated and that the actual Alhambra that survives today was built during the Nasrid Dynasty. Emblem of the Catholic Monarchs engraved after the conquest.Ibn Nasr, the founder of the Nasrid Dynasty, was forced to flee to Jaén in order to avoid persecution by King Ferdinand III of Castile and the Reconquista supporters working to end Spain's Moorish rule. After retreating to Granada, Ibn-Nasr took up residence at the Palace of Badis in the Alhambra. A few months later, he embarked on the construction of a new Alhambra fit for the residence of a king. According to an Arab manuscript since published as the Anónimo de Granada y Copenhague.
This year, 1238 Abdallah ibn al-Ahmar climbed to the place called "the Alhambra" inspected it, laid out the foundations of a castle and left someone in charge of its construction…The design included plans for six palaces, five of which were grouped in the northeast quadrant forming a royal quarter, two circuit towers, and numerous bathhouses. During the reign of the Nasrid Dynasty, the Alhambra was transformed into a palatine city complete with an irrigation system composed of acequias for the gardens of the Generalife located outside the fortress. Previously, the old Alhambra structure had been dependent upon rainwater collected from a cistern and from what could be brought up from the Albaicín. The creation of the Sultan's Canal solidified the identity of the Alhambra as a palace-city rather than a defensive and ascetic structure.
The Muslim ruler Muhammad XII of Granada surrendered the Emirate of Granada in 1492 without the Alhambra itself being attacked when the forces of Los Reyes Católicos, King Ferdinand II of Aragon and Queen Isabella I of Castile, took the surrounding territory with an overwhelming force of numbers.
Artist biography
The Rev John Louis Petit (1801–1868), architectural historian and watercolour painter, was born on 31 May 1801 in Ashton under Lyne, Lancashire, the only son of John Hayes Petit (1771–1822), a Church of England clergyman and JP, and his wife, Harriet Astley.
The family was descended from Lewis Petit, also known as Lewis Petit des Etans (1665?–1720), a Huguenot refugee and military engineer. Petit's grandfather was John Lewis Petit (1736–1780), the son of John Petit of Little Aston Hall, Shenstone, Staffordshire. He graduated from Queens' College, Cambridge (BA 1756, MA 1759, and MD 1766), was elected fellow of the College of Physicians in 1767, was Gulstonian lecturer in 1768, and was censor in that year, 1774, and 1777. From 1770 to 1774 he was physician to St George's Hospital, then on the death of Dr Anthony Askew in 1774 he was elected physician to St Bartholomew's Hospital. In November 1769 he married Katherine Laetitia Serces, the daughter of one of the preachers of the French Chapel Royal in London. He died on 27 May 1780 and was buried at St Anne's, Soho. John Louis Petit was educated at Eton College and contributed to The Etonian, then in its heyday. He was elected to a scholarship at Trinity College, Cambridge, in 1822, and graduated BA in 1823 and MA in 1826. On 17 June 1828 he married Louisa Elizabeth, the daughter of George Reid of Trelawny, Jamaica. He had been ordained deacon in 1824 and priest the year after, but it was not until 1840 that he took up his sole church appointment, as curate of Bradfield in Essex, which he held until 1848. By this time he had written and illustrated several works of architectural history, the main occupation of his career.
Petit had shown a taste for sketching in his early years and he made many hundreds of drawings in pencil and ink. These were often finished in watercolour, though in a limited palette. His favourite subject was old buildings, particularly churches, and he spent much time visiting and sketching them. His drawings were rapidly and adeptly executed on the spot, his style in the tradition of English topographical watercolour painters of the previous generation, such as Samuel Prout (1783–1852). Although his works display an instinct for the picturesque setting and the telling viewpoint, his aim was less to produce finished paintings for their own sake than to record historic buildings and architectural details. Many were reproduced in his profusely illustrated books. He occasionally painted in oils. In almost all of these respects he resembles John Ruskin (1819–1900), whose concern for the conservation of old buildings was Petit's too. In 1839 Petit made his first extensive tour on the continent, which informed his Remarks on Church Architecture (1841), part travelogue, part discursive survey of architectural styles since the Roman. Subsequent works provide more detailed analyses of individual buildings, including Tewkesbury Abbey, Sherborne Abbey, and Southwell Minster. Petit's credentials as an antiquary are reflected in his co-founding of the British Archaeological Institute in 1844 and his elections as fellow of the Society of Antiquaries and honorary member of the Institute of British Architects. He lectured to the Oxford society for promoting the study of Gothic architecture, a body which mirrored the Cambridge Camden Society and whose membership similarly took a deep interest in the way churches old and new should be laid out and used. This Oxford connection was fruitful academically for Petit, who was admitted to the university ad eundem in 1850, and personally too, as his sister, Maria, married a classics don, William Jelf (1811–1875), in 1849. Architectural Studies in France, Petit's principal work, appeared in 1854 (new edition 1890). It is a detailed survey of French Gothic, profusely illustrated by Petit and by his companion on the research tour, Philip Delamotte (1820/21–1889), an artist, engraver, and early exponent of photography. Petit does not seem to have used photography for recording buildings; nevertheless, some of the illustrations were reproduced using a new technique, that of anastatic drawing.
Petit's books come from a rich period in England for research, publication, and debate on architectural history. His writing style was accessible and the illustrations attractive, but he lacked the intellectual rigour of others in the field, such as his Cambridge contemporaries William Whewell (1794–1866) and Robert Willis (1800–1875). His judgements could be shaky and, with his genteel admiration of almost anything old, he could elicit harsh reviews at a time when attitudes were hardening in favour of particular styles as models for revival. While he had a taste for the Romanesque, for example, just before it became fashionable as a style for new churches in the 1840s, he did not make himself its champion. He was not a polemicist like A. W. N. Pugin or George Gilbert Scott; besides, he had a distaste for debates that smacked of religious controversy. This was the tendency from the 1840s, particularly in the pages of The Ecclesiologist, the organ of the Cambridge Camden Society.
When Petit did turn his attention to contemporary architectural practice, he encountered spirited opposition. In 1841 Scott's designs for the remodelling of St Mary's, Stafford, were exhibited. This was a church close to Petit's heart (his brother-in-law was a benefactor) and he objected in writing to the proposal for the thoroughgoing redesign of the south transept. He could accept Scott's interventions elsewhere in the building but not so the replacement of Gothic fabric, albeit sixteenth-century. Scott accepted the principle but argued that it could be ignored if the style was 'debased'. Their debate by correspondence was eventually put to a panel of experts from the Cambridge Camden Society and the Oxford society noted above. Scott won and Petit gamely published the papers. As galling was the reception of Petit's only executed architectural design. His sister and brother-in-law moved to Cae'rdeon, near Barmouth, Merioneth, in 1854. Jelf took exception to the fact that most of the services in the Anglican parish church were said in Welsh, so in 1862 he asked his brother-in-law to design him a church, to be built at his own expense, where he could officiate in English. Petit designed him a rugged and muscular church for the mountainous setting. The Ecclesiologist lambasted it in a pithy review, attacking the design on practical grounds (roof pitches too shallow) and on theoretical grounds (pilasters for show, not structural necessity). The critic is clearly exasperated that Petit preferred picturesque effect to the application of formal principles: the alpine-style stone hut is simply not appropriate for an Anglican church on a turnpike road. There may also be a difference of churchmanship here. Petit and Jelf (for all his belligerence on the language issue) had avoided the febrile excesses of the Oxford Movement. Happily, St Philip Cae'rdeon still stands, somewhat altered but recently repaired.
During 1864–5 Petit travelled to Syria, Palestine, and Egypt. He continued to draw and paint avidly. He died in Lichfield on 1 December 1868 from a cold caught or aggravated while out sketching, and was buried in St Michael's churchyard. An exhibition of 339 of his sketches, including two views of the church at Cae'rdeon, was shown by the Architectural Exhibition Society in London during 1869. That year also saw the posthumous publication of a volume of his poetry. Sir Nikolaus Pevsner gives a characteristically pungent account of Petit in his survey of nineteenth-century architectural writers. As an artist, his modest talent was given almost unlimited scope, producing a corpus of architectural impressions which is impressive, if slight as individual works of art. As a critic of contemporary practice, he is probably most significant as a spokesman for tolerance: he valued buildings and styles of many eras and favoured, if not consistently or dogmatically, repair over rebuilding.