Gallery
Gallery: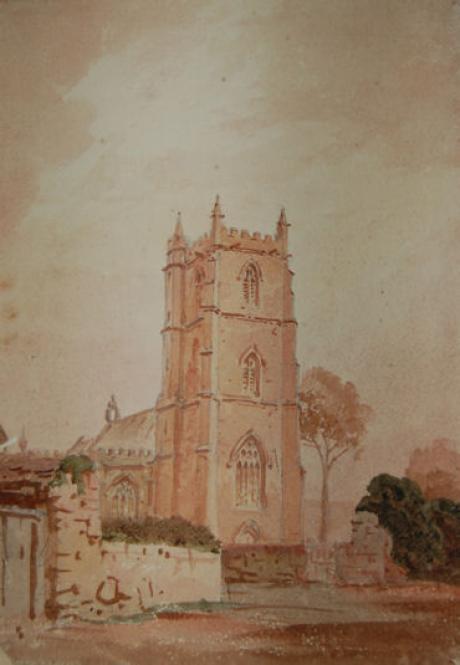 Rev John Louis Petit, 1801 - 1868
All Saints Church Long Ashton, Somersetshire
All Saints Church Long Ashton, Somersetshire
Signed/Inscribed:
inscribed on the reverse
pencil and watercolour
38.10 x 25.40 cm. (15 x 10 in.)
Notes
In 1285 William de LYONS acquired the manor which took his family name. Thomas de Lyons founded the present parish church in about 1380. Richard CHOKE of Stanton Drew, a judge of the Court of Common Pleas purchased the manor in 1454. John SMYTH a rich Bristol merchant bought it in 1545, and eventually acquired the other manors. By 1603, the Smyths had become the principal landowners in the parish. The manor house of Ashton-Lyons, which was altered and added to by successive owners down the centuries, is now Ashton Court. Although the direct male line died out, the name SMYTH was retained. The Smyths were lords of Ashton for four centuries playing a crucial part in parish life until heavy death duties, first after dame Emily's death in 1914 and finally, after the death of the Hon. Mrs. Esme SMYTH on 1946 forced the sale of the estates. The parish church of All Saints dates back to about 1380 and the coat-of-arms of the founder, Thomas de Lyons can still be seen on the outside of the tower above the west window. Although the church was restored in 1871/2 some interesting features remain, such as the tomb of Sir Richard CHOKE, the late medieval rood screen and a Royal Achievement of Arms of Charles II's reign. There are some fine tombs in the churchyard, eighteen of them as being listed as being of historical interest. A Churchyard Trust was set up in 1994 to oversee the maintenance of the monuments. Some relations of Robert SOUTHEY (Poet Laureate 1814-43) are buried near the north porch of the church, although the grave is no longer marked. Southey's mother Margaret was a daughter of Edward HILL, of Long Ashton, who later moved to Bedminster. "The Hills are called gentlemen upon their tombstones in Ashton Churchyard, where my father, two of my brothers, my three sisters and my poor dear cousin Margaret, are deposited with them", wrote SOUTHEY. Parish registers (from 1558) and records are deposited at Somerset Records Office
Artist biography
John Louis Petit was born at Ashton-under-Lyne, Lancashire, son of John Hayes Petit. He was educated at Eton, and contributed to the "Etonian". He was elected to a scholarship at Trinity College Cambridge in 1822, graduated BA in 1823 and MA in 1826, and on 21st June 1850 he was admitted "ad eundem" at Oxford. He took holy orders in 1824, but undertook no parochial work. Petit showed a taste for sketching in early years. His favourite subject was old churches, and a great part of his life was spent in visiting and sketching them. In 1839 he made his first extensive tour of the continent. The results appeared in his "Remarks on Church Architectire" (1841, 2 vols which had illustratuions. It was followed in 1846 by "Remarks on Church Architectural Character" Royal folio format.In the same year Petit published a lecture which he had delivered on 24th Feb 1846 to the Oxford Society for promoting the study of Gothic Architecture, under the title "Remarks on the Principles of Gothic Architecture as applied to ordinary Parish Churches". It was succeeded by "Architectire of Tewksbury Abbey Church". Royal svo 1846. " Architectural notes in the neighbourhood of Cheltenham"and "Remarks on Wimborne Minster", 1847. "Remarks on Southwell Minster". With numerous good illustrations. 1848. "Architectural Notices relating to Churches in Gloucestershire and Susse". 1849. "Architectural Notices of the Curious Church of Gillingham.Norfolk". And an "Account of Sherborne Minster". 1850. In 1852 Petit published an account of Brinkburn Priory". In 1854 appeared Petit's principal work. "Architectural Studies in France", imperial SVO. It was beautifully illustrated with fine woodcuts and facsimiles of anastic drawings by the author and his companion, Professor Delamotte. It showed much learningand observation, and threw light upon the formation of Gothic in France, and on the differences between English and French Gothic. A new edition , revised by Edward Bell, FSA, with introduction, notes and index, appeared in 1890. The text remained unaltered but the illustrations were reduced in size, and a few added from Petit's unused woodcuts. In 1864-65 he travelled in the East and executed some striking drawings. He died in Lichfield on 2 Dec 1868, from a cold caught while sketching and was buried in St Micheal's Churchyard. Petit was the founder of the British Archealogical Institute at Cambridge in 1844. He was also FSA, an honoury member of the Institute of British Architects, and a governor of Christ's hospital.