Gallery
Gallery: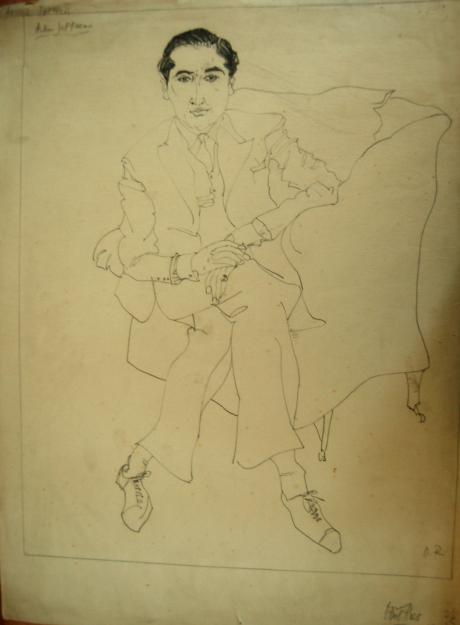 Oriel Ross, 1907-1994
Arthur Tilden Jeffress 1905-1961
Signed/Inscribed:
"Arthur  Jeffress / OR"
pencil pen and black ink
34 x 24 cm 13.1/4 x 9.3/4 in.
Notes
Arthur Tilden Jeffress (born 1905, Brentford, Middlesex; died 1961) was colorful and influential gallery owner, collector, and patron of the arts in post war Britain. In the pre-war years he was one of Britain's Bright Young Things. He died in 1961 and left his art collection to the Tate and Southampton City Art Gallery.Arthur was born on November 21, 1905. He was the second son of Stella and Albert Jeffress. His older brother, Joseph Randolph Jeffress, was born in 1900.
His father was originally from Charlotte, Virginia, USA. Albert Jeffress was in the tobacco business and in 1902 helped to form the British American Tobacco (BAT) company - a joint venture between the UK's Imperial Tobacco and The American Tobacco Company. He became a director of the company at its formation and later become Deputy Chairman. BAT was headquartered in London and Albert moved his family to England so that he could help run the new company. The Jeffress family lived at Kenton Grange, a 27-acre estate in Kenton, Middlesex. Arthur was educated at Harrow and later attended Cambridge. In 1925, Albert unexpectedly died while returning from a business trip to China. He left the majority of his estate to his wife, two sons and his sister, Anita Jeffress Hill of Berkeley, California. The family stayed in England and Kenton Grange remained the family home until well after WW2.
The brothers continued to thrive in pre-war Britain. They were especially interested in the glamorous cars of the day. Randolph became an amateur racer - having a Bugatti and a 1929 Supercharged Alfa Romeo.[6] Arthur appeared to be more interested in the aesthetics of automotive design vs the raw horse power of racing engines. His first car was a Kissel and at the age of 28 he acquired a two-seater Rolls-Royce 20/25 convertible (GGA29). The period between Arthur's Cambridge days and WWII was a very formative and exciting time for him. Three highly influential (and overlapping) aspects of Arthur's experience during this period are:
Exposure to important Art/Artists/Patrons and Beginning a Collection - Arthur was passionate about the arts. By the late 1920s he was already a social member London's artistic circles. He was acquainted with the Sitwells and even participated in Osbert's and Sacheverell's play "First Class Passengers only" at the Arts Theatre in 1927. During this time Osbert and Sachie created an artistic salon at their Carlyle Square, London home. They regularly hosted Britain's leading writers, artists, critics and patrons. André Ostier was one of Arthur's best friends and during this time, and was running in a gallery in Paris. André was another access point to art and the art world as was Henry Clifford – a friend from childhood who would become the head curator of the Philadelphia Museum of Art. By the mid-1930s, mentored by his artistic friends, Arthur started collecting. During this period he purchased de Chirico's The Painters Family, a Picasso and a number of other works.
Being one of London's Bright Young People – The Bright Young People (BYP) were a group of young bohemian artists, aristocrats, and socialites in the 1920/30s. They were dedicated to modernism, the arts and partying. The group was famous for throwing outrageous parties – known as Monster Balls. Arthur was part of this social circle and hosted one of the last great Monster Balls – the Red and White Party.
Maturing of his own Gay Identity. Arthur was gay. During much of the 1930s his boyfriend was John Deakin (who would become an important photographer of Soho in the 1950s and also influenced Arthur's art collecting.) The 1920/30s was a transformative period for gender identity.As one of the queer Bright Young Things he was exposed to many gay role models - from the more staid Osbert Sitwell to the more outlandish Evan Morgan. His personal identity settled into Osbert's more conservative end of the spectrum. But he clearly enjoyed the campiness and flamboyance of the queer BYPs and he kept a small bit of this pre-war flair as part of his persona throughout his life.
The Red & White Party – On November 21, 1931 Arthur hosted the last and one of the most extravagant BYP Monster Balls – The Red and White party. The party was held at the West Wing of Holford House in Regent's Park. It was the home of Maud Allan, the famous dancer and femme fatale and was one of the grandest addresses in London.[17] Many aspects of Arthur's pre-war self can be seen in the Red & White Party. By this point Arthur was well connected to London's young elite social set. 250 invites went out– although nearly 400 people attended. The decor of the party was an over-the-top design success. Guests were requested to dress in only Red and White costumes – and they came in beautiful outfits including red and white sailor suits, white nun habits, all white evening dress, white sashes, red wigs and long white gloves.The rooms were all extravagantly decorated in red velvet and white silk. Even the food and drinks were red (red caviar, lobsters, salmon and white (champagne, wine, and gin.) Arthur's colorful personality had emerged. He greeted guests wearing a sailor suit made of white angel-skin with red trimmings, a ruby necklace, two diamond clips and a spray of white star orchids. A man dressed as Queen Elizabeth sat in the hall playing Abide with me on the organ. People danced until dawn. It was a grand success but as the party ended so did the period of the Bright Young Things. The depression had arrived and war was on the horizon. Throughout the rest of Arthur's life he would make good use of connections, sense of design and personal flair developed during his Bright Young Thing days.Arthur's war years are excellently summarized on Maurice Bottomley's blog Cocktails with Elvira, which recounts:
"Jeffress volunteered for the American Field Service as an ambulance driver. This was prior to America's entry into the war and in April 1941 he found himself on the Zamzam, bound for Egypt. The bulk of the passengers were American missionaries heading for Africa. On April the 17th the Zamzam was shelled by the German ship Atlantis (a mistake, apparently). The ship went down, the survivors were captured and a major diplomatic incident ensued. There is a website that tells the tale in some detail ( http://zamzamship.net/ ). Some of the passengers spent the rest of the war in internment, but Jeffress managed to negotiate his way to freedom and was able to take up his duties and become part of the North Africa campaign. He became part of the North Africa campaign, rose in rank from Second Lieutenant to Captain, and moved through Egypt into Libya and thence to his beloved Italy, where he was at the forefront of the Allied advance. Though a non-combatant, his was a vital and active role. He also maintained his reputation as a provider of fun by being involved with the AFS entertainment committee. He wrote and directed a musical comedy, for which the cast list survives." After the war, Arthur returned to Britain with new energy to continue exploring his passion for art.
Hanover Gallery – In 1947 Erica Brausen and Arthur opened the Hanover Gallery at 32A St George Street just of Hanover Square, London. Erica had been working at other galleries including the Redfern Gallery, had a keen artistic eye and knew the gallery business. She and Arthur shared a passion for art, were both homosexual and were each eager to establish their own gallery. Erica ran the business, Arthur provided the financial support and his social connections to potential customers, and they both collaborated on its artistic focus. Francis Bacon was one of their earliest artists and they gave him his first solo exhibition in 1949.Other artists included Graham Sutherland, Lucien Freud and many others. In 1953 Erica and Arthur decided to part ways. Arthur opened his own gallery. Erica continued to run the Hanover gallery to great acclaim, with close links to Bacon; it remained open until 1973. The Hanover Gallery over its life is remembered as being "one of the most diverse and interesting galleries in Europe."
Arthur Jeffress (Pictures) – In 1954 Arthur Jeffress (Pictures) opened at 28 Davies Street, London.Arthur convinced Robert Melville to join him from the Hanover Gallery to run his new gallery. Unlike the Hanover Gallery, Arthur Jeffress (Pictures) did not represent individual artists. Arthur would buy paintings he and Robert liked from artists, other galleries and auctions, then curate them into shows and sell them. This approach allowed the gallery to show a broad range of works – the unifying artistic theme was Arthur's and Robert's taste. Peyton Skipwith, described the Gallery as "specifically appeal(ing) to the more esoteric connoisseur… exquisite for the exquisites." Arthur was masterful at marketing his gallery. Like his friend Bunny Roger,he leveraged his extensive social network and his personal flair to brand / promote his business. Arthur and his gallery were one of the most colorful figures/institutions in the London Art scene during this period.
Personal Art Collection - By the late 1950s Arthur had an art collection of hundreds of works – although he did not think of himself as a collector. His approach to collecting was unlike most collectors (such as his friend and fellow collector, Peggy Guggenheim,) Arthur's collection was constantly changing. At various times it included works by works by Chagall, Delacroix, Delft, Delvaux, Lucian Freud, Modigliani, Matisse, Picasso, Pollock, Rouault, Rousseau, Simbari, Soutine, Sutherland, Weenix, and many others.Arthur took his own life on September 21, 1961 while staying in at the Hotel France et Choiseul in Paris. The reasons why are not known.
Some have speculated that it was due to an incident in Venice. Arthur had a home in Venice, where he stayed for a few months each year. There he owned a gondola and employed a couple of handsome, young gondoliers to ferry him around. One night at a grand Venetian dinner party, the Duchess of Windsor asked if Arthur would take her back in his gondola. This was a great honor for Arthur, but unfortunately his gondoliers had gone off "carousing." Arthur was furious and shortly after fired the gondoliers - who in turn, it is alleged, went to the police and denounced Arthur as a homosexual. At the time the homophobic Venetian authorities were trying to purge the city of foreign homosexuals. Arthur left for Paris. Many speculate that, heartbroken at being outed as a homosexual and exiled from Venice, Arthur took his life.
This theory – that this one event would cause Arthur to take his life - is a bit simplistic. Indeed, in a November 3, 1961 letter between his friends, Truman Capote and Cecil Beaton, Truman expresses bewilderment as to the cause of their friend's death and does not even raise the Venice incident as a potential reason. His friend Robert Melville knew Arthur well and simply stated that "Arthur…came finally to the point of wondering whether the world wanted him or not." Arthur was generous in life and in death. He left his art and money to communities he cared about.
• Tate received two works: the portrait of Emile Bernard by Toulouse Lautrec and André Bauchant's Funeral Procession of Alexander the Great.
• Southampton City Art Gallery received 99 works includes works by Lucian Freud, Graham Sutherland, Walter Sickert, David Roberts, Paul Delvaux and many others.
• And with a final camp wink – Arthur left a substantial sum of money to the welfare of "male naval ratings and merchant seamen".
WIKIPEDIA
Artist biography
Actress. Born Muriel Swinstead, she trained at the Royal College of Music and made her debut on stage at sixteen in Karel Capek's The Insect Play in 1923. In 1928 she appeared as Nature in Diaghilev 's Ballet Ode and then went to New York, where she appeared on Broadway and in revue and cabaret. She returned to London in 1931 and was in work throughout the 1930s and 40s, when she was a member of Lilian Baylis's Old Vic Company. She was married to the 8th Earl Poulett from 1935 to 1941.