Gallery
Gallery: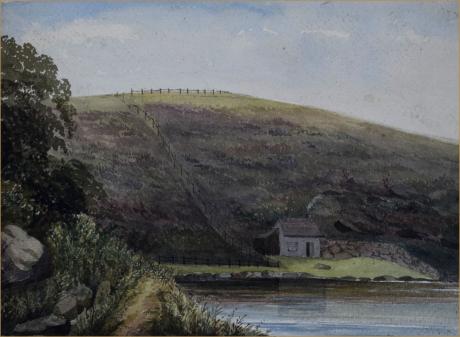 M. L. P, 19th Century
Bothy on the Lake , Sandyford Sike, Unthank, August 23rd 1878
Signed/Inscribed:
inscribed and dated in the margin " From the Lake Unthank August 23rd 1878"
pencil and watercolour
22.50 x 31 cm.
Notes
The Sandyford Sike is a watercourse in Northumberland , England . It emerges north of the Hard Rigg and flows north to its mouth in the Whitewalls Burn .
Unthank Hall is a Grade II listed property now serving as commercial offices, situated on the southern bank of the River South Tyne east of Plenmeller, near Haltwhistle, Northumberland. In the 16th century the manor was owned by the Ridley family and it is possible that Bishop Nicholas Ridley was born there. The house, which was built in the 16th century, incorporating an ancient pele tower, was substantially remodelled and extended in 1815. The Hall came into the ownership of the Dixon family and then by marriage to the Browns. Dixon Brown (1776–1852) changed his name in 1825 to Dixon Dixon, and his nephew Rev Dixon Dixon Brown rebuilt the Hall between 1862 and 1865. The house was substantially remodelled in 1815 and again in 1865 in a neo-Tudor style, both times by Newcastle architect John Dobson. Much of the 1865 house has since between demolished by further alterations in 1900 and a significant reduction in size in 1965.
House. C16 and C17 with early and later C18 alterations. Sandstone rubble with ashlar dressings and millstone grit quoins; roof of graduated stone flags with stone gable copings and ashlar and brick chimneys. L-plan. Main front: 2 storeys, 3 bays, with central 2-storey porch under continuous roof, and one- storey, one-bay right extension. Partly-flushed door with flat-stone-mullioned 2-light overlight in cyma-moulded square-headed surround, its outer edges quirked, under cyma-moulded cornice. Single light, in recessed chamfered surround,to left of door. Shorter recessed panels to left of window and to right of door. Similar panels flank 5-light stone-mullioned first-floor window, with recessed chamfers and narrow flat fronts to splayed mullions. Similar surrounds to ground-floor left horizontal sliding sash and first-floor right window with one mullion removed. Other windows 12-pane and renewed 24-pane sashes in plain stone surrounds. Corbelled chimney from first floor level in inner right return of porch. Low blocked door at right has chamfered square- headed surround. Right extension has plain stone surround to boarded door; small fixed light at left. Porch and end chimneys have corniced stacks with truncated round brick flues. Flattened ends to left gable coping. Massive stepped stack, at rear of front block on junction with rear wing, has 3 square ashlar flues.
Left return has sashes with glazing bars; partly-blocked 3-light stone-mullioned attic window under label mould. Lower and earlier rear wing is quoined. Rear courtyard has flat-Tudor-arched surround to door of front range; blind framed panel above. Rectangular stair turret on rear wing has door with flat-Tudor- arched surround; wide-chamfered Tudor-arched surround to door of wing; small square window above and left has iron bar and rail in chamfered surround, mainly hollow chamfers. Plain stone surrounds to sashes with broad glazing bars.
Interior: massive Tudor-arched fireplace in left front room; through-passage, with chamfer on frontside of door to stair turret. Rear wing has early C18 panelled room with shell-canopied cupboard. Much other panelling, both fielded and plank-and-muntin, as screens on first floor. Massive beams with stone corbels on right end only, in rear wing. Stone winder stair through semi- circle; moulded plank balustrade on landing. Many 2-panelled doors with pegged latches.
The name Haltwhistle has nothing to do with a railway stop. Early forms of the name are Hautwesel (1240), Hautwysel (1254), Hawtewysill (1279), Hautwysell (1381), Haltwesell (Speede 1610). The second part -twistle relates to two streams or rivers. It derives from two Old English words twicce or twise, 'twice', 'division into two' and wella, 'stream, brook'. The second word is reduced in the compound word to ull, making twicculla, twisella. All but one of the examples in place names represent a high tongue of land between two streams where they join.[4]
The first part is probably derived from Old English heafod, here 'hill-top', in general, 'head', 'headland', 'summit', 'upper end' or 'source of a stream'. If so, it describes the hill-top on which Holy Cross Church and the oldest part of Haltwhistle was built, enclosed on the north-east and west by Haltwhistle Burn and on the south by the South Tyne. Rowland suggests Hal from 'hill'[2] An suggestion is French haut-, meaning 'high', since the settlement already existed long before the Norman Conquest.
Haltwhistle was probably in existence in Roman times, as it is one of the closest approaches of the River South Tyne in its upland reaches to Hadrian's Wall.[citation needed] The old Roman road or Stanegate passes just two miles to the north of the town.
The development of the town stemmed from its position on the main Newcastle to Carlisle road and on the Newcastle and Carlisle Railway line. Celia Fiennes did not entirely enjoy her visit in the 1690s: "This Hartwhistle is a Little town, there was one Inn but they had noe hay nor would get none, and when my servants had got some Else where they were angry and would not Entertaine me, so I was forced to take up in a poor Cottage wch was open to ye Thatch and no partitions but hurdles plaistered. Indeed ye Loft as they Called it wch was over the other roomes was shelter'd but wth a hurdle; here I was fforced to take up my abode and ye Landlady brought me out her best sheetes wch serv'd to secure my own sheetes from her dirty blanckets, and Indeed I had her fine sheete to spread over ye top of the Clothes; but noe sleepe Could I get, they burning turff and their Chimneys are sort of fflews or open tunnills, yt ye smoake does annoy the roomes. This is but 12 miles from another part of Scotland, the houses are but a Little better built, its true the inside of them are kept a Little better."
The expansion of Haltwhistle in the 18th and 19th centuries was due to coal mining in the area and to a lesser extent the use of Haltwhistle as a loading point for metal ores coming from the mines on Alston Moor. In 1836 while some workmen were quarrying stone for the Directors of the Newcastle and Carlisle Railway, on the top of Barcombe, a high hill in the township of Thorngrafton and Parish of Haltwhistle, one of them found a copper vessel containing 63 coins, 3 of them gold and 60 copper. The gold coins were, one of Claudius Caesar, reverse Nero Claudius Drusus Germanicus; one of Nero and one of Vespasian. The find is known as the Thorngrafton Hoard and the empty arm-purse can still be seen in the museum at Chesters Fort.
More recently, paint manufacture became a major commercial force in the town, but has now stopped major production. Current local employers include factories making plastic bottles and de-icing products. In the 21st century, the tourist industry dominates the economy with Hadrian's Wall and walking and rambling counting among the principal interests of tourists.
Haltwhistle lies within the now unitary Northumberland County Council and was up until April 2009 part of Tynedale district. It maintains an active Town Council which has succeeded in making a number of local improvements including the establishment in 1975 of a heated outdoor swimming pool complex which is very popular during the summer months. It is believed that Haltwhistle may be one of the smallest towns to have made such a provision in Great Britain.
Haltwhistle was a market town for the exchange of local goods. In the 18th century two Quakers set up a baize manufactury and there was a weaving establishment. On the Haltwhistle Burn were fulling mills, dyeing and spinning mills. A walk along this stream to the Roman Wall, shows that it must have been a hive of industry with quarries, coal mining and lime burning kilns. The Directory of 1822 (Pigot) gives a whole range of craftsmen, shopkeepers and traders—60 in number, including makers of clogs. The weekly market was held on Thursdays and there were fairs on 14 May and 22 November for cattle and sheep.
Hadrian's Wall to the north of the town is used as a major selling point for the town. The section of the wall closest to Haltwhistle is among the most spectacular and complete, with the wall striding eastwards from the lake at Crag Lough along the spine of the Whin Sill.
The remains of Haltwhistle Castle and the series of Bastles, and Haltwhistle Tower. Haltwhistle also claims to be at the geographic centre of Britain – equidistant from the sea as measured along the principal points of the compass. A hotel in the centre of Haltwhistle is named the Centre of Britain Hotel in recognition of this claim. The claim is rather tenuous as it requires that the northern extremity is taken to be Orkney rather than Shetland. Depending on how the centre of the island is calculated, however, the centre can be said to be Dunsop Bridge in Lancashire. See centre points of the United Kingdom.
There are many historic properties nearby, including Featherstone Castle, Blenkinsop Castle, Unthank Hall, Bellister Castle, Coanwood Friends Meeting House, and Thirlwall Castle. Haltwhistle Viaduct lies to the south of the railway station and was the first major feature on the Alston Line to Alston, Cumbria.
The town is served by Haltwhistle railway station on the Newcastle and Carlisle Railway, also known as the Tyne Valley Line. The line was opened in 1838, and links the city of Newcastle upon Tyne in Tyne and Wear with Carlisle in Cumbria. The line follows the course of the River Tyne through Northumberland. Passenger services on the Tyne Valley Railway are operated by Northern and Abellio ScotRail. The line is also heavily used for freight. The railway station is on the south side of the town close by the River South Tyne.
Until 1976 the railway station was also the northern terminus of the branch line to Alston, in Cumbria, the line was thirteen miles in length. Part of the southern end of the Haltwhistle to Alston line has been reopened as a two-foot narrow gauge railway, known as the South Tynedale Railway, between Alston and Slaggyford. The trust that owns and operates the railway intends to reopen the entire branch line from Alston to Haltwhistle.
The Church of the Holy Cross is situated below the Market Place, with views over the river and the valley. It is a good example of a North Country church, impressive considering the time when it was built in the thirteenth century. The chancel measures 46 by 20 feet (14.0 by 6.1 m), with lancet windows – combined three lights in the east end and four single lights on each side, the walls being supported by buttresses. Inside is a piscina (for washing) and three sedilia (seats for the clergy). There are a number of medieval grave covers to Blenkinsopps and Thirlwells. The nave measures 63 by 46 feet (19 by 14 m) and has side aisles above which are clerestory windows. It has four bays with round columns and pointed arches, looking very spacious inside. The font, dated 1676, has some curious crude carvings on it, and there is another large circular bowl on a shaft, which is probably an earlier font. At the west end it has long lancet windows and a bell-cote, again typical of the North country.
Nearby, the village of Coanwood houses a small but historic chapel, designated as Grade II* by English Heritage. Coanwood Friends Meeting House was a Quaker place of worship and is maintained to this day as a historical site open to visitors.