Gallery
Gallery: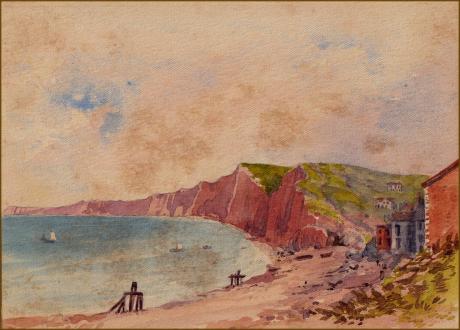 E.T. L., 19th Century
Budleigh Salterton East Devon, from the Beach 1896
Signed/Inscribed:
inscribed and dated on the mount "Budleigh Salterton 1896"
pencil and watercolour
12.50 x 17 cm.
Notes
Budleigh Salterton is a small town on the coast in East Devon, England, 15 miles (24 km) south-east of Exeter. It lies within the East Devon Area of Outstanding Natural Beauty,[1] and forms much of the electoral ward of Budleigh, whose ward population at the 2011 census was 5,967.Budleigh Salterton lies at the mouth of the River Otter, where the estuary forms an area of reed bed and grazing marsh. This forms an important haven for migratory birds and a Site of Special Scientific Interest for those interested in bird watching.  Budleigh Salterton lies on the South West Coast Path, with clifftop routes eastwards to Sidmouth and westwards to Exmouth. The pebble beach and cliffs are part of the Jurassic Coast World Heritage site.
Fairlynch Museum is housed in a listed, thatched marine cottage orné dating from 1811. It covers the history and geology of the region, and opened in 1967, offering exhibitions and a local archive. It possesses a large collection of period costumes. The town has a male-voice choir, which performs for charity.
The Church of England in Budleigh Salterton originally took the form a chapel of ease under the parish of All Saints, East Budleigh. As the population grew, this was replaced in the 1890s by what became the Parish Church of St Peter in 1901. The church was heavily damaged by enemy aircraft bombing on 17 April 1942, but reopened in 1953. Today the Raleigh Mission Community at St Peter's, Budleigh Salterton, and All Saints, East Budleigh, are part of a joint mission with St Michael's, Otterton.

The Roman Catholic Church is also dedicated to St Peter. The Temple Methodist Church was completed in 1904 to replace a smaller chapel dating from 1812, which had been built by the bookseller James Lackington, an associate of John Wesley. There is a Baptist church in the town, whose congregation dates back to 1843.

Notable residents