Gallery
Gallery: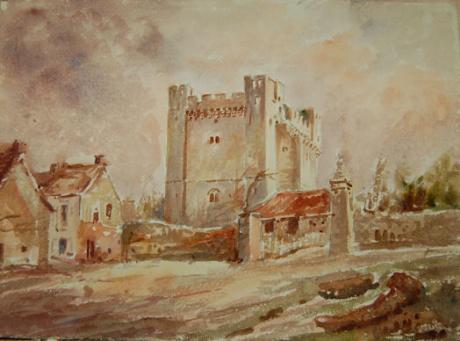 Rev John Louis Petit, 1801 - 1868
Chambois Castle Keep, Chambois, Normandy
Chambois Castle Keep, Chambois, Normandy
Signed/Inscribed:
"Chambois 19 dec 1868"
pencil and watercolour
27.94 x 38.10 cm. (11 x 15 in.)
Notes
The keep (donjon) of Chambois Castle is located in Normandy and is a classic Norman style stone keep. It was built in the second half of the 12th Century when the kings of England were still lords of Normandy.The donjon is a rectangular building with square buttress-like towers at the corners. The entrance to the keep is on the second level and was reached by a wooden staircase. The machicolated parapets were probably added in the 15th Century. The Donjon of Chambois is a small castle, or keep located on the road from Exmes to Falaise. It was built in the second part of 12th century,by William de Mandeville, vassal of Henri Plantagenêt.The height of the rectangular structure is about 26 metres. It was framed by an extension in the southeast angle and by rectangular turrets in every corner. The central volume contained three levels of rooms, each of them with windows, a chimney and, in the angled turrets, annexes. These arrangements illustrated the residential function of the Donjon.
Chambois was the scene of one of the bitterest battles of the Normandy campaign, in August 1944, which was also known as the Falaise pocket or the Falaise gap. Here, the 90th Infantry Division (United States) finally met 10th Dragoons from 1st Armoured Division (Poland)(Polish 1 Dywizja Pancerna) in the evening of 19 August 1944.
For two days, Poles and Americans defended the town against continuous assaults launched by overwhelming enemy forces (mostly remnants of the German 7th Army), taking thousands of prisoners. The battle ultimately was ended as Allied air support finally destroyed what was left of the German forces.
The Memorial of Coudehard – Montormel , on the neighboring Hill 262, keeps the memory of the Falaise pocket.
Artist biography
John Louis Petit was born at Ashton-under-Lyne, Lancashire, son of John Hayes Petit. He was educated at Eton, and contributed to the "Etonian". He was elected to a scholarship at Trinity College Cambridge in 1822, graduated BA in 1823 and MA in 1826, and on 21st June 1850 he was admitted "ad eundem" at Oxford. He took holy orders in 1824, but undertook no parochial work. Petit showed a taste for sketching in early years. His favourite subject was old churches, and a great part of his life was spent in visiting and sketching them. In 1839 he made his first extensive tour of the continent. The results appeared in his "Remarks on Church Architectire" (1841, 2 vols which had illustratuions. It was followed in 1846 by "Remarks on Church Architectural Character" Royal folio format.In the same year Petit published a lecture which he had delivered on 24th Feb 1846 to the Oxford Society for promoting the study of Gothic Architecture, under the title "Remarks on the Principles of Gothic Architecture as applied to ordinary Parish Churches". It was succeeded by "Architectire of Tewksbury Abbey Church". Royal svo 1846. " Architectural notes in the neighbourhood of Cheltenham"and "Remarks on Wimborne Minster", 1847. "Remarks on Southwell Minster". With numerous good illustrations. 1848. "Architectural Notices relating to Churches in Gloucestershire and Susse". 1849. "Architectural Notices of the Curious Church of Gillingham.Norfolk". And an "Account of Sherborne Minster". 1850. In 1852 Petit published an account of Brinkburn Priory". In 1854 appeared Petit's principal work. "Architectural Studies in France", imperial SVO. It was beautifully illustrated with fine woodcuts and facsimiles of anastic drawings by the author and his companion, Professor Delamotte. It showed much learningand observation, and threw light upon the formation of Gothic in France, and on the differences between English and French Gothic. A new edition , revised by Edward Bell, FSA, with introduction, notes and index, appeared in 1890. The text remained unaltered but the illustrations were reduced in size, and a few added from Petit's unused woodcuts. In 1864-65 he travelled in the East and executed some striking drawings. He died in Lichfield on 2 Dec 1868, from a cold caught while sketching and was buried in St Micheal's Churchyard. Petit was the founder of the British Archealogical Institute at Cambridge in 1844. He was also FSA, an honoury member of the Institute of British Architects, and a governor of Christ's hospital.