Gallery
Gallery: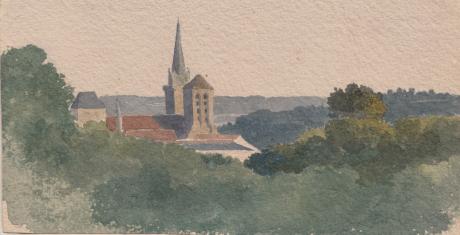 Attributed Thomas Shotter Boys, 1803–1874
A Church , Coutances, France
A Church , Coutances, France
pencil and watercolour
10 x 19 cm. (4 x 7.3/4in.)
Notes
Capital of the Unelli, a Gaulish tribe, the town was given the name of Constantia in 298 during the reign of Roman emperor Constantius Chlorus. The surrounding region, called in Latin the pagus Constantinus subsequently became known as the Cotentin Peninsula.
The town was destroyed by invading Normans in 866, who later established settlements and incorporated the whole peninsula into the Duchy of Normandy in 933. On July 17, 1944, during World War II, the city was bombed during the Allied offensive against the occupying Germans.Coutances Cathedral is one of the major buildings of Norman architecture and contains a chapel and stained glass dedicated to Saint Marcouf. The bishop of Coutances exercised ecclesiastical jurisdiction over the Channel Islands until the Reformation, despite the secular division of Normandy in 1204. The final rupture occurred definitively in 1569. Coutances houses a well-known botanical garden and an art museum.
Artist biography
Boys was born at Pentonville, London, on 2 January 1803. He was articled to the engraver George Cooke. When his apprenticeship came to an end he went to Paris where he met and came under the influence of Richard Parkes Bonington, who persuaded him to abandon engraving for painting. Some sources describe him as a pupil of Bonington, although William Callow, who later shared a studio with him in Paris, disputed this.

He exhibited at the Royal Academy for the first time in 1824, and in Paris in 1827. In 1830 he went to Brussels, but returned to England on the outbreak of the revolution there. Paying another visit to Paris, he remained there until 1837, and then returned to England in order to lithograph the works of David Roberts and Clarkson Stanfield.

His most important work, Picturesque Architecture in Paris, Ghent, Antwerp, Rouen, etc., a collection of colour lithographs, appeared in 1839, attracting a great deal of admiration.Drawn on the stone by Boys and printed by Charles Joseph Hullmandel, it was described in a review in the Polytechnic Journal as "the first successful effort in chroma-lithography  hitherto brought to perfection". King Louis-Philippe sent the artist a ring in recognition of its merits. He also published Original Views of London as it is, drawn and lithographed by himself, (London, 1843). He drew the illustrations to Blackie's History of England, and etched some plates for John Ruskin's Stones of Venice.

Boys was a member of the Institute of Painters in Water Colours, and of several foreign artistic societies. He died in 1874.