Gallery
Gallery: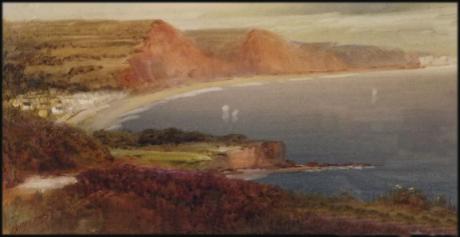 John Shapland, 1865-1929
The Coast at Sidmouth from Peak Hill, looking East on to Jacobs Ladder Beach and on to Beer Head
The Coast at Sidmouth from Peak Hill, looking East
Signed/Inscribed:
"John Shapland"
pencil and watercolour
10 x 14 in. (26 x 36 cm.)
Exhibited
Elands art Gallery, Exeter, 1924
Notes
Sidmouth appeared in the Domesday Book as Sedemuda. Like many such settlements, it was originally a fishing village. Although attempts have been made to construct a harbour, none has succeeded. A lack of shelter in the bay prevented growth as a port. Sidmouth remained a village until the fashion for coastal resorts grew in the Georgian and Victorian periods of the 18th and 19th centuries. The numerous fine Georgian and Regency villas and mansions are now mostly hotels.In 1819, George III's son Edward, Duke of Kent, his wife, and baby daughter (the future Queen Victoria) came to stay at Woolbrook Glen for a few weeks. In less than a month he had died from an illness. The house later became the Royal Glen Hotel; a plaque on an exterior wall records the visit.In 1874, Sidmouth was connected to the railway network by a branch line from Sidmouth Junction. This was dismantled in 1967 as a result of the Beeching Axe. In 2008, Canadian millionaire, Keith Owen, who had vacationed in the town and planned to retire there, bequeathed the community's civic society, Sid Vale Association, about £2.3 million upon learning that he had only weeks to live due to lung cancer. The bequest is to be used as a capital fund to generate an annual interest dividend of around £120,000 for community projects.
Artist biography
Shapland was a pupil of James Bruce Birkmyer's at Exeter School of Art. He was  born in Dawlish but lived in Exeter for most of his life . He succeeded Birkmyer as principal of Exeter art school in 1899; a position he held until 1913. He was a painter of seascapes and landscapes mainly in watercolour but occasionally in oil and exhibited at the Royal Academy, Paris Salon, and in the USA. In 1894 he spent a year studying watercolour painting at Exmouth Art School under Charles E Georges. Two of his exhibits at the RA were entitled 'Fairy Led' and 'Paradise Lost'. His compositions are loose' and his colouring is reminiscent of the continental style. His home address is listed as 8, Topsham Road, Exeter. He was at one time in business with the well known Devon artist W. H. Sweet. Exhibited 5  RA, 1  RI, 2  L, 1  NG, 1  FIN.