Gallery
Gallery: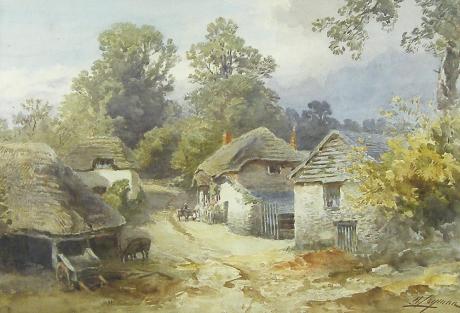 Alfred Leyman, 1856 - 1933
Cockington Forge, Torquay, Devon
Cockington Forge, Torquay, Devon
pencil and watercolour
38.10 x 53.34 cm. (15 x 21 in.)
Notes
In the centre of Cockington amongst the pretty thatched cottages stands Cockington Forge. This is one of the most photographed buildings in the country, and dates from the 14th century. In fact, the oldest postcard featuring the village was of the Forge taken in the 1890's. The village was probably founded 2,500 years ago during the Iron Age with evidence of two hill forts on either side of Cockington valley.Little is known about Cockington from that point up until the remains of a small Saxon village were found near the Drum Inn. The evidence from this village shows that it was primarily a fishing and farming village. The first official documentation of the village was in the 10th century.The manor was owned by Alric the Saxon, before William Hostiarus, William de Falesia and Robert FitzMartin, who passed it down to his son Roger, who renounced his name to become Roger de Cockington. The Cockington family owned Cockington Estate from 1048–1348.The Cary family owned the court from 1375 to 1654. It was then sold to the Mallock family, a family of rich silversmiths from Exeter, who owned it from 1654 to 1932 when they sold the estate to the Torquay Corporation.
Artist biography
 Leyman was born in Summerland Street in Exeter in 1856 and was the son of John Francis Leyman, a seaman in the Merchant Service, an artist and later a photographer, and Mary Ann Leyman. He spent much of his early life in Exeter which is where he later met, and married his wife Kate Gauntlett in 1887.He moved to Honiton in 1888 and became Art Master at Allhallows School in 1893, a post he filled for forty years until 1933. This seems an extraordinary feat based on the evidence of one pupil who said that Leyman 'had no real teaching ability and he would have been happier alone with his easel, and away from the gathering of rowdy boys'.He seldom left Devon, with the exception of short trips to West Dorset and Somerset, to places like Porlock and Lynton. He supplemented his teaching income by painting popular resorts for the visitors and we regularly see Leyman watercolours of The Guildhall in Exeter, The Butterwalk in Dartmouth, Dittisham, cottages in Clovelly and the street in Otterton.In the period Leyman was at his most prolific, Elands Art Gallery in Exeter were showcasing local artist and staged biannual exhibitions, one in April and one in August. In 1906 sixteen Leyman watercolours were shown and one still finds authentic Eland Gallery labels attached to the old backing boards of Leyman watercolours. Elands were in fact more booksellers than art dealers and the business continued until 2006 when the premises at Mol's Coffee House in Exeter were closed for the last time. Alfred Leyman was a Devon born watercolour artist whose works covered many aspects of late 19th century/ early 20th century Devonion rural life. Leyman did not nationally exhibit his work but did show his paintings locally, at the Annual Devon and Exeter Exhibition held at Elands Art Gallery in 1906 he displayed 16 of his pictures. He concentrated on land and seascapes but was known to have drafted portraits as well as many other scenes from Devonian life as well as a few rare examples of scenery from Dorset and Somerset.He and his wife Kate had one child called Mary who was born in Honiton in 1887.Leyman died in Honiton in 1933 aged 76. His daughter Mary never married and continued to live at the family home until her death in 1963