Gallery
Gallery: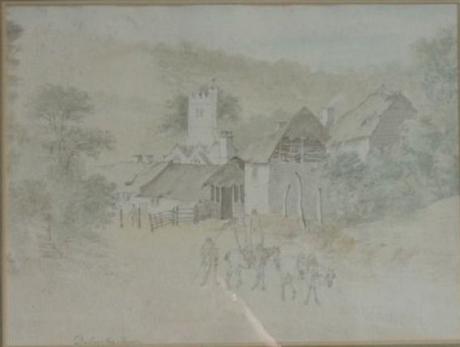 Attributed to John White Abbott, 1763 - 1851
Dulverton, West Somerset
pencil and grey wash
28 x 37 cm. (11 x 14.1/2 in.)
Notes
The name Dulverton was first recorded in 1084 as dieglaford-tun meaning "hidden ford"-tun. The Domesday Book records it as Dolvertune and suggests it was a royal manor before the Norman Conquest.The town lies below the Iron Age hillforts of Oldberry Castle,Mounsey Castle and Brewer's Castle.The manor was granted to the Turbervilles by William I and in the late 12th century they gave the church and some land to Taunton Priory. The remainder of the manor passed to the Shete family. The parish of Dulverton was part of the Williton and Freemanners Hundred. The Middle Ages saw continued growth and the establishment of fairs and markets, with several small industries based upon the traditions of upland farming and the wool trade.These include related works such as laundries; originally used for the washing of sheep fleeces in the leats feeding the wide and fast-flowing River Barle, the surviving 19th-century industrial laundries continue to provide a service to surrounding businesses. The market house in Fore Street, which is believed to date from 1760, was converted into the town hall in 1866, with the porch and external double staircase being added in 1930 by Sir Albert Richardson. The manor was held by the Sydenhams, who had acquired it in 1568, until 1858 when it was sold to the Earl of Carnarvon. Exmoor House was built as the Dulverton Union Workhouse in 1855. It is now the headquarters of the Exmoor National Park Authority. Private housing stock generally ranges from medium-size to substantial Georgian to late Victorian family houses, with a small estate of post-war modern houses and bungalows towards the north of town. 
Artist biography
The work of John White Abbott will remain linked to that of his friend and mentor, Francis Towne. Abbott was born and educated in Exeter and he lived in this area throughout his life, establishing a practise as a surgeon. He studied art under his friend Francis Towne and he assimilated Towne's style so closely that their works are at times almost indistinguishable. Abbott exhibited annually at the Royal Academy between the years 1795 and 1805; his last recorded exhibit being in the Academy show of 1822. Despite introductions to many of the leading artists and patrons of the day, Abbott chose never to become a professional artist, retaining his practise as a surgeon throughout his life. Essentially a landscape artist, Abbott seldom travelled beyond the bounds of his native county of Devon, contenting himself with the local scenery which he portrayed with unceasing freshness and constant vigour. Apart from a number of classical and mythological subjects and some direct copies of Towne's works, almost all of John White Abbott's work depicts topographical scenery in the Exeter region. Although Abbott gained his contemporary reputation as a painter in oils, the vast bulk of his work was executed in watercolour. In particular he mastered Towne's technique of defining natural form with a precise and delicate pen outline developing the effects of light and shade through carefully varied layers of monochrome wash. This pre-disposition towards a grey or sepia monochrome medium was ideally suited to printmaking. Indeed, his earliest dated etchings reflect this natural ability in a monochrome medium, displaying a remarkably practised hand. In view of the skill required to produce the effects of lighting and recession which are apparent in these accomplished works, it is likely Abbott may have made some earlier etchings which are now lost. John White Abbott lived the life of a country gentleman and is said never to have sold a picture – consequently, almost all of his works remained in his family's possession until recent years. The Abbott family collection was reviewed by A.P. Oppé in his leading article entitled John White Abbott of Exeter (1763-1851), published by the Walpole Society in 1925 (vol.XIII, pp.67-84).