Gallery
Gallery: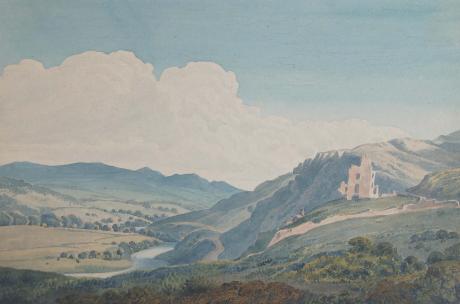 English School 19th, Century
Elibank Castle and Tower overlooking the River Tweed Valley, Selkirkshire Peebleshire
Elibank Castle and Tower overlooking River Tweed
pencil and watercolour
22.86 x 15.24 cm. (9 x 6 in. )
Notes
Elibank Castle: This late 16th century house occupies a commanding position overlooking the River Tweed. It stands on a small plateau enclosed by stone dykes and terraced on all four sides; the hillside on the SW seems to have been excavated to obtain a level surface, while in other directions the ground seems to have been made up. The castle itself comprises an oblong main block measuring externally 69ft 3 ins by 22ft 6 ins; to its E corner is attached a wing about 25ft square. It is all very much dilapidated; apart from its SE gable and the lowest portions of the other walls the wing no longer exists, while the adjoining half of the main block is in a similar condition. What has survived, however, shows that the main block held at least four storeys below its wall-head. Walls extend from either end of the building to form a forecourt, and at the E corner of this, just opposite the wing, there seems to have been a gatehouse. On the E and SE of this gatehouse, if such it was, and of the wing, there are heaps of debris, the last vestiges of two late outbuildings. A ruin built in clay mortar stands about 70 yds W of the castle, separated from it by a deep, rocky hollow which has been extended by quarrying. This building was probably a farmhouse (NT33NE 43). On the slope immediately below the castle, to the NE, there are the remains of a hanging garden and a walled lane, leading to the castle. Elibank was formerly known as Eliburn. In 1511, James IV granted a Crown charter to Catherine Douglas, widow of John Liddale, and their son, also John, of the whole lands and forest stead of Aleburne. In terms of this charter the Liddales were obliged to build upon their property an adequate house of stone and lime, with a hall, chamber, barn, cattle-shed, stable, dovecot, garden, orchards and beehives. The house that they built was certainly not the castle now in ruins. This castle was presumably built by Sir Gideon Murray of Glenpoit, who acquired Elibank from John Liddell in 1594-5. In 1722 the castle was already in ruins.
To the North of Minch moor road in the tweed valley lies Elibank forest and Elibank tower. According to legend Sir Gideon Murray of Elibank had caught Willie Scott o' Harden stealing his cattle. Willie was offered hanging or marriage to Sir Gideon's eldest ugly daughter "Muckle moothed Meg". Willie took one look at the unfortunate Meg and chose hanging, but relented later and married Meg. Had this marriage not taken place then one of the Borders most famous residents would never have existed, Sir Walter Scott of Abbotsford is descended from the couple.