Gallery
Gallery: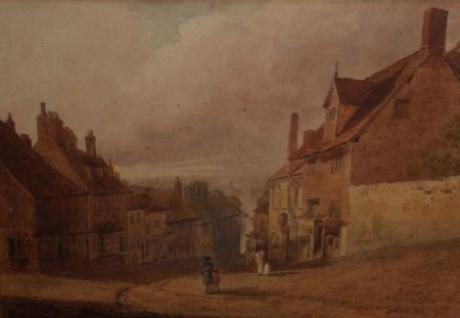 Peter De Wint, 1784 - 1849
Fore Street Exeter, Looking South to St Thomas Church
Fore Street Exeter, Lookin to St Thomas Church
pencil and watercolour
25.40 x 35.56 cm. (10 x 14 in.)
Notes
Exeter is a historic city in Devon, England. It lies within the ceremonial county of Devon, of which it is the county town as well as the home of Devon County Council. Currently the administrative area has the status of a non-metropolitan district, and is therefore under the administration of the County Council. The city is on the River Exe, about 37 miles (60 km) northeast of Plymouth, and 70 miles (110
km) southwest of Bristol. According to the 2011 Census, its population in that year was 117,773. Exeter was the most south-westerly Roman fortified settlement in Britain. Exeter Cathedral, founded in the early 12th century, became Anglican at the time of the 16th century Reformation.Early in the Industrial Revolution, Exeter's industry developed on the basis of locally available agricultural products and, since the city's location on a fast-flowing river gave it ready access to water power, an early industrial site developed on drained marshland to the west of the city, at Exe Island. However when steam power replaced water in the 19th century, Exeter was too far from sources of coal (or iron) to develop further. As a result the city declined in relative importance, and was spared the rapid 19th century development that changed many historic European cities. Extensive canal redevelopments during this period further expanded Exeter's economy, with "vessels of 15 to 16 tons burthen [bringing] up goods and merchandise from Topsham to the City Quay". In 1778 a new bridge across the Exe was opened to replace the old medieval bridge. Built at a cost of £30,000, it had three arches and was built of stone.In 1832, cholera, which had been erupting all across Europe, reached Exeter. The only known documentation of this event was written by Dr Thomas Shapter, one of the medical doctors present during the epidemic.The first railway to arrive in Exeter was the Bristol and Exeter Railway that opened a station at St Davids on the western edge in 1844. The South Devon Railway Company extended the line westwards to Plymouth, opening their own smaller station at St Thomas, near the lower end of Fore Street. A more central railway station, that at Queen Street, was opened by the London and South Western Railway in 1860 when it opened its alternative route to London. Butchers Lloyd Maunder moved to their present base in 1915, to gain better access to the Great Western Railway for transportation of meat products to London.
Artist biography
Peter De Wint was the son of an English physician of Dutch extraction who had come to England from New York. He was born in Stone, Staffordshire. He moved to London in 1802, and was apprenticed to John Raphael Smith, the mezzotint engraver and portrait painter. He bought his freedom from Smith in 1806, on condition that he supplied
18 oil paintings over the following two years.In 1806 he visited Lincoln for the first time, with the painter of historical subjects William Hilton, R.A., whose sister Harriet he married in 1810. De Wint and Hilton lived together in Broad Street, Golden Square, where John Varley lived. Varley gave De Wint lessons and introduced him to Dr Monro, who ran an informal academy for young artists.De Wint first exhibited at the Royal Academy in 1807, and the following year at the Gallery of Associated Artists in Watercolours. In 1809 entered the Royal Academy schools. He was elected an Associate of the Old Watercolour Society in 1810 and was made a full member the following year. By that time, as an established drawing-master, he was spending his summers teaching well-to-do provincial families. In 1812 he became a member of the Society of Painters in Watercolours, where he exhibited for many years, as well as at the Academy.De Wint's life was devoted to art; he painted admirably in oils, and he ranks as one of the chief English watercolorists. "No artist", asserted Alfred William Rich, "ever came nearer painting a perfect picture than did Peter de Wint". He frequently visited his wife's home city of Lincoln, and many of his panoramic landscapes and haymaking scenes are set in Lincolnshire. He occasionally toured in Wales, and in 1828 travelled to Normandy.