Gallery
Gallery: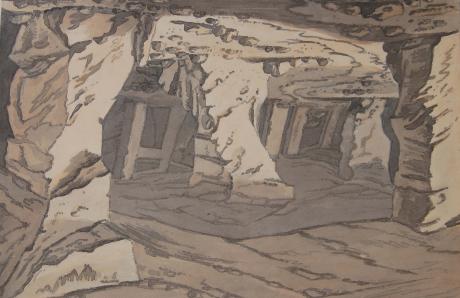 English School 19th, Century
Gilmerton Quarry near Edinburgh
Gilmerton Quarry near Edinburgh
pencil and watercolour
22.86 x 15.24 cm. (9 x 6 in. )
Notes
Gilmerton village existed at least as far back as the 16th Century. Mining of coal and limestone was for centuries the principal economic activity of the village. Gilmerton Cove is an extensive, historic undergound dwelling in the area. Gilmerton is now part of the City of Edinburgh. A close-knit economy, and insistence on independence from outside sources, meant that much of the very early working population was engaged in carting coal, lime and sand to various outlets in Edinburgh. Those who were not engaged underground worked on one of the many farms or on the estates of Drum or Gilmerton.
Although Gilmerton House and its estate on the West Side of the village have long since disappeared, that of Drum, on the East Side, is still very much to the fore. Roy's map, dated 1753, shows the layout of the village very similar to its modem form, with the exception of Newtoft Street, which was first developed as New Street in the last quarter of the nineteenth century.
The village, and its surroundings, may well have developed very differently had a proposal, first made in 1935, come to fruition. In 1934 Edinburgh Town Council (as it was then) acquired seventy-seven acres of ground at Gilmerton, and was in the process of acquiring more land with a view to building a civic airport. The Edinburgh Evening News for 25th April 1935 carried a report and plan of the intended area, immediately south of the Drum Estate, and bounded by the roads to Dalkeith and Eskbank.
The scheme collapsed under the weight of controversy as a result of which Edinburgh had to wait until 1947 before Turnhouse was extended to include civilian traffic. Today's residents of Gilmerton can, therefore, give a collective sigh of relief that their back gardens do not sit under the flight path to the present Edinburgh Airport. Of all Gilmerton's places of interest there is one which stands out from all the rest. Although it is of national importance, it is hardly known at all by people in many other districts of Edinburgh. Gilmerton Cove lies buried, as it always has been, a hundred yards to the south of Gilmerton Community Centre.