Gallery
Gallery: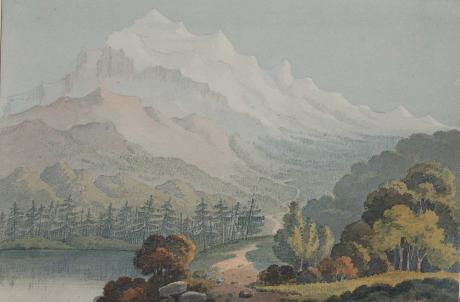 English School 19th, Century
Glen Croe, Helensburgh, Argyll, Scotland
Glen Croe, Helensburgh, Argyll, Scotland
pencil and watercolour
22.86 x 15.24 cm. (9 x 6 in. )
Notes
Glen Croe marks the northern boundary of the Cowal Peninsula. It is bordered by the Cobbler (Ben Arthur) and Ben Donich and ends in the north at The Rest and Be Thankful. Glen Croe (Scottish Gaelic: Gleann a' Chrò) is a glen in the heart of the Arrochar Alps surrounded by large and rugged mountains characterised by huge boulders. Glen Croe is located to the North West of Loch Lomond and Loch Long, the latter of which it drains into. At the head of the glen is the pass leading to Glen Kinglas. The A83 road runs the length of the valley, passing the viewpoint known as Rest-and-be-thankful. Glen Croe is situated entirely within the Argyll Forest Park.
The old road through the glen seen in the photograph is part of the Military Road that ran from Dumbarton to Inveraray. This was built in the 1740s under the supervision of Major William Caulfeild and a stone inscribed Rest & Be Thankful was erected around 1749, after this section road was completed. From 1949 until 1970 motor racing events, including hill climbs and rally stages took place here. The Rest and be Thankful road takes the driver from Loch Lomonside, past the entrance to Argyll at Ardgartan before the road goes into a mini wilderness with Options of reaching the Highland Argyll Coastal Shores of Loch Goil and Loch Fyne.
The mountains on either side are:
Beinn Ìme
Ben Donich
Beinn Luibhean
The Brack
Beinn an Lochain
The Cobbler
The Mountains on Either Side of the Glen also trail to other areas in the Range. Beinn Ime, [Beinn Luibhean]] and The Cobbler join onto Beinn Chorranach, Beinn Narnain, A' Chrois, Ben Vane and Ben Vorlich as these group mountains stand from the North of the Glen up to Loch Lomond. Beinn an Lochain is joined onto a ridge including Stob an Eas, following you to Lochgoilhead and Loch Fyne. Ben Donich and The Brack form the Northern Part of a wild peninsula.