Gallery
Gallery: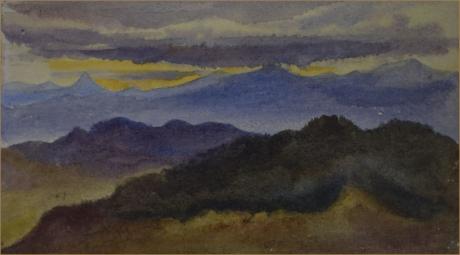 Katherine Euphemia Farrer, 1839-1931
Grampian Hills from the Top of Craigowl Hill Sidlaws September 18th 1892
Signed/Inscribed:
signed with house guests signatures and dated incuding : Lucy Marion Drummond, Can Munro, Anne Gwendolyn Wynne, H…Mary Munro, John, Olive Munro , Malcolm Ramsay, Ethel Labouchere, Edward R J Talbot, A K Munro, Ida Sutton Constance Drummond George Forbes
pencil and watercolour
950 x 17.50 cm.
Notes
The Sidlaws also called the Sidlaw Hills and Sidlaw Range, are a range of hills of volcanic origin in the counties of Perthshire and Angus in Scotland that extend for 30 miles (45 km) from Kinnoull Hill, near Perth, northeast to Forfar. Principal peaks within the Sidlaws include Craigowl Hill, Ark Hill and King's Seat.
Points of interest include Dunsinane Hill, mentioned in Shakespeare's play Macbeth, and Auchterhouse Hill, which was the site of an ancient hill fort. The ruined observatory on Kinpurnie Hill was built by James Stuart-Mackenzie who owned the Kinpurnie estate and can be seen for many miles on the Strathmore side of the Sidlaws. There is a local legend that a poacher named Brandon Henderson lived as a hermit in the tower for seven years in order to win a £100 bet.
The highest of the Sidlaws is Craigowl Hill, to the north of Dundee. Adjacent to Craigowl Hill is Gallow Hill, on the side of which is located the Angus transmitting station, which provides television and radio services to the region.
Nearby historical features to the north include Glamis Castle and the Eassie Stone, a carved Pictish cross slab-stone (now situated in a ruined church in the village of Eassie).
Beautifully coloured agates, which formed over millions of years in cavities (originally gas bubbles) in the volcanic lava which formed the hills, are occasionally to be found weathered out of the rock in the surrounding fields.
Sidlaw Hills is also the name of a Schottische marching tune composed for the fiddle by Jim Watson[4] of Blairgowrie (1868 - 1931)