Gallery
Gallery: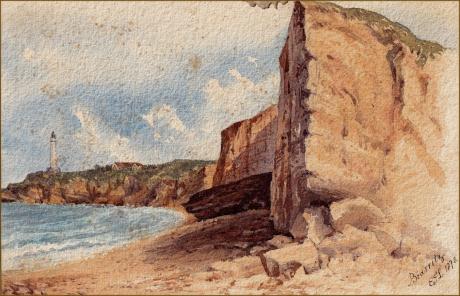 E.T. L., 19th Century
The Lighthouse from the Cliffs and Sea , Biarritz, 1878
Signed/Inscribed:
signed inscribed and dated " Biarritz 1878"
pencil and watercolour
15 x 23 cm.
Notes
The Biarritz Lighthouse at the "Pointe Saint Martin"
Built in 1834, the Biarritz lighthouse, 73 meters above sea level, dominates The Cape Hainsart so named for the old oak trees that surrounded it.
The Lighthouse offers a breathtaking panorama of the Basque coast, the ocean and the mountains which, on a sunny day, is well worth the 248 steps it takes to get to the balcony at the top.  
it is up more than 73 meters above the sea level, proudly overlooking the Hainsart cape which marks the boundary between the side of the Landes and the Basque Country.
Automated in 1980, it is accessible to the public who can climb the 248 steps. The site has also hosted a dinner in August 2019 bringing together top chefs from around the globe during the G7 summit. It will have a restoration campaign between September 2019 and April 2020.