Gallery
Gallery: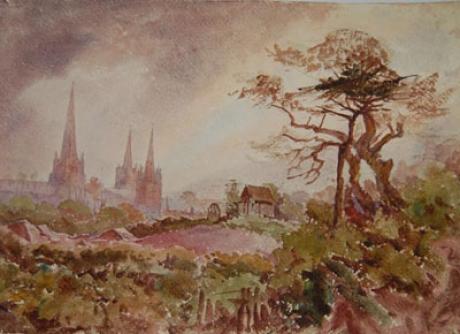 Rev John Louis Petit, 1801 - 1868
Lichfield Cathedral in Staffordshire
Lichfield Cathedral in Staffordshire
Signed/Inscribed:
"Lfd....April 27 - 1868"
pencil and watercolour
27.60 x 39 cm. (10.3/4 x 15.1/2in.)
Notes
Lichfield Cathedral is situated in Lichfield, Staffordshire, England. It is the only medieval English cathedral with three spires. The Diocese of Lichfield covers all of Staffordshire, much of Shropshire and part of the Black Country and West Midlands. When Chad was made Bishop of Mercia in 669 he moved his See from Repton to Lichfield, possibly because this was already a holy site, as the scene of martyrdoms during the Roman period. The first cathedral to be built on the present site was in 700AD when Bishop Hedda built a new church to house the bones of St Chad which had become a sacred shrine to many pilgrims when he died in 672. Offa, King of Mercia seemed to resent his own bishops paying allegiance to the Archbishop of Canterbury in Kent who, whilst under Offa's control, was not of his own kingdom of Mercia. Offa therefore created his own archbishopric in Lichfield, who presided over all the bishops from the Humber to the Thames. All this began in 786, with the consent of Pope Adrian. The Pope's official representatives were received warmly by Offa and were present at the Council of Chelsea (787), often called `the contentious synod', where it was proposed that the Archbishopric of Canterbury be restricted in order to make way for Offa's new archbishop. It was vehemently opposed, but Offa and the papal representatives defeated Archbishop Jaenbert, installing Higbert as the new Archbishop of Lichfield. Pope Adrian sent Higbert the pallium, denoting his support for this move. In gratitude, Offa promised to send an annual shipment of gold to the pope for alms and supplying the lights in St. Peter's church in Rome. However, The Archbishopric of Lichfield only lasted for 16 years, ending soon after Offa's death, when it was restored to Archbishop Aethelheard of Canterbury.
Starting in 1085 and continuing through the twelfth century the original wooden Saxon church was replaced by a Norman cathedral made from stone, and this was in turn replaced by the present Gothic cathedral begun in 1195. It was completed by the building of the Lady Chapel in the 1330s. The Choir dates from 1200, the Transepts from 1220 to 1240 and the Nave was started in 1260. The octagonal Chapter House, which was completed in 1249 and is one of the most beautiful parts of the Cathedral with some charming stone carvings, houses an exhibition of the cathedral's greatest treasure, the Lichfield Gospels, an 8th century illuminated manuscript. There were three great sieges of Lichfield during the period 1643–1646 as the cathedral was surrounded by a ditch and defensive walls it made a natural fortress. The cathedral authorities with a certain following were for the king, but the townsfolk generally sided with the parliament, and this led to the fortification of the close in 1643. Robert Greville, 2nd Baron Brooke, led an assault against it, but was killed by a deflected bullet from John Dyott (known as 'dumb' because he was a deaf mute) who along with his brother Richard Dyott had taken up a position on the battlements of the central cathedral spire on 2 March 1643. Brooke's deputy Sir John Gell, took over the siege. Although the Royalist garrison surrendered to Gell two days later, the close yielded and was retaken by Prince Rupert of the Rhine on 20 April of the same year. Rupert's engineers detonated the first mine to be used in England[citation needed] to breach the defences. Unable to defend the breach, the parliamentarians surrendered to Rupert the following day. The cathedral suffered extensive damage: the central spire was demolished, the roofs ruined and all the stained glass smashed. Bishop Hacket began the restoration of the cathedral in the 1660s, aided by substantial funds donated by the restored monarch, but it was not until the 19th century that the damage caused by the Civil War was fully repaired. Up until the 19th century, on top of an ornamented gable, between the two spires, stood a colossal figure of Charles II, by Sir William Wilson. Today it stands just outside the south doors.
Although the 18th century was a golden age for the City of Lichfield, it was a period of decay for the cathedral. The 15th-century library, on the north side of the nave, was pulled down and the books moved to their present location above the Chapter House. Most of the statues on the west front were removed and the stonework covered with Roman cement. At the end of the century James Wyatt organised some major structural work, removing the High Altar to make one worship area of Choir and Lady Chapel and adding a massive stone screen at the entrance to the Choir. The ornate west front was extensively renovated in the Victorian era by Sir George Gilbert Scott. It includes a remarkable number of ornate carved figures of kings, queens and saints, working with original materials where possible and creating fine new imitations and additions when the originals were not available. Wyatt's choir-screen had utilised medieval stone-work which Scott in turn used to create the clergy's seats in the sanctuary. The new metal screen by Francis Skidmore and John Birnie Philip to designs by Scott himself is a triumph of High Victorian art, as are the fine Minton tiles in the choir, inspired by the medieval ones found in the Choir foundations and still seen in the Library.
Artist biography
The Rev John Louis Petit (1801–1868), architectural historian and watercolour painter, was born on 31 May 1801 in Ashton under Lyne, Lancashire, the only son of John Hayes Petit (1771–1822), a Church of England clergyman and JP, and his wife, Harriet Astley.
The family was descended from Lewis Petit, also known as Lewis Petit des Etans (1665?–1720), a Huguenot refugee and military engineer. Petit's grandfather was John Lewis Petit (1736–1780), the son of John Petit of Little Aston Hall, Shenstone, Staffordshire. He graduated from Queens' College, Cambridge (BA 1756, MA 1759, and MD 1766), was elected fellow of the College of Physicians in 1767, was Gulstonian lecturer in 1768, and was censor in that year, 1774, and 1777. From 1770 to 1774 he was physician to St George's Hospital, then on the death of Dr Anthony Askew in 1774 he was elected physician to St Bartholomew's Hospital. In November 1769 he married Katherine Laetitia Serces, the daughter of one of the preachers of the French Chapel Royal in London. He died on 27 May 1780 and was buried at St Anne's, Soho. John Louis Petit was educated at Eton College and contributed to The Etonian, then in its heyday. He was elected to a scholarship at Trinity College, Cambridge, in 1822, and graduated BA in 1823 and MA in 1826. On 17 June 1828 he married Louisa Elizabeth, the daughter of George Reid of Trelawny, Jamaica. He had been ordained deacon in 1824 and priest the year after, but it was not until 1840 that he took up his sole church appointment, as curate of Bradfield in Essex, which he held until 1848. By this time he had written and illustrated several works of architectural history, the main occupation of his career.
Petit had shown a taste for sketching in his early years and he made many hundreds of drawings in pencil and ink. These were often finished in watercolour, though in a limited palette. His favourite subject was old buildings, particularly churches, and he spent much time visiting and sketching them. His drawings were rapidly and adeptly executed on the spot, his style in the tradition of English topographical watercolour painters of the previous generation, such as Samuel Prout (1783–1852). Although his works display an instinct for the picturesque setting and the telling viewpoint, his aim was less to produce finished paintings for their own sake than to record historic buildings and architectural details. Many were reproduced in his profusely illustrated books. He occasionally painted in oils. In almost all of these respects he resembles John Ruskin (1819–1900), whose concern for the conservation of old buildings was Petit's too. In 1839 Petit made his first extensive tour on the continent, which informed his Remarks on Church Architecture (1841), part travelogue, part discursive survey of architectural styles since the Roman. Subsequent works provide more detailed analyses of individual buildings, including Tewkesbury Abbey, Sherborne Abbey, and Southwell Minster. Petit's credentials as an antiquary are reflected in his co-founding of the British Archaeological Institute in 1844 and his elections as fellow of the Society of Antiquaries and honorary member of the Institute of British Architects. He lectured to the Oxford society for promoting the study of Gothic architecture, a body which mirrored the Cambridge Camden Society and whose membership similarly took a deep interest in the way churches old and new should be laid out and used. This Oxford connection was fruitful academically for Petit, who was admitted to the university ad eundem in 1850, and personally too, as his sister, Maria, married a classics don, William Jelf (1811–1875), in 1849. Architectural Studies in France, Petit's principal work, appeared in 1854 (new edition 1890). It is a detailed survey of French Gothic, profusely illustrated by Petit and by his companion on the research tour, Philip Delamotte (1820/21–1889), an artist, engraver, and early exponent of photography. Petit does not seem to have used photography for recording buildings; nevertheless, some of the illustrations were reproduced using a new technique, that of anastatic drawing.
Petit's books come from a rich period in England for research, publication, and debate on architectural history. His writing style was accessible and the illustrations attractive, but he lacked the intellectual rigour of others in the field, such as his Cambridge contemporaries William Whewell (1794–1866) and Robert Willis (1800–1875). His judgements could be shaky and, with his genteel admiration of almost anything old, he could elicit harsh reviews at a time when attitudes were hardening in favour of particular styles as models for revival. While he had a taste for the Romanesque, for example, just before it became fashionable as a style for new churches in the 1840s, he did not make himself its champion. He was not a polemicist like A. W. N. Pugin or George Gilbert Scott; besides, he had a distaste for debates that smacked of religious controversy. This was the tendency from the 1840s, particularly in the pages of The Ecclesiologist, the organ of the Cambridge Camden Society.
When Petit did turn his attention to contemporary architectural practice, he encountered spirited opposition. In 1841 Scott's designs for the remodelling of St Mary's, Stafford, were exhibited. This was a church close to Petit's heart (his brother-in-law was a benefactor) and he objected in writing to the proposal for the thoroughgoing redesign of the south transept. He could accept Scott's interventions elsewhere in the building but not so the replacement of Gothic fabric, albeit sixteenth-century. Scott accepted the principle but argued that it could be ignored if the style was 'debased'. Their debate by correspondence was eventually put to a panel of experts from the Cambridge Camden Society and the Oxford society noted above. Scott won and Petit gamely published the papers. As galling was the reception of Petit's only executed architectural design. His sister and brother-in-law moved to Cae'rdeon, near Barmouth, Merioneth, in 1854. Jelf took exception to the fact that most of the services in the Anglican parish church were said in Welsh, so in 1862 he asked his brother-in-law to design him a church, to be built at his own expense, where he could officiate in English. Petit designed him a rugged and muscular church for the mountainous setting. The Ecclesiologist lambasted it in a pithy review, attacking the design on practical grounds (roof pitches too shallow) and on theoretical grounds (pilasters for show, not structural necessity). The critic is clearly exasperated that Petit preferred picturesque effect to the application of formal principles: the alpine-style stone hut is simply not appropriate for an Anglican church on a turnpike road. There may also be a difference of churchmanship here. Petit and Jelf (for all his belligerence on the language issue) had avoided the febrile excesses of the Oxford Movement. Happily, St Philip Cae'rdeon still stands, somewhat altered but recently repaired.
During 1864–5 Petit travelled to Syria, Palestine, and Egypt. He continued to draw and paint avidly. He died in Lichfield on 1 December 1868 from a cold caught or aggravated while out sketching, and was buried in St Michael's churchyard. An exhibition of 339 of his sketches, including two views of the church at Cae'rdeon, was shown by the Architectural Exhibition Society in London during 1869. That year also saw the posthumous publication of a volume of his poetry. Sir Nikolaus Pevsner gives a characteristically pungent account of Petit in his survey of nineteenth-century architectural writers. As an artist, his modest talent was given almost unlimited scope, producing a corpus of architectural impressions which is impressive, if slight as individual works of art. As a critic of contemporary practice, he is probably most significant as a spokesman for tolerance: he valued buildings and styles of many eras and favoured, if not consistently or dogmatically, repair over rebuilding.