Gallery
Gallery: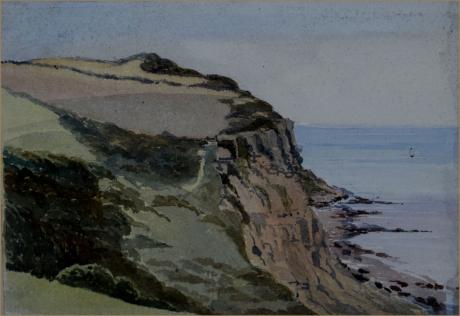 M. L. P, 19th Century
Looking East to Ecclesbourne Glen, Hastings, May 1873
Signed/Inscribed:
inscribed and dated in the margin " Ecclesbourne Glen, Hastings, May 1873 "
pencil and watercolour
17.50 x 25 cm.
Notes
Ecclesbourne Glen is located about 2km to the east of the centre of Hastings, within the Hastings Country Park. It comprises a south-west trending, steep valley down which a watercourse flows, passing between cliffs and discharging into the English Channel.
Ecclesbourne Glen Coastguard Cottages and station itself closed in 1908, but occupation of the cottages continued until 1950. The station began as an anti smuggling watch house and 1818, as the small valley where the Ecclesbourne stream meets the sea was a good place for smugglers to get their goods ashore. The cliffs stretching from the Old Town to Fairlight are always at risk of erosion and landslides and these building were victims of that erosion. Sixty years on and nature has reclaimed the area, erasing or hiding most evidence of the buildings. It seems strange now that such infrastructure was ever there. The East Hill itself has always had buildings upon, starting with the ancient fort, but more recently a golf hut, football changing rooms and a cricket pavilion. They have all gone now, and the East Hill and glen is now clear of man-made structures.