Gallery
Gallery: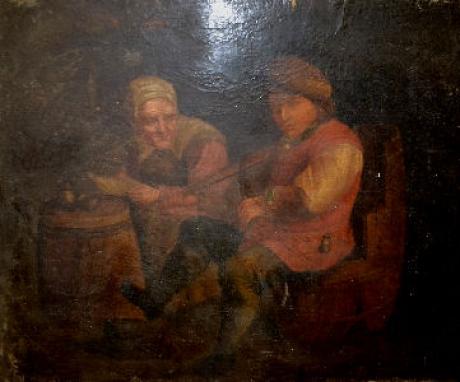 Attributed to David Teniers II, 1610 - 1690
Peasants Making Merry in a Tavern
Peasants Making Merry in a Tavern
oil on canvas
63.50 x 76.20 cm. (25 x 30 in.)
Literature
Merry company is the term in art history for a painting, usually from the 17th century, showing a small group of people enjoying themselves, usually seated with drinks, and often music-making. These scenes are a very common type of genre painting of the Dutch Golden Age and Flemish Baroque; it is estimated that nearly two thirds of Dutch genre scenes show people dinking.The term is the usual translation of the Dutch geselschapje, or vrolijk gezelschap, and is capitalized when used as a title for a work, and sometimes as a term for the type. The scenes may be set in the home, a garden, or a tavern, and the gatherings range from decorous groups in wealthy interiors to groups of drunk men with prostitutes. Gatherings that are relatively decorous and expensively dressed, with similar numbers of men and women, often standing, may be called Elegant Company or Gallant Company, while those showing people who are clearly peasants are more likely to use that word in their title. Such subjects in painting are most common in Dutch art between about 1620 and 1670. David Teniers the Younger (15 December 1610 – 25 April 1690) was a Flemish artist born in Antwerp, the son of David Teniers the Elder. His son David Teniers III and his grandson David Teniers IV were also painters. His wife Anna, née Anna Breughel, was the daughter of Jan Brueghel the Elder and the granddaughter of Pieter Bruegel the Elder. Through his father, he was indirectly influenced by Elsheimer and by Rubens. The influence of Adriaen Brouwer can be traced to the outset of his career. There is no evidence, however, that either Rubens or Brouwer interfered in any way with Teniers's education, and Smith (Catalogue Raisonné) may be correct in supposing that the admiration which Brouwer's pictures at one time excited alone suggested to the younger artist his imitation of them. The only trace of personal relations having existed between Teniers and Rubens is the fact that the ward of the latter, Anne Breughel, the daughter of Jan (Velvet) Breughel, married Teniers in 1637.