Gallery
Gallery: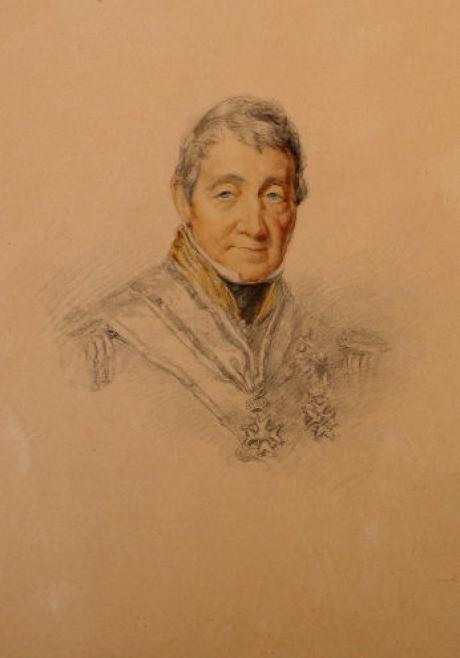 Sir William Charles Ross, 1794 - 1860
Portrait of Admiral Sir David Milne GCB 1763 – 1845
Admiral Sir David Milne GCB
pencil and watercolour
30 x 23 cm. (11.3/4 x 9in.)
Notes
Milne, Sir David (1763–1845), naval officer, was born at Musselburgh, near Edinburgh, on 25 May 1763, the eldest son of David Milne (1734–1818), a silk merchant of Edinburgh, and his wife, Susan, the daughter of Robert Vernor of Musselburgh. He entered the navy in May 1779 on board the Canada, with Captain Hugh Dalrymple, and, continuing in the same ship with Sir George Collier and Captain William Cornwallis, was present at the second relief of Gibraltar, at the capture of the Spanish frigate Leocadia, at the operations at St Kitts in January 1782, in the actions off Dominica on 9 and 12 April 1782, and in the disastrous hurricane of 16–17 September 1782. On arriving back in England he was appointed to the Elizabeth (74 guns), but she was paid off at the peace. Having no prospect of further employment, Milne entered the merchant service of the East India Company, and continued in it for a decade until the outbreak of the war in 1793, when he joined the Boyne, going out to the West Indies with the flag of Sir John Jervis. On 13 January 1794 Jervis promoted him lieutenant of the Blanche, in which, under the command of Captain Robert Faulknor, he repeatedly distinguished himself, and more especially in the celebrated capture of the Pique (5 January 1795). When, after a very severe action, the Pique surrendered, neither ship had a boat that could float, and the prize was taken possession of by Milne and ten seamen swimming to her. For his gallantry he was promoted commander of the sloop Inspector (26 April 1795). On 2 October 1795 he was made captain of the frigate Matilda in reward for his service as superintendent of transports, an office he continued to hold while the Matilda cruised under the command of her first lieutenant.
In January 1796 Milne was appointed, at his own request, to the Pique and was stationed at Demerara for the protection of trade. The governor forwarded to him on 16 July a memorial from the resident merchants saying that the admiral had promised them a convoy to St Kitts by 15 July; that, if their ships waited longer, they would miss the convoy to England; and that if they sailed without convoy they would forfeit their insurance. Milne consented to take them to St Kitts. As he arrived there too late for the convoy to England, on the further representation of the masters of the vessels he took charge of them for the voyage home, and anchored at Spithead on 10 October. On the 11th he wrote to the Admiralty explaining his reasons and enclosing copies of the correspondence with the governor and merchants of Demerara. His conduct, under the exceptional circumstances, was approved, and the Pique was attached to the Channel Fleet. She was thus involved in the mutinies at Spithead in 1797, and when these were suppressed was actively employed on the coast of France. On 29 June 1798, in company with the frigates Jason and Mermaid she fell in, near the Penmarks, on the south coast of Brittany, with the French frigate Seine (40 guns) and brought her to action, suffering severely before the Jason could come up. The three all went aground, and after an obstinate fight the Seine surrendered as the Mermaid also drew near. The Jason and Seine were afterwards floated off, but the Pique, being bilged, was abandoned and burnt. Milne, with her other officers and men, brought the Seine to England, and on her being bought into the British navy was appointed to command her.
In October 1799 Milne went on the west coast of Africa, whence, some months later, he convoyed the trade to the West Indies. In August 1800 he was cruising in the Mona passage, and on the morning of the 20th sighted the French frigate Vengeance, the same size and strength as the Seine. The Vengeance endeavoured to avoid her enemy, so it was nearly midnight before Milne succeeded in bringing her to action. Twice the combatants separated to repair damage; twice the fight was renewed; and it was not until nearly eleven o'clock the next morning (21 August) that the Vengeance—dismasted and sinking—surrendered. It was one of the very few frigate actions fought fairly to an end without any interruption from outside. But Milne received no reward. He continued to command the Seine in the West Indies and Gulf of Mexico until the peace, when he took her to England and paid her off (April 1802). He was reappointed to her in April 1803. However, three months later, on 21 July, she was wrecked on a sandbank near the Texel owing to the ignorance of the pilots, who were cashiered and sent to prison for two years by sentence of the court martial, which honourably acquitted Milne. However, for his conduct in attempting to protect the pilots, and for his offensive behaviour to the board, he was relegated to the command of the Forth district of sea fencibles. In 1804 Milne married Grace (d. 1814), the daughter of Sir Alexander Purves bt.; they had two sons. In 1811–12 he commanded the Impétueux off Cherbourg and on the Lisbon station. He was then appointed to the Dublin, from which he was moved into the Venerable. This ship was reported to be one of the dullest sailers in the service, but by a readjustment of her stowage she became, under his command, one of the fastest. Milne afterwards commanded the Bulwark on the coast of North America, but returned to England as a passenger on board the Loire frigate in November 1814 on the news of his promotion to flag rank on 4 June.
In May 1816 Milne was appointed commander-in-chief on the North American station, with his flag in the Leander, but his sailing was delayed to permit of his going as second in command under Lord Exmouth in the expedition against Algiers. For this purpose he hoisted his flag in the Impregnable (98 guns), in which he took a very prominent part in the action of 27 August 1816. As a result of his failing to follow the plan of action, and mooring too far out from the Algerian batteries, the Impregnable received 233 shot in her hull, many of them between wind and water, and sustained a loss in men of fifty killed and 160 wounded, by far the heaviest of any ship in the fleet. These losses reflected badly on Milne and his flag captain. For his services on this occasion Milne was nominated a KCB (19 September 1816) and was permitted to accept and wear the orders of Wilhelm of the Netherlands and St Januarius of Naples. The City of London presented him with its freedom and a sword; and as a personal acknowledgement Lord Exmouth gave him a gold snuff-box.
In the following year Milne went out to his command in North American waters, but returned to England in the summer of 1819. Shortly before ending his commission he married, on 28 November 1819, Agnes (d. 1862), the daughter of George Stephen of the island of Grenada. In 1827 he stood for parliament at Berwick as a tory, but was defeated. He was made vice-admiral on 27 May 1825, GCB on 4 July 1840, and admiral on 23 November 1841. From April 1842 to April 1845 he was commander-in-chief at Plymouth, with his flag in the Caledonia. He accepted this service only in order to further his son Alexander's career. Within a year he was anxious to resign, finding his health unequal to the task, as his eyesight and hearing were failing fast. His last service was to raise seamen without any official sanction during the 1844 Morocco crisis. On his way to Scotland after completing this service he died, on 5 May 1845, on board the packet-steamer Clarence, which was on its way from London to Granton. He was buried in the kirkyard at Inveresk. In 1804 Lord Keith said of Milne, 'Lord St Vincent made him; he is a handy seaman' (Markham, 174): it will serve as an epitaph.
Milne's younger son was Admiral of the Fleet Sir Alexander Milne, bt; his elder son, David Milne-Home (1805–1890), was a founder of the Scottish Meteorological Society.
J. K. Laughton, rev. Andrew Lambert DNB
Artist biography
Sir William Charles Ross, (1794–1860), miniature painter, was born on 3 June 1794, the elder son of William Ross (d. after 1842), miniature painter, and his wife, Maria (1766–1836), daughter of William Smith, silk merchant, and Mary Hoole, of Bow, London. Ross was descended from a Presbyterian family originating in Tain, in Ross and Cromarty; his paternal grandfather left the highlands to work as chief gardener for the duke of Marlborough at Blenheim Palace. His father worked as a portrait and miniature painter, exhibiting at the Royal Academy from 1809 until 1825, and also found employment as a drawing master. His mother was an accomplished portrait painter in her own right, exhibiting at the Royal Academy from 1808 to 1814. She numbered among her ancestors the mechanical inventor and watchmaker John Hoole of Clerkenwell, who produced curiosities such as an unsuccessful whale-shaped hot-air balloon and a watch mounted in a ring for George III.
Early years
As a child Ross was encouraged to draw by his mother. He soon began to display the sort of precocious talents that were officially acknowledged when, aged twelve, he won the first of several prizes in competitions for young artists sponsored by the Society of Arts in 1807. He was probably introduced to these competitions by his maternal uncle the line engraver Anker Smith, who was a member of the society; it was a chalk copy of Smith's engraving of The Death of Wat Tyler, by James Northcote, that secured Ross the society's silver palette in 1807. Other awards followed: in 1808, the year in which Ross enrolled at the Royal Academy Schools, he won the silver medal of the Society of Arts for a drawing, The Judgement of Solomon; in 1809 he won the large silver palette for a miniature of Venus and Cupid; in 1810 the silver medal for a drawing, Caractacus before Caesar; in 1811 the silver medal for the drawing Samuel Presented to Eli; in 1816 the Isis medal for a miniature of the twelfth duke of Norfolk, president of the society; and finally, in 1817, the gold medal of the Society of Arts for a large watercolour drawing, The Judgement of Brutus.

Ross's preference for historical subjects at this early stage of his life is quite clear from the subject matter that he chose for his competition pieces, and he may have been influenced in this by his mentor at the Royal Academy Schools, Benjamin West. None the less his decision to pursue portraiture at the expense of historical painting appears to have been made by 1814, when he was apprenticed to the successful miniaturist Andrew Robertson. Although Robertson was also a Scot they probably became acquainted in London, where Robertson ran a flourishing studio in Gerrard Street, Soho. There Ross must have become acquainted with Robertson's innovation—the glossy, highly-finished rectangular cabinet miniature that superseded the slighter, oval miniatures produced by Cosway's generation at the end of the eighteenth century. Ross was quick to make his mark working in this new style and, while still apprenticed to Robertson, was acclaimed by Sir Thomas Lawrence as 'the first miniature painter of the day' (Ottley, 142).
Professional life
Ross's earliest professional commission had actually been portraits of William, fourth duke of Portland, and his son Lord John Bentinck, painted when Ross was a boy of twelve. His independence as an artist came only when he established a studio at 52 Upper Charlotte Street, London, in 1817. His profession was primarily as a miniaturist working in the medium of watercolour on ivory, but he also worked up large, lively watercolour sketches on paper. The style for which he was soon in demand as a miniaturist was characterized by an unusual combination of deep, rich colouring; strong, sometimes complex compositions more often seen in oil portraits; and a fluid, velvety handling and freshness that maximized the advantages of the ivory on which he painted. Technically accomplished and aesthetically charming, 'spiritually, his miniatures breathe the bonhomie and prettiness found in Victorian portraiture at its best' (Reynolds, 166). These qualities lent themselves above all to portraits of children, at which he excelled. His masterpiece is generally considered to be his portrait of Prince Edward and Prince Ernest of Leiningen with a terrier, Islay, and a macaw (1839; Royal Collection) because of the outstanding success with which he depicts the interplay between children and animals. Similarly his presentation of adults is marked by the warm benevolence that seems to bathe all but the most austere of his sitters.

Ross favoured large ivory plaques, which allowed him to depict his subjects at half or three-quarter length, and although his style was quite distinctive he usually signed the reverse of the ivories, often in grey or black paint, in full—for example, 'painted by Sir W. C. Ross R.A. / Miniature painter to the Queen / 1841. / W. C. Ross.' Small test strokes can often be seen around the borders of many of his miniatures. His watercolour sketches are generally signed and dated on the recto, for example, 'W. C. Ross / 1841.'
Royal patronage
Ross's burgeoning success is apparent in the increasingly illustrious clientele whose portraits he exhibited at the Royal Academy throughout the 1820s. A key breakthrough came for him when he was commissioned to paint Lord Melbourne in 1834 (exh. RA, 1834), for it appears to have been her prime minister who first brought Ross to the attention of the young Queen Victoria. Another possible route of introduction may have been through her uncle Adolphus, duke of Cambridge, who in 1836 was the first member of the royal family to have his portrait painted by Ross. Queen Victoria had a series of sittings with Ross in November 1837; the resulting miniature she declared 'very like and very well painted' (Queen Victoria's journal, 30 Nov 1837, Royal Archives). Ross was swiftly appointed 'Miniature Painter' to the queen (TNA: PRO, LC 3/71, fol. 42) and during the succeeding years he was employed constantly by her in painting her immediate family: her half-sister Princess Feodora of Hohenlohe-Langenburg (1838); her husband, Prince Albert (1839 and 1840); and her children (from 1840 to 1854). By 1840 she was already able to report of her miniature collection that she 'had a great many by Ross' (Queen Victoria's journal, 17 July 1840, Royal Archives). Ross's reputation as the premier miniature painter of the day was even further enhanced by his appointment as associate of the Royal Academy (1838), as Royal Academician (1842), and by the granting of a knighthood in June 1842 at the instigation of the queen.

Throughout the 1840s Queen Victoria furnished Ross with introductions to many of the European royal families to whom she was related. He had already journeyed to Brussels in 1839 to paint her uncle Leopold I, king of the Belgians, Queen Louise, and their children. Louise, writing to Victoria on the subject of Ross's working practices, commented that Ross was 'an excellent man, most conscientious in all he does, but rather slow in his proceedings and what we call in France musard. I think you call it dawdling' (MS letter, Queen Victoria's correspondence, 21 Oct 1839, Y7/8, Royal Archives). Nevertheless she was delighted with the results of the visit, and a subsequent one in October 1840, and arranged for Ross to visit Paris to paint her Orléans relatives. Her parents, Louis-Philippe and Marie-Amélie, king and queen of France; her aunt Adelaide d'Orléans; her sister Princess Clémentine d'Orléans; and her brother's wife, Hélène, duchess d'Orléans, all sat to Ross for their portraits in the autumn of 1841. He was given his own studio at St Cloud, at which he took sittings daily from the French royal family until the work was completed. He was also invited to Lisbon in the autumn of 1852 to paint the Portuguese royal family for Queen Victoria, and was rewarded with the Portuguese honour of Jesus Christo.
Historical and subject paintings
During these years of sustained demand for his miniatures and sketches two episodes demonstrate Ross's continued interest in painting historical and subject paintings. The first was his involvement in the decoration of the garden pavilion at Buckingham Palace, a project supervised closely by Prince Albert in 1843. Ross was asked to undertake one of the eight lunettes painted in fresco illustrating John Milton's masque Comus; the other artists who participated in the work were Sir Charles Eastlake, Edwin Landseer, Clarkson Stanfield, Daniel Maclise, William Etty, and C. K. Leslie. (The garden pavilion gradually fell into disrepair and was eventually pulled down in 1928.) The second was his submission in the same year of a cartoon, The Angel Raphael Discoursing with Adam and Eve, to the competition for the decoration of Westminster Hall. He was awarded the sum of £100 for his entry and used the proceeds to travel for the first time to Italy. Writing to his friend Henry Berthoud of his efforts he said: 'I find a return from the laces and flounces, satins, silks and velvets to the human form unadorned very refreshing. It reminds me of older times when we studied together at the R.A. and from the Elgin Marbles' (Stirling, 580).
Later years
Ross is traditionally said to have taken a pessimistic view of the impact of photography on the art of miniature painting from the early 1850s, although he himself was sufficiently well established to have been immune from its more disturbing effects. However, a miniature of an unknown gentleman inscribed (indistinctly) on the reverse '[Painte]d by Sir W:C: Ross / [Minia]ture Painter & […] / [after a] Dagueratype / 1847' (ex Bonhams, 21 November 1996, lot 222) shows that he may have been more aware of the possibilities for photography to influence miniature painting than has previously been acknowledged. By the time that photography was in the ascendant he was nearing the end of his career, which was signalled by a stroke inducing partial paralysis in 1857. His main competitor, Robert Thorburn, concentrated more on oil painting in the late 1850s, leading to a decline in the overall standard of miniatures in the second half of the nineteenth century.

Sir William Ross died, unmarried, at his home, 38 Fitzroy Square, on 20 January 1860, more than two years after suffering a stroke, and was buried on 28 January at Highgate cemetery. His long-standing involvement with the Society of Arts, as chairman of its fine arts committee and as a member of the council, was marked by a memorial exhibition commemorating his life's work. A catalogue of the miniatures, drawings and pictures by the late Sir William Ross R.A. collected for exhibition at the Society of Arts, John Street, Adelphi (1860) accompanied the exhibition, and the list of exhibits was reproduced as an appendix to volume 1 of J. J. Foster's Miniature Painters British and Foreign (2 vols.; London and New York, 1903). Those miniatures that had remained in Ross's studio were sold at Christies by his executors after the exhibition (on 22 June 1860), on the artist's instruction.

Ross had no direct pupils but his style was emulated by a number of artists, chiefly Guglielmo Faija, Henry Heath, and William Watson working on ivory, and by enamel painters such as William Essex and John Simpson. A very convincing copy of his miniature of Lady Louisa Thynne, third countess of Harewood, by a little known artist, Marianne, Lady Carteret, is in the collection at Harewood House, Yorkshire. On a larger scale Ross's works were copied in oils by his cousin Herbert Luther Smith. Ross's younger brother, Hugh Ross (1800–1873), and his sister, Magdalena Ross (1802–1874), later Mrs Edwin Dalton, also practised as miniaturists, working in a style very close to that of their brother. They exhibited their miniatures at the Royal Academy from 1814 to 1845 and from 1820 to 1856, respectively. Both his brother and his sister painted miniatures of William Ross that survive today; Hugh Ross's miniature is in the National Portrait Gallery, London, and Magdalena Ross's portrait is in the Royal Collection. A self-portrait miniature by Ross is in the Victoria and Albert Museum, London, together with a miniature by William Ross of his sister and a chalk drawing of his father. Another self-portrait miniature is in a private collection (ex Bonhams, 10 April 2002, lot 422). Thomas Henry Illidge's oil portrait of Ross (exh. RA, 1846) was engraved and reprinted in the Art Journal (1849, p. 48).

Crown Princess Frederick William of Prussia wrote to her mother, Queen Victoria, on hearing of Ross's death: 'I truly grieve at the death of dear old Sir William Ross. No-one will ever paint with such brilliancy and freshness again' (letter, Queen Victoria's Correspondence, 28 Jan 1860, WRA Z 9/22, Royal Archives). Her sentiments have been consistently echoed by art historians and scholars ever since. Ross's reputation as the foremost miniaturist of his time was recognized by his contemporaries and remains undiminished today. Reynolds, summarizing Ross's place in the history of miniature art as a whole, wrote: 'He was as much the leader of miniature painting in the nineteenth century as was Hilliard in the sixteenth century, Cooper in the seventeenth century and Cosway in the eighteenth century' (Reynolds, 167).

V. Remington DNB