Gallery
Gallery: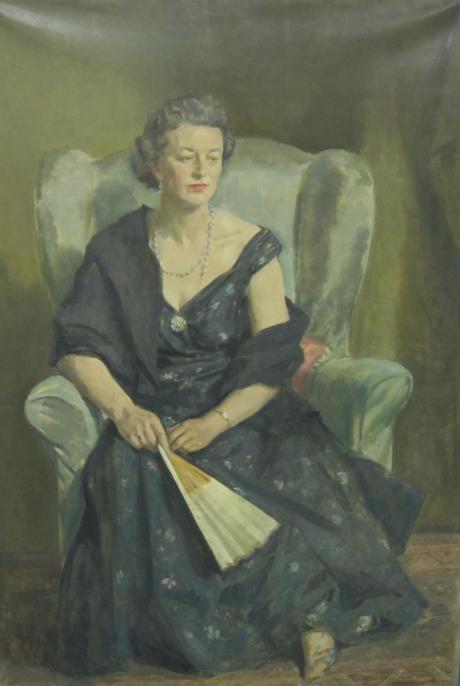 Patrick Phillips, ARWS, RP, 1907 - 1976
Portrait of Air Commodore Bridget Grace "Biddy"Grundy, Martin, OBE, DL,1920-1997
Air Commodore Bridget Grace "Biddy"Grundy, Martin
Oil on Canvas
161 x 110 . (63 x 43in.)
Notes
She was the daughter of Major Charles Hamilton Martin and Katherine Mary, nee Nettlefold. Biddy Grundy was the first woman to reach Air Rank with the Women's Royal Air Force apart from the director. Her service as a pioneer in the WAAF ranged from examining drains to a commanding officer. Her postings ranged from air bases in Ireland to intelligence. Witty highly intelligent and resilient. She was a close friend of the artist and his family. Air Commodore Bridget Grundy was one of the earliest members of the Women's Auxiliary Air Force in the Second World War, and afterwards became the first member of the Women's Royal Air Force (apart from the director) to reach Air Rank. She was a pioneer of the WAAF and Women's RAF. The Women's Royal Air Force was originally founded in 1918, but disbanded 2 years later. It was not re-formed – as the Women's Auxiliary Air Force (WAAF) – until June 1939, so that the arrival of Biddy Martin (as Bridget Grundythen was) at RAF Wittering a few days after the declaration of war occasioned some surprise " Ere you buggers" an RAF sergeant told his men, "Stop yer swearing." Biddy martin joined a motor transport section 23.11.1938 for 4 years as motor transport driver. Now paid 1s 4d a day, and kitted out in buff overalls and blue beret (no uniform was available before Christmas 1939,) she became the commanding officers driver. Very soon, she was known as "the Whizz-bang", rather unfairly since she only smashed the staff car twice. Biddy Martin also drove an enormous Fire Tender. During the Battle of Britain she served at Wittering, a No 12 Group Fighter station. She was commissioned into the WAAF 6.10.40 as Assistant Section Officer. Early in 1941 she was posted to the WAFF depot at Harrogate. By this time recruits were arriving in their hundreds, as a junior officer she was responsible for removing their head nits. After two months she was posted to St Athan South Wales, from which 200 WAAF non-commissioned officers passed out every fortnight. Overall, WAAF numbers climbed from 2000 in 1939 to 182,000 in 1943. In September 1941, Biddy martin was posted to Canada as the youngest and most junior of three WAAF officers who had been selected to help the Royal Canadian Air Force to introduce Women to service. Returning home in 1942 as flight Officer, she helped to retrain as mechanics WAAF who had been previously been working on barrage Balloons. " they were a really tough lot", she recalled "and I wasn't sorry to be posted to the air ministry in January 1943". As the WAAF became better integrated with the RAF proper, Biddy martin was assigned to lecture on RAF courses. On June 6th 1944, D-Day, Biddy Martin was assigned to RAF Chivener, North Devon, to command 350 WAAF's at a station which was heavily involved in backing up the invasion. "By that time" she recalled "The WAAF worked in almost every part of the station, My Job was to administer them and make certain their conditions of work were as good as possible." Her next move saw her in command of the WAAF section at a base in Northern Ireland. Biddy Martin ended her war with preparing WAAF's for their return to civilian life. With a brief spell in Civilian life she returned in 1946 to the WAAF and by 1949 the WAAF was recreated as the Women's Royal Air Force. In 1950, she received command of the Women's officer cadet training unit at Hawkinge in Kent. Four years later she was one of the first two members of the WRAF to pass staff college. He next posting was to the intelligence staff at the Air Ministry. "It was at times very difficult to keep your mouth shut about the fascinating things that came through the office", she recalled. After a spell at fighter command HQ and in Cyprus, she returned in 1961 to the air ministry, at first in the WRAF Directors dept, and then with the Director –General of manning. Subsequently she took over the mammoth task of helping to reorganize the trades structure of the service, and then in 1964 she took over from her deputy director the rank of group captain. In 1968 Biddy martin escaped from Whitehall to join No 22 Group headquarters as Staff Officer Administration. Finally in 1971, Biddy Martin having gained promotion in competition with male group captains was posted in the rank of air commodore as director of personnel management at RAF Innsworth. Shortly afterwards she married Edmund Leigh Grundy, a stock broker whom she had met on a fishing trip in Scotland. Believing that she could not be at the same time a good RAF officer and a good wife, Air Commodore Grundy too early retirement in 1972. The Grundy's went to live in Hertfordshire, where Biddy contributed enthusiastically to country life, She was president of the Hertfordshire Red Cross from 1978-1988 and a deputy Lieutenant of the County. She died in 1997.
Artist biography
 Patrick Phillips was a portrait and landscape painter in oils and watercolour, and a teacher. He studied at the Byam Shaw School of drawing and painting under F E Jackson and Glyn Philpot and Charles Shannon, 1926-30. He became principal of the Byam Shaw, 1946-55.