Gallery
Gallery: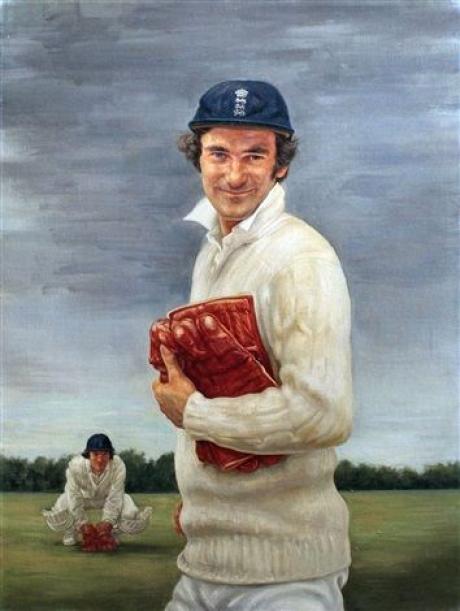 Theodore Ramos, 1928 -
Portrait of Alan Eric Philip Knott born . 1946 England and Kent Cricketer
Portrait of Alan Eric Philip Knott
Signed/Inscribed:
 lower right "Ramos"
oil on canvs
36 x 28 in. (92 x 72 cm.)
Description
Three quarter length Portrait of Alan Eric Philip  Knott  born . 1946  England and Kent Cricketer in 2 positions,  standing holding holding his Wicket-Keepers Gloves and crouching in characteristic position.
Provenance
Tryon Gallery, Cricketers Series Exhibition
Notes
Alan Philip Eric Knott (born 9 April 1946 in Belvedere, Kent), is a former Kent County Cricket Club and English cricketer, as a wicket-keeper-batsman. Knott was educated at Northumberland Heath Secondary Modern School. He played for the England Test side between 1967 and 1981, and was a Wisden Cricketer of the Year in 1970. He was particularly known for his habit of conducting limbering-up exercises at any inactive moment during a match. His major strengths as a batsman were the sweep and the cut.
On 6 September 2009, Alan Knott was inducted into the ICC Cricket Hall of Fame, and in 2013 he was named in Wisden's all-time Test World XI. Inspired by his father, he made his Kent debut in 1964 at the age of 18. He joined a long list of Kent-created wicket-keeper-batsmen. He gained his first Test cap at the age of 21, having been named Cricket Writers' Club Young Cricketer of the Year in 1965. When he made his debut, it was against the Pakistani tourists in 1967. Batting at number 8, he made a duck in his first Test, at Trent Bridge, but didn't concede a single bye in the match. He made 28 in the second match, but didn't make the starting eleven for the 1967–68 tour of the West Indies, as Jim Parks was initially preferred. However, for the fourth and fifth matches of the series, he was picked again. In the first of those, he made his first Test half-century, a score of 69 not out, and he once again excelled at wicket-keeping.
In the winter of 1968/69, again against Pakistan, he confirmed his position as England's premier wicketkeeper-batsman. He made two 50s in the series, including a score of 96 not out at Karachi when the match was prematurely ended by a pitch invasion by Pakistani fans, denying him a well-deserved hundred. In 1970, he was Wisden's Cricketer of the Year. County captain Colin Cowdrey said: I think he is the most gifted and dedicated cricketer one could ever wish to play with, never satisfied with his performance and always seeking for a little more perfection.
In the 1970–71 series in Australia he was instrumental in England regaining The Ashes, taking five catches and stumping Doug Walters in the decisive Seventh Test in Sydney. In the following series against New Zealand he finally made his maiden Test century, 110 at Auckland, having missed the first match of the series, so that Bob Taylor could take the gloves as a reward for patience as reserve keeper on the four-month combined tour. Knott did not miss a Test until 1977, making a sum of five centuries and twenty-eight 50s in that time.
He has the distinction of once scoring 7 runs from a single delivery in Test cricket, off Vanburn Holder in the Fourth England v West Indies Test at Headingley in 1976. Knott took a quick single to extra-cover where Bernard Julien fielded and overthrew the wicket-keeper. Knott and Tony Greig ran two overthrows before Andy Roberts, fielding at square-leg, retrieved the ball and threw it past the stumps at the bowler's end and over the long-off boundary for four more runs.
Knott helped England win the Ashes in England in 1977 but had been persuaded by England colleague Tony Greig to join Kerry Packer's World Series Cricket. This effectively put his England career on hold as the 'Packer players' were banned from Test cricket. When he returned to Tests after the end of World Series Cricket in 1980, he had very little success against a mighty West Indian side, averaging 5.14 in the series. He did not play in the tour of the West Indies that immediately followed, but was picked for the final two Tests of the famous 1981 Ashes series. Fittingly for one of England's greatest players, he ended his last Test against Australia at The Oval, with a score of 70 not out and an England series win. He was replaced as England wicket keeper by Bob Taylor on two occasions – when he went to World Series Cricket, and when he retired. Knott retired from all cricket in 1985, at the age of 39. He then mentored his son James Knott and Jack Russell.
Knott was known for his idiosyncratic behaviour on the field. His trademarks included always keeping his shirt collar turned up to protect him from the sun; his sleeves rolled down to safeguard his elbows when diving; and, after a tip from former Northamptonshire and England wicket-keeper Keith Andrew, warming his hands with hot water before going on the field. According to Bob Taylor, Knott preferred strong-backed gloves with full webbing and plenty of padding in the palms, wearing two pairs of Chamois inners with strips of plasticine across the palms.
He now lives in Cyprus.He married his wife Jan, in the spring of 1969, and they have one son, James, who is married to Michelle. Alan and Jan have two granddaughters; Elizabeth and Alexandra. In the October 2004 edition of The Wisden Cricketer magazine he was voted as the wicket-keeper in "England's Greatest post-war XI" receiving votes from 20 of the 25 panellists.
In 2011, he received the great honour of having a stand named after him at Kent's St Lawrence Ground, Canterbury. The Underwood Knott Stand was named after Alan and his former Kent and England team-mate, Derek Underwood. He was also delighted to be included in Cockney rhyming slang; 'Alan Knott' means hot, you might occasionally hear or use it yourself – 'It ain't 'alf Alan Knott'! He was also extremely proud to be named as the wicketkeeper in Geoffrey Boycott's Best XI. Geoffrey named seven players as those he would always want in his all-time World Best XI of which only two are still alive today, Sir Garfield Sobers and Alan.
During his cricketing career, Alan's son, James, was an MCC Young Cricketer and was on the Surrey staff from 1995 to 1998. From 2001 to 2009 he played for Bedfordshire, helping them win the Eastern Division in 2005, and captained the side between 2006 and 2008. Since 2004, James has been Head of Cricket and Under House Master at Stowe School in Buckingham. In 2011, Stowe set a school record for the number of wins in a season and topped the national league tables in 2007 and 2011. Over the years, a number of the boys James has worked with have gone on to play professional cricket.
Artist biography
Theodore Ramos, painter in oil noted for his portraits, muralist, illustrator and teacher, born in Oporto, Portugal of Spanish Parents, who became British subjects. He attended the Royal Aacademy Schools with pstgraduate studies 1949-54, under Sir Gerald Kelly. for various periods betwen 1959-68 he was a visiting lecturer at Brighton College of Art, Harrow School of Art and teh Royal Academy Schools. He has shown at the RP, RA, 20th century portraits at the National Portrait Gallery in 1980 and 1989. Commissions include a Distillers Company mural. He has carried out many boardroom and domestic portraits, subjects include HM the Queen, HRH the Duke of Edinburgh & HM Queen Elizabeth the Queen Mother. Ramos cited " The Combined influences of Spanish and English Portraiture".