Gallery
Gallery: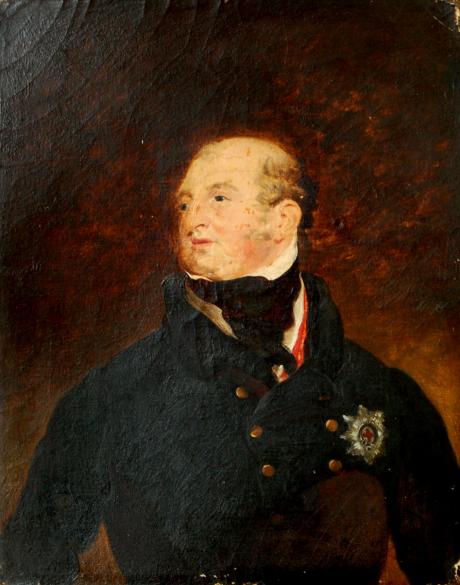 Henry Wyatt, 1794 - 1840
Portrait of Field Marshal Prince Frederick, Duke of York and Albany, K.G., G.C.B. 1763-1827 half length wearing the Garter Star
Field Marshal Prince Frederick, Duke of York and A
oil on board
38.10 x 30.48 cm. (15 x 12 in.)
Notes
This portrait is after the portrait painted by Sir Thomas Lawrence of which there are a number of versions painted by the artist. Henry Wyatt and was a distinquished pupil of Lawrence and was known to have painted a number of versions of this portrait, for which this is one version. Frederick, Prince, duke of York and Albany (1763–1827), army officer and bishop of Osnabrück, was the second son of George III and Queen Charlotte. He was born at St James's Palace, London, on 16 August 1763, and on 27 February 1764 was elected to the bishopric of Osnabrück through his father's influence as elector of Hanover. The bishopric, a principality in the Holy Roman empire, alternated between a Catholic prelate and a protestant prince; as the latter, Frederick was never intended to take holy orders. On 1 November 1780 he was gazetted a colonel in the army. In the following year he went to Hanover to study French and German, and visited the Austrian and Prussian military manoeuvres. He was appointed colonel of the 2nd Horse Grenadier Guards on 23 March 1782; was promoted major-general on 20 November 1782; and was made lieutenant-general on 27 October 1784, when he became colonel of the 2nd or Coldstream Guards. On 27 November 1784 he was created duke of York and Albany in the peerage of Great Britain, and earl of Ulster in the peerage of Ireland. He retained the bishopric of Osnabrück until 1803.
 In 1787 the duke of York, always his father's favourite son, returned to England. His first residence was at Allerton Mauleverer, near Knaresborough in the West Riding of Yorkshire, acquired in 1786 from the revenues of the bishopric of Osnabrück, and he spent time there in 1787 and 1788, but sold the estate during that year in order to live nearer London. It was rumoured that he had actually lost it playing cards, as on his return he established a reputation as a great gambler, particularly at the card game faro. In July 1788 he moved to his new seat of Oatlands Park, near Weybridge in Surrey. He took his seat in the House of Lords on 27 November 1787, and on 15 December 1788, on the question of the regency in opposition to Pitt's Regency Bill, he made a speech which attracted attention, as it was held to convey the sentiments of his elder brother, the prince of Wales, afterwards George IV. On 26 May 1789 he fought a duel on Wimbledon Common with Colonel Charles Lennox (afterwards fourth duke of Richmond), who was aggrieved by some of the duke's remarks. The duke coolly waited for Lennox's shot, and then fired in the air. His courage and his refusal to use his rank to decline the challenge were much applauded. In January 1791 a marriage was arranged for York with Frederica Charlotte Ulrica Catherina [Princess Frederica of Prussia] (1767–1820), eldest daughter of Frederick William II, king of Prussia, and his first wife, Elizabeth of Brunswick. The couple had met in Berlin and the marriage was celebrated there on 29 September 1791, and at Buckingham House (later Palace) on 23 November. There were no children of the marriage; husband and wife soon separated, and the duchess of York retired to Oatlands Park. A modest, self-effacing woman, she cared little for London society, preferring the company of her pet dogs, and attending church every Sunday. Her sympathy with the estranged princess of Wales and her daughter Charlotte incurred the prince regent's resentment, but she was liked and respected by the rest of the family. She died on 6 August 1820, of consumption, and was buried in Weybridge church on 14 August. On the outbreak of war in 1793 George III insisted that York should take command of the British contingent dispatched to Flanders to co-operate with the Austrian army under the prince of Coburg. The campaigns of 1793, 1794, and 1795 in Flanders served to prove that the British army was unable to cope with the enthusiastic French republicans, and that York was not a born military commander. His staff were chiefly responsible; the duke showed himself brave but inexperienced, and there is much truth in Gillray's caricatures and Peter Pindar's squibs, which represented him as indulging too freely in the prevalent dissipation of his officers. In 1793 the allied army drove the French army out of Belgium, defeated it at Tournai and Famars, and took Valenciennes on 26 July. Then came a difference between the generals; the prince of Coburg wished to march on Paris, while York was ordered to take Dunkirk. The armies separated, and Carnot at once concentrated the French troops in an attack on the duke near Dunkirk. After severe fighting at Hondschoten on 6 and 8 September the British had to fall back, and, after the defeat of the Austrians at Wattignies, finally joined them at Tournai, where both armies went into winter quarters. In February 1794 the duke joined the headquarters of the army in Flanders, and the new campaign opened with some successes at Château Cambrésis, Villers-en-Cauchies, and Troixville. But in May the French army under Pichegru attacked the British army at Tournai. In the last engagement the English were defeated, and York himself was nearly taken prisoner. After this defeat the British army steadily fell back, in spite of the arrival in July of ten thousand fresh troops under the earl of Moira, and the duke was driven out of Belgium. There followed the winter retreat of 1794–5, which concluded the unsuccessful campaign. York shared the perils of the retreat up to the beginning of December, when he returned to England.
The duke's reputation had not been raised. Nevertheless George III promoted him to be a field marshal on 18 February 1795, and made him commander-in-chief of the army on 3 April 1798. Amherst, the retiring commander-in-chief, had allowed countless abuses in the discipline and administration of the army. The duke by his rank was considered to belong to no party; he was in a position to put down much of the jobbery which had disgraced his predecessor's tenure of office, and determined to remove some of the abuses he had seen in Flanders. In1799 he was appointed to command an army destined to invade Holland in conjunction with a Russian army corps. The vanguard of this army captured several Dutch ships in The Helder; but when the main force arrived under the duke on 13 September disaster followed. Generals Brune and Daendaels's army, though defeated three times, managed to keep the British and Russians penned on the narrow strip of land seized by Abercromby, and on 17 October the duke signed the convention of Alkmaer, by which the 'victors' could leave Holland on condition that eight thousand French prisoners of war were released.
This failure confirmed the general opinion that the duke was unfit to command an army in the field. Public attention now focused on the state of the army; money was not spared by parliament, and the duke devoted himself to the task of weeding out incapable officers, and encouraging the competent. He also sought to improve the lot of the common soldier, and is believed to have taken an active role in establishing the Royal Military Asylum, Chelsea (built between 1801 and 1803), as accommodation for the families of serving soldiers. Unfortunately in practice York's weakness for women and luxurious living undermined his support for military reform. In 1803 he took as his mistress the adventuress Mary Anne Clarke, who made money out of her affair with the duke (which ended in May 1806) by promising promotion to officers, in return for payment. This matter was raised in the House of Commons by Colonel Gwyllym Lloyd Wardle on 27 January 1809, and referred to a select committee, which heard several witnesses testify that York had at various times tolerated or been involved in the trafficking of offices. The committee found that York had been careless in his dealings with Mrs Clarke, but he could not be convicted of receiving money himself, and the Commons passed a motion on 17 March to the effect that there were no grounds for the duke's prosecution; but his resignation as commander-in-chief on 18 March was the only way to avoid the renewal of the allegations. Sir David Dundas, who succeeded the duke as commander-in-chief, continued his policy, and the prince regent's reinstatement of his brother at the head of the army in May
1811 was generally approved, though not without protests from critics of his conduct in the Commons and the press. The duke had seen for himself how much the army suffered from poor, outdated organization and inefficient officers. He helped to introduce a system whereby more men were promoted on merit, rather than through purchase or nepotism. In order to improve the officers' training, he founded the Royal Military Academy, Woolwich, and a military school at High Wycombe which was the forerunner of Sandhurst. Among his innovations were improvements to the style and provision of the clothing of soldiers on active duty. In 1818, on the death of Queen Charlotte, the duke was appointed official guardian of his mentally ill father, George III. His financial difficulties continued, and Oatlands, mortgaged in 1804, was sold to Edward Hughes Ball Hughes in 1820. The death of the king made York heir-presumptive to the throne. He looked forward to becoming king. 'By God! I'll have everything the same at mine!' he exclaimed in admiration at George IV's coronation in 1821. The new king's affection for the duke made him an important person at court, but he took little interest in politics. He opposed Catholic emancipation, and on 25 April 1825, in the House of Lords, passionately affirmed his protestant convictions in a speech which was understood to reflect the king's views. In July 1826 he was attacked with dropsy, and died at the duke of Rutland's house, Arlington Street, London, on 5 January 1827. On 19 January he was buried in St George's Chapel, Windsor. York's conduct as commander-in-chief had considerable influence on the history of the British army. He supported the commanders' efforts to revive military spirit with some success; he looked after the soldiers and their comforts, and sternly put down the influence of personal favouritism. Despite his involvement in the Mary Anne Clarke scandal, he did much to eradicate political jobbery in military appointments, and systematic corruption. The irony has been noted that, despite his contribution to the nation's defence and his improvements to the army, 'the Duke is now chiefly remembered in the public mind as a man who marched his army up and down a hill and ran it as a commercial proposition, with the aid of his mistress' (GEC, Peerage). A wretched epilogue came with the disposal of his estate. Despite York's assertion in his will that he left enough money to cover his debts, estimated at above £401,169, it was soon announced that the value of his estate could not meet them. Several of the duke's creditors—some tradesmen, others gamblers to whom the duke had lost money at the gaming tables—had accepted bonds in the expectation that they would be honoured, perhaps by George IV or by York on the accession to the throne that never came. By 1832 a committee of creditors had been formed to campaign for restitution, but the duke's executors had paid what assets could be raised into the court of chancery; others, like the duke's lease on royal mines in Nova Scotia, were claimed by the crown. The campaign was still active well into the 1840s, but the creditors never recovered their money.
H. M. Stephens, rev. John Van der Kiste  DNB
Artist biography
Wyatt, Henry (1794–1840), painter, was born at Thickbroom, Weeford, near Lichfield, Staffordshire, on 17 September 1794, the elder son of Joseph Wyatt (1749–1798), a surveyor, who died when Wyatt was three years old. His brother's baptismal record states that his mother's name was Jane. He was a cousin of the Wyatt family of architects. He went to live at Handsworth, near Birmingham, with his guardian, Francis Eginton (1736/7–1805), the glass-painter, who had married his aunt, Maria Wyatt (1743?–1812). Finding that Wyatt was interested in art, Eginton sent him to London in 1811, and in the following year he was admitted to the Royal Academy Schools. Joseph Farington records in his diary that Wyatt was awarded a silver medal for the best copy in the school of painting in 1817. In 1815 he entered the studio of Sir Thomas Lawrence as a pupil, and proved so valuable an assistant that after the first twelve months Lawrence offered Wyatt £300 a year. Accounts differ about whether Wyatt declined the offer or remained in Lawrence's employ for another year. By the end of 1817 he left London and established himself as a portrait painter, practising first at Birmingham until 1819 and successively at Liverpool until
1823 and then Manchester until 1825. He returned to London, where he lived in Newman Street until 1834, when asthma caused him to move to Leamington. Early in 1829 he acted as agent for sending exhibits to the Birmingham Institution. In 1837 he went to Manchester after receiving some portrait commissions and in the following April he 'had an attack of paralysis', from which he never recovered (GM).Although the Dictionary of National Biography article on Francis Eginton states that Eginton's daughter married Henry Wyatt, no evidence has been found to support this. He died, apparently unmarried, at Prestwich, near Manchester, on 27 February 1840, and was buried in the churchyard of that village. Both Wyatt's portraits and his subject pictures were painted in a style similar to that of Lawrence. He was a clever artist, a skilful draughtsman, and a good colourist; both his portraits and subject pictures earned him considerable popularity. Over the course of his career he exhibited thirty-five works, most of these portraits, at the Royal Academy from 1817 to 1827, and at the British Institution twenty-eight works, mostly subject pictures, from 1826 to 1837. Two of his works, Vigilance (exh. RA, 1836; engraved by G. A. Periam) and Archimedes (also called Galileo and Philosopher; exh. RA, 1832; engraved by R. Bell), entered the National Gallery as part of the Vernon collection and are now in the Tate collection. Fair Forester and Proffered Kiss, engraved by George Thomas Doo, were popular works by Wyatt, and several of his other subject pictures, including Juliet, Chapeau noir, and Gentle Reader, were well known. His portrait of Thomas Harrison, architect of Chester Castle, formerly hung in Chester Castle. Wyatt was a man of refined tastes, living a quiet bachelor life but, as his sketchbooks show, always industriously working at every variety of drawing: family groups, landscapes, cattle, buildings, shipping, animals of many kinds, and flowers were alike drawn with the utmost care and with much ability.His sketchbooks (ex Christies, 22 November 1977) include studies dating from 1811 to 1833. Samuel Redgrave described him as 'a clever painter, his colour good, and his subjects pleasingly treated'
(Redgrave, Artists, 492). Wyatt's brother, Thomas Wyatt (bap. 1795, d. 1859), portrait painter and photographer, was also born at Thickbroom, where he was baptized on 20 September 1795. He studied in the Royal Academy Schools and accompanied his brother to Birmingham, Liverpool, and Manchester. At Birmingham his portraits 'were much admired, and he gained so much respect from the artists of the place that they elected him secretary to the Birmingham Society of Artists, which position he occupied for some time' (Art Journal). He exhibited at the Birmingham Society of Arts in 1827 and 1828, in the latter year sending eight works. He moved to Manchester in 1840 and lived in Princess Street until 1853.
He exhibited several portraits and some subject pictures annually at the Royal Manchester Institution. Wyatt married Anne, daughter of George Hadfield, a manufacturer, on 15 June 1848. The couple had a son, Francis (b. 1851). After his brother's death Thomas Wyatt paid the pioneer photographer William Henry Fox Talbot for the sole rights to practise photography in and around Manchester. Unfortunately, he had to give up when this venture proved financially unsuccessful and he partially lost his sight. He moved to Lichfield to try again to make a living through portrait painting, but he 'was attacked by paralysis' (ibid.). For the next five years he was dependent 'upon the devoted attention of his wife and the pecuniary assistance of their friends' (ibid.). He died on 7 July 1859, survived by his wife. He was described at his death as a 'portrait painter of considerable reputation in the midland counties of England' (ibid.).
 Paintings and drawings by Henry and Thomas Wyatt and engravings after their work are held in the Victoria and Albert Museum, the National Portrait Gallery, the National Maritime Museum, and the British Museum, London; the city art galleries in Birmingham and Manchester, and the Pitti Palace, Florence.
Albert Nicholson, rev. Diane Waggoner  DNB