Gallery
Gallery: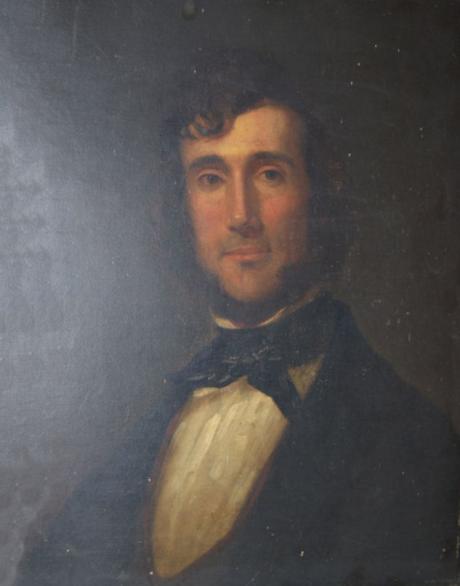 English School 19th, Century
Portrait of George Hudson called " the Railway King" 1800 - 1871
George Hudson " the Railway King"
oil on canvas
66.04 x 45.72 cm. (26 x 18in.)
Notes
Hudson, George [called the Railway King] (1800–1871), railway promoter and fraudster, was born in March 1800 at Howsham, about 12 miles north-east of York, the fifth son of a farmer who died in 1806. He went to local schools and in 1815 was apprenticed to Bell and Nicholson, a firm of drapers in College Street, York. When his apprenticeship was complete he received a share in the business. Bell retired and the firm became Nicholson and Hudson. In 1821 he married Elizabeth Nicholson, who was the daughter of one of the partners in the firm and five years older than he was. Four of their children survived into adulthood: George, who was called to the bar and became an inspector of factories; John, who entered the army and was killed in the Indian mutiny; William, who became a doctor; and Anne, who married a Polish count, Count Suminski.
In 1827, already a wealthy man, Hudson received a legacy of £30,000 from a great-uncle, Matthew Bottrill. This money enabled him to establish himself in the political and social life of York. He became treasurer of the local tory party at the time of the election following the Reform Bill of 1832, and in 1833 he took a leading part in the establishment of the York Union Banking Company. In 1835 Hudson was elected to the newly reformed York city council and in November of 1837 he became lord mayor. He entertained lavishly and was re-elected in the following year, although he was not strictly eligible to stand. In 1833 Hudson attended a meeting in which the construction of a railway from York to link up with the Leeds to Selby line was proposed. He subsequently subscribed for 500 shares and was the largest shareholder. An act of parliament was obtained in 1837 and Hudson became chairman of the company, known as the York and North Midland Railway Company, with George Stephenson as the engineer.
In 1841 he persuaded the shareholders in eight railway companies engaged, so far unsuccessfully, in building a line from York to Newcastle, to join together to build the section of the line from Darlington to Newcastle and an act of parliament was obtained in 1842 for that purpose. In the same year he obtained control of the North Midland Leeds to Derby line and this was followed by the merger of the Birmingham and Derby and the Midland Counties companies with his own. By 1844 he controlled over 1000 miles of railway and was dubbed the Railway King but his 'kingdom' lacked any direct line into London. He, together with George Stephenson, had long planned a line into London from the midlands, and when the Great Northern line from London through Peterborough to York was proposed he made determined and often unscrupulous efforts to block the scheme, unsuccessfully, the act for the line being passed in June of 1846.
Early in 1844 William Gladstone, then president of the Board of Trade, prompted by the large number of railway bills then coming before parliament and alarmed at the intense competition between rival companies, set up a House of Commons committee of inquiry into the railways. This was seen by many railway proprietors as the beginning of state control and a campaign of opposition was headed by Hudson. He had a private meeting with Gladstone and compromise terms were agreed which removed any immediate prospect of railway nationalization.
 By this time Hudson was very wealthy, with several estates in Yorkshire, including the Londesborough estate of some 12,000 acres, bought from the duke of Devonshire for £470,000, partly with the aim of blocking a possible competitor from building a line from York to Hull. He bought Newby Park from Earl de Grey in October of 1845 and also owned a large mansion, Albert House, in Knightsbridge. In 1846 he outlined plans for thirty-two parliamentary bills for railway projects costing a total of £10,000,000. In July of that year Queen Victoria travelled to Cambridge to attend the installation of Prince Albert as chancellor of the university in a special train provided by Hudson. In the same month he was returned as member of parliament in the tory interest for Sunderland. This was the high point of his career. His companies controlled over a quarter of the railways then built in England, with lines from Bristol to Newcastle, and branches to Scarborough, Hull, Leeds, Nottingham, and Rugby, together with the Eastern Counties line from London to Colchester and to Ely.
Hudson gained many admirers through the skill with which he manipulated share prices, but he also made many enemies because of his arrogant and domineering manner and the lax way in which he reported on the finances of his companies, although in this he was by no means unique, since standards of accounting and audit were generally undemanding at that time. He also cut costs ruthlessly, and was much criticized for this when an accident at Romford in July of 1846 revealed that the staff of the Eastern Counties Railway, of which he had become chairman in the previous October, lacked experience, and were poorly paid and grossly overworked.
In June of 1846, in spite of all that Hudson could do, the act for the Great Northern line became law. His railway monopoly was increasingly threatened with isolation, particularly after the amalgamation which created the Caledonian Railway, with the prospect of a west coast line to Glasgow, and the formation of the London and North Western Railway with its line from London to Liverpool. The years 1846 and 1847 were marked by severe depression. Railway shareholders found it difficult to meet the calls made upon them and dividends had to be reduced. In August of 1848 he was compelled to repay nearly £400,000 to the banks, and when this news began to leak out the prices of railway shares fell sharply. In 1849 he was increasingly criticized by irate shareholders. At a meeting of the shareholders of his York, Newcastle, and Berwick Railway Company it was revealed that the company had bought shares at artificially inflated prices in another of Hudson's companies and that Hudson himself had been the owner of the shares. A committee of inquiry was set up, in spite of Hudson's attempts to prevent it. A meeting of Eastern Counties shareholders was equally turbulent and another committee of inquiry into his management of affairs was set up. When the findings of these two committees were published Hudson lost all credibility. Dividends had been paid out of capital; figures of traffic, revenue, and expenditure had been manipulated. He was compelled to resign from many of his company directorships and to repay large sums of money which he was deemed to have misappropriated. Money withdrawn from the York, Newcastle, and Berwick Railway Company in order to pay contractors had got no further than his personal bank account, for example.
Hudson remained a member of parliament, however, being returned for Sunderland in 1847 and again in 1852. This meant that he could not be arrested for debt while the House of Commons was in session, but in between sessions he went to France and Spain in order to evade his creditors. He was compelled to sell his landed estates, his Knightsbridge mansion was leased to the French ambassador, and his name was removed from the roll of aldermen at York. By May 1849 where he once had been adulated he was now execrated, although The Times, often one of his severest critics, did write of him on 10 April 1849 that the system itself was to blame:a system without rule, without order, without even a definite morality … He had to do everything out of his own head, and among lesser problems to discover the ethics of railway speculation and management … Mr Hudson's position was not only new to himself, but absolutely a new thing in the world altogether. In June of 1850 the Sunderland Dock was opened amid scenes of jubilation. This was Hudson's last triumph. He was re-elected member of parliament for Sunderland in 1857, but the dock company was beginning to fail and he lost his seat at the general election of 1859. He now retired permanently to France to avoid his creditors.
Hudson returned to England in 1865, by now largely forgotten by the public, in order to fight the general election for a seat at Whitby, to which he had been nominated as a tory candidate by some of his remaining admirers. Just before the election Hudson was arrested at the suit of one of his creditors and imprisoned at York, where he remained for three months. His creditors relented, not least because he had no resources left with which to satisfy them; and he still retained sufficient friends and admirers to raise a subscription with which to buy him an annuity of £600 per annum. With this he went to live with his wife in a small house at 87 Churton Street, London. His debts were finally compounded and he was slowly re-accepted into society. He was even re-elected chairman of the smoking room of the Carlton Club. However, Hudson was taken ill in York in the December of 1871 and returned to London, where he died at home in Churton Street from angina on 14 December. He was survived by his wife. His coffin was, fittingly, taken by train to York and he was buried at Scrayingham, Yorkshire, less than 3 miles from the place of his birth. As the funeral cortège passed through York on the morning of 21 December the shops were closed and the great bell of the minster was tolled.
In his prime Hudson was a short, stocky man, with sharp, piercing eyes. As a public speaker his personal magnetism made up for his grammatical solecisms and his broad Yorkshire accent. He could be ruthless and domineering but he was also capable of acts of great personal generosity. His obituarist in The Times (16 December 1871) gave a balanced assessment: The world which blindly trusted him, which cringed to him and flattered him avenged itself by excessive and savage reprobation … It is impossible to deny that he did great things to develop the railway system in the North of England. He was a man who united largeness of view with wonderful speculative courage. He went in for bigger things than any one else. He took away people's breath at first, but he soon succeeded in persuading them that the larger the project and the bolder the scheme, the more likely it was to pay. He showed his confidence by investing more largely than anyone else. On 25 December 1871, however, The Times also commented, 'the main charge against him was proved. He did "cook accounts"'.
 Michael Reed  DNB