Gallery
Gallery: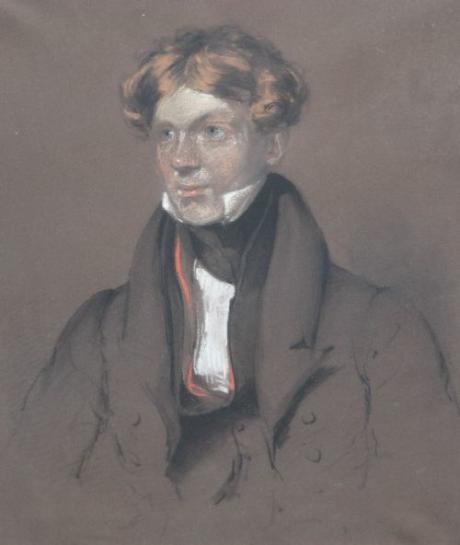 Attributed to George Richmond, RA, 1809 - 1896
Portrait of James Barry, born Margaret Ann Bulkley 1799-1865
James Barry, born Margaret Ann Bulkley
pencil and pastle
44.50 x 34.29 cm. (17.1/2 x 13.1/2 in.)
Notes
James Miranda Stuart Barry (1799 – 25 July 1865, born Margaret Ann Bulkley), was a military surgeon in the British Army. After graduation from the University of Edinburgh Medical School, Barry served in Cape Town, South Africa. By the end of his career, he had risen to the rank of Inspector General in charge of military hospitals. In his travels he not only improved conditions for wounded soldiers, but also the conditions of the native inhabitants. Among his accomplishments was the first caesarean section in Africa by a British surgeon in which both the mother and child survived the operation. Although Barry lived his adult life as a man, it is believed that at birth he was identified or assigned as female and named Margaret Ann Bulkley, raised as a girl, and that he chose to live as a man so that he might be accepted as a university student and able to pursue a career as a surgeon. Thus Barry would be the first British woman to become a qualified medical doctor. Information about Barry's early life has been rife with myth and speculation; with no contemporary records known. The exact date of Barry's birth is uncertain; with sources putting the date at 1789, 1792,1795, or 1799.Evidence collected by Hercules Michael du Preez indicates that Barry was born Margaret Ann Bulkley in Ireland in 1789, the second child of Jeremiah and Mary-Ann Bulkley. The child's mother was the sister of James Barry, a celebrated Irish artist and professor of painting at London's Royal Academy. However, family financial mismanagement left Mary-Ann and Margaret Bulkley without the support of either Jeremiah Bulkley (in prison) or their son John (married). Letters during this time of financial hardship refer to a conspiracy between Mrs. Bulkley and some of her brother's influential, liberal-minded friends (as Francisco de Miranda, the famous Venezuelan revolutionary) to get the teenage Margaret into medical school. A financial record from the family solicitor indicates that Mary-Ann and Margaret Bulkley travelled to Edinburgh by sea at the end of November 1809. A letter to the same solicitor, sent on 14 December, in which 'James Barry' asks for any letters for him to be forwarded to Mrs. Bulkley, mentions that '...it was very usefull [sic] for Mrs. Bulkley (my aunt) to have a Gentleman to take care of her on Board Ship and to have one in a strange country...', apparently indicating that the younger traveller had assumed this male identity upon embarking on the voyage. Although the letter was signed by Barry, the solicitor wrote on the back of the envelope 'Miss Bulkley, 14 December'.Following his 1809 arrival in Edinburgh, Barry began studies at the University of Edinburgh Medical School as a 'literary and medical student'. He qualified with an MD in 1812, then moved back to London. There he signed up for the Autumn Course 1812/1813 as a pupil of the United Hospitals of Guy's and St Thomas'. On 2 July 1813, Barry successfully took the examination for the Royal College of Surgeons of England, subsequently qualifying as a Regimental Assistant. Barry was commissioned as a Hospital Assistant with the British Army on 6 July 1813, taking up posts in Chelsea and then the Royal Military Hospital in Plymouth, where he was promoted to Assistant Staff Surgeon.  After that he served in South Africa. He arrived in Cape Town between 1815 and 1817.In a couple of weeks he became the Medical Inspector for the colony. During his stay, he arranged for a better water system for Cape Town and performed one of the first known successful Caesarean sections - the boy was christened James Barry Munnik. He also gained enemies by criticizing local handling of medical matters. He left Cape Town in 1828.Barry's next postings included Mauritius in 1828, Trinidad and Tobago, and the island of Saint Helena. In Saint Helena he got into trouble for leaving for England unannounced. Later he served in Malta, Corfu, the Crimea, Jamaica, and in 1831 Canada.By this time he had reached the rank of Inspector General, H.M. Army Hospitals. However, during his next posting in Saint Helena, he got into trouble with the internal politics of the island, was arrested and sent home, and demoted to Staff Surgeon. His next posting was the West Indies in 1838.In the West Indies Barry concentrated on medicine, management and improving the conditions of the troops. He was promoted to Principal Medical Officer. In 1845, Barry contracted yellow fever and left for England for sick leave in October.Barry was posted to Malta on 2 November 1846. Within a month of his arrival he took a seat in the local church that was reserved for the clergy and was severely reprimanded. During his stay he had to deal with a threat of a cholera epidemic, which eventually broke out in 1850. He left Malta for Corfu in 1851 with the rank of Deputy Inspector-General of Hospitals. He left Corfu in 1857 for Canada as an Inspector-General of Hospitals. In that position, he fought for better food, sanitation and proper medical care for prisoners and lepers, as well as soldiers and their families. James Barry retired in 1864 — reputedly against his wishes — and returned to England. He died from dysentery on 25 July 1865. Sophia Bishop, the charwoman who took care of the body, examined his anatomy and revealed this information after the funeral. The situation came to light after an exchange of letters between George Graham of the General Register Office, and Major D. R. McKinnon, Barry's doctor and the person who had issued the death certificate on which Barry was identified as male. Sir, It has been stated to me that Inspector-General Dr James Barry, who died at 14 Margaret Street on 25 July 1865, was after his death found to be female. As you furnished the Certificate as to the cause of his death, I take the liberty of asking you whether what I have heard is true, and whether you yourself ascertained that he was a woman and apparently had been a mother? Perhaps you may decline answering these questions; but I ask them not for publication but for my own information. Your faithful servant George Graham McKinnon's response was as follows: Sir, I had been intimately acquainted with the doctor for good many years, both in London and the West Indies and I never had any suspicion that Dr Barry was a woman. I attended him during his last illness, (previously for bronchitis, and the affection for diarrhoea). On one occasion after Dr Barry's death at the office of Sir Charles McGregor, there was the woman who performed the last offices for Dr Barry was waiting to speak to me. She wished to obtain some prerequisites of his employment, which the Lady who kept the lodging house in which Dr Barry died had refused to give him. Amongst other things she said that Dr Barry was a female and that I was a pretty doctor not to know this and she would not like to be attended by me. I informed him that it was none of my business whether Dr Barry was a male or a female, and that I thought that he might be neither, viz. an imperfectly developed man.She then said that she had examined the body, and was a perfect female and farther that there were marks of him having had a child when very young. I then enquired how have you formed that conclusion. The woman, pointing to the lower part of his stomach, said 'from marks here. I am a maried [sic] woman and the mother of nine children and I ought to know.' The woman seems to think that she had become acquainted with a great secret and wished to be paid for keeping it. I informed his that all Dr Barry's relatives were dead, and that it was no secret of mine, and that my own impression was that Dr Barry was a Hermaphrodite. But whether Dr Barry was a male, female, or hermaphrodite I do not know, nor had I any purpose in making the discovery as I could positively swear to the identity of the body as being that of a person whom I had been acquainted with as Inspector-General of Hospitals for a period of years. Yours faithfully, D.R. McKinnon Afterward many people claimed to have "known it all along". The British Army sealed all records for 100 years. Historian Isobel Rae gained access to the army records in the 1950s, and concluded that Barry was the niece of James Barry the painter. He was buried in Kensal Green Cemetery under the name James Barry and his full rank. His manservant John subsequently returned to Jamaica.    We are grateful for Michael du Preez help in cataloguing this portrait.
Artist biography
Richmond, George (1809–1896), portrait painter, fifth child of Thomas Richmond (1771–1837), miniature painter, and his wife, Ann Coram (1772–1860), of 42 Half Moon Street, Mayfair, Westminster, was born on 28 March 1809, probably at Brompton. He was baptized on 1 May at St James's Church, Piccadilly, London.
Artistic training and involvement with the Ancients
With his artistic family background (Thomas's great-grandfather was the miniaturist George Engleheart), and a gift for drawing strongly apparent by the age of twelve, it is not surprising that Richmond decided on a career in art. What other learning he received was at a dame-school in Soho; this limited elementary education explains his perennial difficulty with spelling, and his execrable handwriting. More important for his future were his regular visits to the British Museum to draw from the antique. He entered the Royal Academy Schools at Somerset House on 23 December 1824, and exhibited his first academy work, in tempera, in 1825: Abel the Shepherd (Tate collection). Among his older fellow pupils was a part-time student, Joseph Severn, a friend of John Keats, who had attended the poet's deathbed.

The most profound early influence on Richmond was that of William Blake, to whom he was introduced by John Linnell when he was sixteen; Richmond said that a conversation with Blake was like talking with the prophet Isaiah. He was at Blake's home, 12 Fountain Court, the Strand, on 12 August 1827, when Blake died, and he closed his eyes. A moving account of Blake's death, which Richmond sent to his friend Samuel Palmer, described how 'His countenance became fair—his eyes brightened and he burst out singing of the things he saw in Heaven. In truth he Died like a Saint' (G. E. Bentley, Blake Records, 1969, 346–7).

Blake had been the mentor to a group of young artists and friends which came to include Richmond. Palmer was the pivotal figure; the other members of the circle were Edward Calvert, Francis Oliver Finch, Henry Walter (1779–1849), Welby Sherman (fl. 1827–1834), Palmer's cousin John Giles (1810–1880), and two sons of the architect Charles Heathcote Tatham, Frederick (1805–1878) and Arthur (1809–1874). The Ancients, as they called themselves, met regularly, and frequently visited Shoreham in Kent, where Palmer's father lived and the painter himself owned a cottage. There they lived simply, bathing in the river, reading poetry, playing music, and discussing their work. Richmond recalled that, at Shoreham, he had managed to live on about 10s. a week. A simple piety animated the group: Richmond recollected how 'We all said our prayers attended church and Trusted wholly in God and were blessed in that Trust' (Richmond family MSS). They continued to meet regularly even into middle age.
Early career and marriage
Wishing to broaden his artistic horizons, Richmond visited France from 1826 to 1829, supporting himself there by painting miniatures. Until the 1830s, in addition to portraits, he also engraved, drew, or painted religious and literary subjects set in landscapes reminiscent of Palmer's work. Among them were the engravings The Shepherd (1827; uncompleted) and The Fatal Bellman (1827), based on a passage in Macbeth; the paintings Christ and the Woman of Samaria (1828; Tate collection), and the numinous The Eve of Separation(1830; Ashmolean Museum, Oxford). Drawings in pen and ink, sometimes heightened with watercolour, include the Blake-like A Damned Soul Hanging from a Gothic Building (1823; priv. coll., England) and The Angel and Elijah (1824 or 1825; Tate collection).

About 1826 Richmond fell in love with Julia (1811–1881), the beautiful fourteen-year-old sister of the Tatham brothers, whose father had engaged Richmond to give her drawing lessons. Although old Tatham had encouraged the romance, his diminishing fortune brought a change of mind when a rich and elderly suitor expressed interest in Julia. Learning of this, the young couple—encouraged by Palmer, who loaned Richmond £40—eloped to Gretna Green, where they were married on 24 January 1831. Back in London, Richmond set up home at 27 Northumberland Street, New Road, sending Julia to stay for the time being with Palmer's father at Shoreham. Meanwhile John Linnell persuaded Tatham that Richmond had a promising future. Tatham forgave them, and within three weeks George and Julia were reunited: their marriage proved to be long and happy. They had fifteen children, of whom ten survived infancy; with this growing family Richmond needed a reliable income, and he spent most of his remaining working life painting portraits.

In the 1830s Richmond began to extend his social life; he was assisted by the tory politician Sir Robert Inglis, bt, who introduced Richmond to his circle. This included Inglis's second cousin William Wilberforce and the family of Henry Thornton. Inglis became guardian to Thornton's family after his death, and moved into the Thorntons' house, Battersea Rise, much frequented at that time by artists and thinkers. It was during a visit to Battersea Rise that Richmond was offered the chance to paint Wilberforce's portrait; timidity made him hesitate, but his wife insisted that he must do it. It was a turning point in his career: as an engraving by Samuel Cousins it sold well, enhancing both Richmond's reputation and his bank balance. By 1836 he was earning £1000 p.a. from portraits and enjoying considerable popularity. During the 1830s his sitters included the countess of Pembroke (1835), four reigning bishops—Chester (1833), Lichfield (1833), London (1833), and Montreal (1836)—the Revd Samuel Wilberforce (1834), later bishop of Oxford, and then of Winchester, Rowland Hill (1834), and Charles Darwin (1839).
Visit to Rome
In 1837 Richmond and his wife, accompanied by the newly-weds Samuel and Hannah Palmer, visited Italy. The party embarked at Blackwall in October, and six weeks later entered Rome through the Porto del Popolo. Richmond lost no time in looking up his old fellow student Joseph Severn, now married and living in Rome. Severn later became British consul and was already moving in prestigious social circles, to which he introduced Richmond, as well as to other English artists working in the city. Among those with whom Richmond became thus acquainted were John Baring, of the banking dynasty, Sir Henry Russell, and Sir William Knight, son of the keeper of the privy purse under George IV. Among many social events during the coming months Richmond attended a party at the house of Torlonia, the Roman banker, where he saw the dukes of Devonshire and Sutherland and the Russian tsarevich. Severn also introduced Richmond to the young W. E. Gladstone, already at the age of twenty-nine an MP; with him the painter rode beyond the limits of the Roman states, where the young politician demonstrated his disapproval of the papal administration by throwing his hat in the air, crying 'long live liberty!'

However, the climate of Rome did not suit Richmond, who was anyway something of a hypochondriac. His eyes weakened, and for one period at least he was compelled temporarily to 'desist from night studies'. His fretfulness continued intermittently throughout the Italian visit, but he worked pertinaciously at such self-imposed tasks as copying Roman murals, and experimenting with technical devices, including an egg-yolk-based medium. He visited the Vatican to view Raphael's Loggia and the Sistine Chapel, recording the number of hours he spent sketching there. At the Sistine Chapel he obtained permission from Filippo Agricola, the managing artist, to erect scaffolding, so as to study more closely Michelangelo's frescoes. He studied carefully many other works, and attended life classes at the Rome Academy.

Further afield Richmond visited Naples, Pompeii, and Herculaneum, after which he travelled with Julia to Florence. There he threw himself with enthusiasm into the study of everything, from Michelangelo's David in the Accademia di Belli Arti to Leonardo's Adoration of the Magi in the Uffizi, and many works by the early Italian masters. Back in Rome, Richmond produced some original work, including landscapes and subject paintings, such as The Journey to Emmaus, commissioned by Baring. And there were portraits, enough to underline where his future lay: 'It will', he said in a note about 1841, 'be a long time before I shall earn equal reputation by historical art' (Richmond family MSS). Richmond and his wife finally left Rome on 22 June 1839, stopping at Florence for ten days, before setting off for Venice, where Richmond expressed himself 'less astonished than delighted'. Above all, he was able to study there the work of Titian, Veronese, and Tintoretto, and was impressed especially by the latter's awesome Crucifixion in the Scuola di San Rocco. The Richmonds left Venice for home in August 1839.
Success as a portrait painter
In England, Richmond's portrait commissions multiplied. One of especial significance to his future career was a portrait of Thomas Dyke Acland, later eleventh baronet (1840), commissioned by the prestigious Grillion's Club, whose members were drawn from high strata of the aristocracy, politics, and professions. A portrait of each member was commissioned on his election: this opened a grand prospect for Richmond, who became for many years the club's portrait painter. In all, he painted seventy Grillion's portraits, and in 1861 was made an honorary member of the club. Richmond presented its members, many of them young MPs, as a high-minded élite; his drawings constitute one of the best series of British public-life portraiture.

Richmond visited Rome again in late 1840, and renewed acquaintance with much that he had seen during his previous visit, in addition to taking in much that was new to him. Characteristically, on this visit he pushed himself to study all he could during the daylight hours, and to study anatomy in the evening. As usual, this punishing regime led to depression and illness, which nevertheless abated whenever he received a letter from his wife. John Ruskin, then twenty-one years old, was in Rome at this time, and was introduced to Richmond by Joseph Severn. After visiting the Vatican with him, Richmond noted that Ruskin was 'not so open to receive impressions nor does he kindle readily at the sight of the great works' (Richmond family MSS, diary, 16 Dec 1840). Despite this artistic difference of opinion, Ruskin was devoted to Richmond for many years, and was influenced by him in the development of his own aesthetic awareness.

Richmond returned home early in 1841, having been away four months. He was immediately inundated with portrait commissions and was so busy that he was giving four or five sittings a day; before long his annual income exceeded £2000. With Richmond's ever expanding family, and an ever growing professional practice, a larger and more convenient house became necessary. Therefore, in 1833 the family moved to 16 Beaumont Street, London, where a son, William Blake Richmond (1842–1921), was born, and then in 1843 to 10 (later renumbered 20) York Street, off Baker Street, where Richmond remained for the rest of his life.

Whenever possible Richmond turned to landscape, which was closer to his predilection than portraiture. There is no doubt that this imperative concentration on portraiture led to a neurotic inner struggle, and in turn to illness and depression. Despite his yearning for other subjects, however, Richmond was a superb portrait painter, his work refined by studies in Italy. If some of his portraits flattered somewhat, they were still, he said, 'the truth lovingly told' (E. T. Cook and A. Wedderburn, eds., The Works of John Ruskin, 36, 1909, xxvii). Such is his affectionate depiction of Samuel Palmer (1829; NPG), in which his friend's spiritual quality is fully captured, but his usually unkempt appearance is tactfully tidied. Occasionally—inspired no doubt by his strong evangelical beliefs—Richmond painted religious subjects, such as The Agony in the Garden (1858; Whitehaven Methodist Church, Cumberland).
Family, professional, social life, and other interests
Richmond was a small man, but carried himself with dignity, and won much respect. As a family man he was a devoted husband and father, not averse to romping with his children. Yet he could be strict, even stern: when his son Willie ran away from home with Palmer's son, Thomas More, he was made to memorize scolding letters sent to him by his father's friends.

In 1844 Richmond was appointed by Gladstone to a seat on the School of Design council, vacated by Sir Augustus Callcott. In addition, he was making professional visits to Devon and Yorkshire, yet he still managed to attend the foregatherings of the Ancients. No doubt he was once again overworking, although he had breaks at Battersea Rise and in Kent, where he could indulge himself in landscape painting. But these short respites became increasingly difficult to arrange, and were almost impossible by 1847, in which year he painted nearly one hundred portraits. Throughout his life he continued to find time to study the technique of painting—his own work seldom, if ever, satisfied him and from the 1860s he added photography to his resources as an aide-mémoire.

Richmond's social life prospered: in addition to his honorary membership of Grillion's Club, he was elected a member of Johnson's Club (1860), the Athenaeum (1856), and of the Club of Nobody's Friends (1856). Professionally, he served on the royal commission for determining the site of the National Gallery, and in 1857 he was elected an associate of the Royal Academy, becoming an academician in 1866.

At infrequent intervals Richmond turned to sculpture, the technique of which he probably learned while a student at the Royal Academy. His most important sculpture—commissioned in 1859, and completed in 1867—was a recumbent effigy of his friend Charles James Blomfield, bishop of London, for his tomb in St Paul's Cathedral. From 1866 Richmond also began to undertake restorations, beginning with the full-length portrait of Richard II in Westminster Abbey. The earliest contemporary portrait of an English monarch, it had been inexpertly restored and overpainted in the eighteenth century, and was considered to be beyond repair. Richmond, feeling confident that he could restore it, offered his services to the dean; the work was successfully realized by Henry Merritt, the picture cleaner, under the artist's supervision. Following this triumph, Richmond received many similar commissions, the most spectacular of which was the restoration between 1872 and 1875 of Daniel Maclise's murals in the palace of Westminster, Wellington Meeting with Blücher after the Battle of Waterloo and The Death of Nelson.
Last years, death, and assessment
During his final years Richmond worked largely on landscape, although he still painted a few portraits. The Ancients died: Henry Walter was the first to depart in 1849, Calvert the last in 1883; as the group's central figure, Samuel Palmer, lay on his deathbed in 1881, Richmond knelt in prayer beside him. Julia Richmond died in the same year. In old age he spent much time with his children and grandchildren. Surviving friends—among them Ruskin—kept in touch with him, but he had distanced himself from Gladstone because of what he considered to be mistaken policies towards Ireland and the Sudan.

Richmond received many honours, including honorary doctorates from the universities of Oxford and Cambridge, honorary fellowship of University College, London, and honorary associate membership of the Royal Institute of British Architects. Towards the end he became infirm and suffered frequent bouts of illness. He died at his home, 20 York Street, London, a few days before his eighty-seventh birthday, on 19 March 1896, and was buried in Highgate cemetery on 22 March.

As a portrait painter Richmond was undoubtedly a master, despite his preference for landscape and his forced overproductivity. His early pencil or chalk portraits, which closely resemble those of his contemporary Samuel Laurence, appear in technique to be based on the nets of lines and cross-hatchings of engraving, an art practised by Richmond early in his career. After studying in Italy, however, his oil paintings became enriched by splendid colouring which owed much to Veronese, while such devices as placing the sitter by an open window show the influence of Titian. This intelligent imitation of the Italian Renaissance masters served to lift Richmond's best works well above the common run of mid nineteenth-century portraiture.

Raymond Lister  DNB