Gallery
Gallery: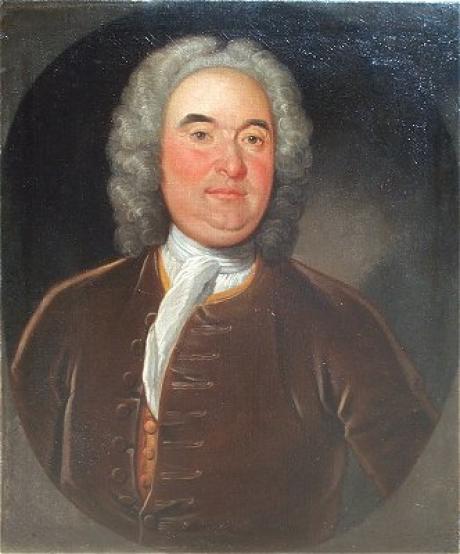 Arthur Pond, 1701-1758
Portrait of James Benn 1766-1782
oil on canvas
76 x 61 cm. (30 x 25in.)
Notes
James Benn was born in Whitehaven in 1725 the son of James Benn, master and owner of a Whitehaven vessel. His mother was the grand-daughter of an ejected minister from Ireland. His grandfather, Richard Harrison paid for his education. James Benn studied at the Kendal Academy of the Rev Dr Caleb Rotheram, where he was admitted at Christmas 1743. Caleb Rotheram was another pupil of Thomas Dixon's in Whitehaven. James Benn also studied in Glasgow. He was ordained at Walton in 1751 as minister at Forton-in-the-Fylde 1757 - 1766 he was minister in Blackley In 1758 he married Timothy Gardner's daughter, Jane. It was said of him that he was a warm friend to civil and religious liberty James Benn died in Swaledale on May 2nd 1782. His widow, Mrs Jane Benn, stayed on in Low Row and was influencial in the affairs of the church when the authority of the young William Turner was under attack. Their daughter Francelina married Thomas Hodgson of Coverham in Grinton Parish church by licence on 23rd May 1786, and then on October 22nd 1791 re-married, again at Grinton - her second husband being William Stewart. Francelina is credited with preserving the Lord Wharton endowment for future Low Row ministers by transfering it to Lady Hewley's trustees.
Artist biography
Born about 1705, was educated in London, and stayed for a time in Rome studying art, in company with the sculptor Roubiliac. He became a successful portrait-painter.He was elected a Fellow of the Royal Society in 1752, and died in Great Queen Street, Lincoln's Inn Fields, 9 September 1758. His collection of old master drawings was sold the following year, and realised over £1400. 
His numerous original portraits include Alexander Pope, William, Duke of Cumberland, and Peg Woffington. Pond was also a prolific etcher, and used various mixed processes of engraving by means of which he imitated or reproduced the works of masters such as Rembrandt, Raphael, Salvator Rosa, Parmigianino,Caravaggio, and the Poussins.
In 1734–5 he published a series of his plates under the title Imitations of the Italian Masters. He also collaborated with George Knapton in the publication of the Heads of Illustrious Persons, after Jacobus Houbraken and George Vertue, with their lives by Thomas Birch (London, 1743–52); and engraved sixty-eight plates for a collection of ninety-five reproductions from drawings by famous masters, in which Knapton was again his colleague. Another of his productions was a series of twenty-five caricatures after Pier Leone Ghezzi, republished in 1823 and 1832 as Eccentric Characters.