Gallery
Gallery: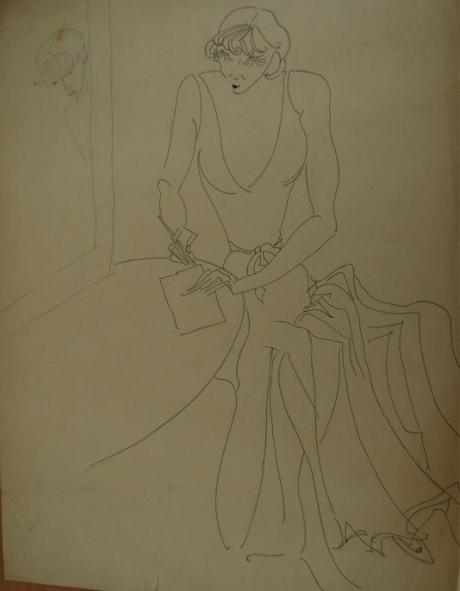 Oriel Ross, 1907-1994
Portrait of Jessie Margaret Matthews, 1907–1981
Portrait of Jessie Margaret Matthews,
Signed/Inscribed:
on the reverse "Jessie Matthews"
pen and black ink
34 x 24 cm 13.1/4 x 9.3/4 in.
Notes
Matthews, Jessie Margaret (1907–1981), actress, was born in Soho, London, on 11 March 1907, the seventh of eleven surviving children of George Ernest Matthews, owner of a greengrocery stall in Berwick Street market, and his wife, Jane, daughter of Charles Henry Townshend, a timber porter. She went to Pulteney Street School for Girls, Soho, and showed such promise as a dancer that her oldest sister, Rosie, arranged for her to be trained in classical ballet by Mme Elise Clerc. When Mme Clerc died suddenly, Rosie determinedly arranged for Jessie to train as a chorus girl with Miss Terry Freedman of Terry's Juveniles.
Jessie Matthews made her first London appearance in 1919 in Bluebell in Fairyland, produced by E. Seymour G. Hicks. Four years later she played in Irving Berlin's Music Box Revue, presented by Charles Cochran. In his book I had Almost Forgotten (1932) Cochran described her as 'an interesting looking child with big eyes, a funny little nose, clothes which seemed a bit too large for her, and a huge umbrella' (Cochran, 163).
At sixteen Jessie Matthews made her New York début in the chorus of André Charlot's Revue of 1924. Gertrude Lawrence was the leading lady in that show, and when she fell seriously ill with pneumonia in Toronto, Jessie Matthews took over her part. She reached full star status in The Charlot Show of 1926 when she danced in ballet numbers with Anton Dolin and in musical comedy items with Henry Lytton junior (Lord Alva Lytton; d. 1965) , son of Henry Alfred Lytton, actor. She married Henry Lytton in 1926 but from the outset the marriage was a failure, and in 1929 it was dissolved. At this time she also obtained a £25,000 contract from Cochran, and in 1927 she starred in One Dam Thing After Another by Ronald Jeans, with music by Lorenz Hart and Richard Rodgers. A co-star was John Robert Hale Monro (Sonnie Hale), and she found in him the perfect dancing partner. The next year they appeared together in This Year of Grace by Noël Coward, in which they sang Coward's romantic duet, 'A Room with a View'. The critics acclaimed her performance, which was followed by similar triumphs in Cole Porter's Wake up and Dream (1929) and Ever Green (1930). She had now reached the peak of her theatrical career.
Sonnie Hale (d. 1959), son of the actor Robert Hale, was married to Evelyn Laye, another highly successful actress. In 1930 they divorced and Jessie Matthews received much unwelcome publicity as the woman responsible for the break-up of the marriage. Her own divorce had been finalized and in 1931 she and Hale married. In that year she made her first sound film, Out of the Blue, which was a failure, but her second, There Goes the Bride (1933), was a triumph, and led to her becoming Britain's first international film star. During the 1930s she starred in fourteen films, including The Good Companions (1933) opposite John Gielgud, Friday the Thirteenth (1933) opposite Ralph Richardson, and Evergreen (1934), all directed by Victor Saville.
During the filming of Evergreen Jessie Matthews had her first nervous breakdown; many, more serious, were to follow. In 1934 her first baby, a son, lived only four hours; the doctors advised the desolate mother to adopt a child, and early in 1935 she and her husband adopted a baby girl, Catherine. In 1936 there was another serious nervous breakdown. In spite of Jessie Matthews's spectacular successes she was always beset by feelings of insecurity; at the beginning of her autobiography, Over my Shoulder (1974), she wrote: 'All my life I had been frightened' (Matthews and Burgess, 1). She was now directed by her husband in Head over Heels (1937) and feared it would be a failure; but it made money. Gangway (1937) and Sailing Along (1938), however, were disappointments, and relations with Sonnie Hale were becoming more and more strained. Her only Hollywood film was Forever and a Day (1943).
The Hales returned to the stage in 1939 in their own musical production I Can Take It. Its provincial tour was a great success and it was due to open at the London Coliseum on 12 September 1939; war broke out on 3 September, and cancellation of the show meant financial disaster. In 1941 Jessie Matthews had an offer to appear on Broadway in The Lady Comes Across, and her husband urged her to accept. She reluctantly left him and Catherine, and set off alone for New York but before the show could open she was ill again and the play flopped. At the age of thirty-four her doctors predicted that her theatrical career was over. During her absence in America her husband was having an affair with Catherine's nurse, Mary Kelsey, and in 1942 he and his wife parted company; two years later they divorced.
Jessie Matthews resumed her stage career in the West End in Jerome Kern's Wild Rose (1942). While appearing in concerts with the Entertainments National Service Association she met Lieutenant (Richard) Brian Lewis, of the Queen's Royal regiment, who was twelve years her junior; in 1945 they married. Lewis was the son of Norman Percy Lewis, a schoolmaster, from West Hartlepool. Four months later Jessie Matthews had a stillborn son and her doctors warned her that another pregnancy would threaten her life. In 1948, after six years' absence, she reappeared on the London stage in Maid to Measure, followed in 1949 by the revue Sauce Tartare. She also appeared in Pygmalion (1950) and Private Lives (1954). She and Brian Lewis divorced in 1958.
Jessie Matthews returned to films in Tom Thumb (1958), and demonstrated that she could still command an audience when she sang one of her well-known songs, 'Dancing on the Ceiling', in the 1960 Night of One Hundred Stars. By this time she had lost her sylphlike figure but not her charm. In 1963 the BBC invited her to take over the matronly role of Mrs Mary Dale in the radio serial The Dales; she played this part for the next six years. She also appeared frequently in television drama and returned to the stage in such plays as The Killing of Sister George (1971) and Lady Windermere's Fan (1978). In 1979 her one-woman show Miss Jessie Matthews in Concert, produced in Los Angeles, won the US Drama Critics award. She was appointed OBE in 1970. Jessie Matthews's last appearance was at the National Theatre, London, in Night of One Hundred Stars on 14 December 1980. She died at Eastcote, London, on 19 August 1981.
H. F. Oxbury, rev. DNB
Artist biography
Actress. Born Muriel Swinstead, she trained at the Royal College of Music and made her debut on stage at sixteen in Karel Capek's The Insect Play in 1923. In 1928 she appeared as Nature in Diaghilev 's Ballet Ode and then went to New York, where she appeared on Broadway and in revue and cabaret. She returned to London in 1931 and was in work throughout the 1930s and 40s, when she was a member of Lilian Baylis's Old Vic Company. She was married to the 8th Earl Poulett from 1935 to 1941.