Gallery
Gallery: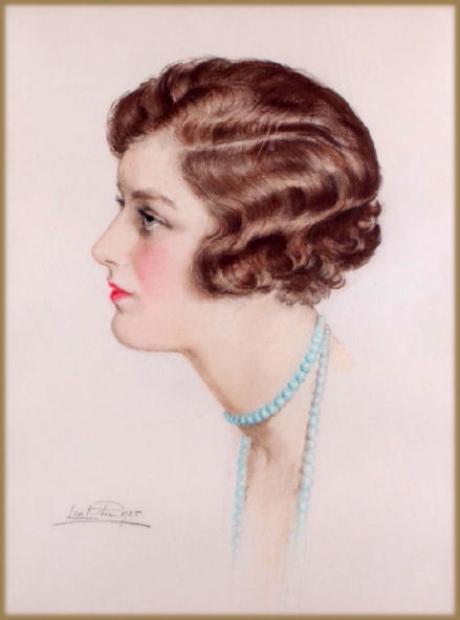 Leo Klin, 1887-1967
Portrait of Katherine Harriet "Kitty" Kinloch, lady Brownlow
Katherine Harriet "Kitty" Kinloch, Lady Brownlow
Signed/Inscribed:
"Leo Klin 1925"
pencil and pastel
12 x 16 in. (31 x 41 cm.)
Notes
Katherine Harriet "Kitty" Kinloch, Lady Brownlow was daughter of Brig-Gen Sir David Alexander Kinloch, 11th Bt, CB, MVO of Glimerton. She married 18th Oct 1927 Peregrine Francis Adelbert Cust, 6th Baron Brownlow of Belton, JP, DL. And had three children, including the heir and 7th and present Baron Brownlow of Belton Edward John peregrine Cust.
During the 1930s Brownlow was a close friend and equerry to the Prince of Wales, and later Lord-in-waiting when he became King Edward VIII. The Prince spent many weekends at Brownlow's country house, Belton House, but it is not known whether or not his future wife Mrs Wallis Simpson ever spent time at Belton. Upon the prince's accession to the throne, Lord Brownlow became heavily involved in the abdication crisis which followed the new King's intention to marry Mrs Simpson. Brownlow personally accompanied Mrs Simpson on her flight to France to escape the media attention, and encouraged Mrs Simpson to renounce the idea of marriage to the King. Returning to England, Brownlow attempted to enlist the support of the King's mother Queen Mary, but she refused to receive him.
Following the abdication, Lord Brownlow attempted to extricate himself from the former King's circle, refusing to attend the Duke of Windsor's marriage ceremony in 1937. For this Edward and his wife, now the Duke and Duchess of Windsor, regarded Brownlow as disloyal. The Duchess in particular never forgave the man who had once championed her. Lacking the Duchess of Windsor's forgiveness following the abdication was one thing; following the accession of the new monarch, King George VI, Brownlow read without prior warning in the Court Circular, that he had been replaced as the Sovereign's Lord-in-Waiting. Telephoning Buckingham Palace for an explanation, he was given the curt information that his resignation had been accepted - but he had never tendered it. It was also made clear to him that the new King and his consort, Queen Elizabeth, had ordered that Brownlow's name was never to appear in the "Court Circular" again.
Artist biography
Leo Klin 1887-1967, was born in Grodno, Russia where he studied at the Imperial Academy of Fine Arts, St Petersburg. In England he exhibited widely, including RA, RP, UA, NEAC and throughout the provinces. Sunderland Museum and Art Gallery and Russell-Cotes Art Gallery, Bournemouth hold his work. he lived in London.