Gallery
Gallery: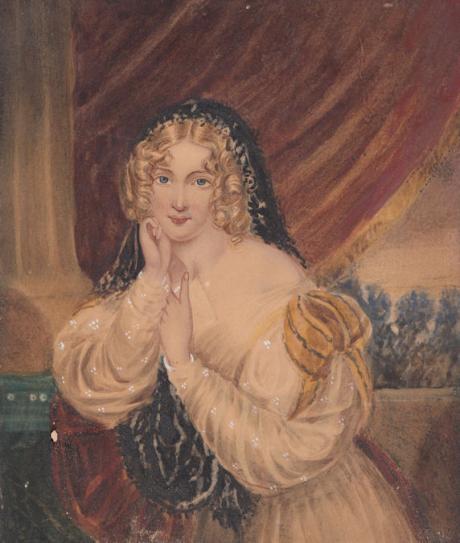 Attributed to Alfred Edward Chalon, 1780-1860
Portrait of Princess Charlotte Augusta of Wales 1796 – 1817
Portrait of Princess Charlotte Augusta of Wales
pencil and watercolour
26 x 19 cm (10 x 7.1/2 in.)
Notes
Princess Charlotte Augusta [Princess Charlotte Augusta of Wales] (1796–1817), was born at Carlton House, London, on 7 January 1796. She was the only child of the unhappy marriage between George IV, then prince of Wales, and Caroline of Brunswick. The day after Charlotte's birth the despondent prince vowed to separate the infant princess from her mother. Consequently Charlotte grew up in an establishment of her own, separate from those of her parents, and under the supervision of a governess who, until 1804, was the dowager countess of Elgin. She normally dined weekly with each of her parents at their respective homes, and occasionally she was sent to Windsor or Weymouth to visit her royal grandparents and aunts. After one such visit, Queen Charlotte reported that her granddaughter and namesake was well informed and 'blessed with an uncommon share of good sense', affectionate and capable of strong attachment when treated kindly. The queen urged her son to take more interest in the young Charlotte, shrewdly pointing out that her mother, the princess of Wales, took great pains to amuse the girl and gain her affection (Correspondence of George, Prince of Wales, 8.29–30). But Charlotte, fair and plump, bright, high-spirited, and boisterous, reminded the prince too greatly of his unfortunate marriage. The Hanoverian tradition of tension between monarch and heir may also have played a part in keeping the prince alienated from his daughter. The continued hostility between her parents plagued Charlotte's youth and adolescence. She was torn between a father she could respect but not love and a mother she could love but not respect. 'My mother was wicked,' Princess Charlotte later wrote, 'but she would not have turned so wicked had not my father been much more wicked still' (Holme, 33).
The intermittent conflict between George III and his son further complicated the princess's life. In 1804 the king, who was genuinely attached to his only legitimate grandchild, offered to take custody of her in return for a reconciliation with the prince of Wales. After agreeing to the proposition, the prince began to fear that under the king's protection Charlotte would have greater access to her mother. His fears were shortly realized when the king invited Charlotte and the princess of Wales to a private visit at Kew, which violated the prince's express orders and resulted in Lady Elgin's resignation. Princess Charlotte consequently remained at her home, Warwick House, but the king took a greater role in planning her education than he had hitherto. The bishops of Exeter and Salisbury were placed in charge, with the dowager Lady De Clifford installed as governess. Their appointments, as well as those of lesser attendants, were another source of friction between prince and king. Charlotte studied religion, Latin, history, literature, writing, drawing, music, and dance under their tutelage. Expected to defer to the royal rank of her pupil, Lady De Clifford often found her charge somewhat difficult to discipline. 'We had a few sour grapes between us,' Charlotte reported after one encounter with her governess, 'but before we had finished our contest, I made her swallow them all' (Correspondence of George, Prince of Wales, 6.236n).
The decline of George III into his final illness left the young princess without an important ally. With his full regency powers confirmed, her father put an end to Charlotte's personal correspondence and limited her visits to her mother to once a fortnight. By 1812 Charlotte was immensely popular with the public, and cheering crowds greeted her rare public appearances, thus contributing to the regent's jealousy of his heir.
Charlotte's sympathy for her mother could not, however, blind her to the impropriety of much of her conduct. In one infamous episode, for instance, the princess of Wales locked her sixteen-year-old daughter in a bedroom with a suitor and told the pair to amuse themselves. Nevertheless, in 1813 Caroline wrote a letter to her estranged husband complaining of the restrictions on her visits to her daughter, and after the letter was returned unopened, she had it published, thus making the relationship a matter of politics and public record. After an examination of Caroline's conduct, the privy council decided that the restrictions were appropriate and were to be continued. Princess Charlotte was afraid that her mother's indiscretions might some day warrant a divorce, thus threatening her own place in the succession.
In December 1813 Princess Charlotte reluctantly agreed to marry Prince William of Orange, a match proposed by the regent. In early spring she began to fear that she would be expected to live completely in Holland after the marriage. As the future sovereign of England and as her mother's protector, such an exile was entirely unacceptable. Upon learning that these were, indeed, the facts of the case, Charlotte broke off the engagement. Her furious father retaliated by dismissing all of her servants, including her beloved lady companion, Miss Cornelia Knight, and ordering Charlotte to a life of isolation at Cranbourne Lodge in Windsor Forest, where she would be allowed to see only Queen Charlotte, and that only once a week. Less than a month later, Princess Caroline made the fateful decision to leave England. Although Charlotte was deeply distressed, her mother's departure freed her of the need to offer protection to the princess of Wales, and made relations with her father, the prince regent, considerably easier.
A second engagement, this time to Prince Leopold of Saxe-Coburg (1790–1865), proved happier, and Charlotte was married to him on 2 May 1816. They made their home at Claremont, Esher, in Surrey. A difficult pregnancy, however, was terminated in November 1817 by a fifty-hour labour resulting in the birth of a stillborn son. Charlotte had remained cheerful throughout the ordeal, but five hours after the birth, early on the morning of 6 November, she died. 'Two generations,' the grief stricken Prince Leopold cried, 'gone in a moment' (Lawrence MSS, Law/2/234), and indeed, the deaths left George III without legitimate grandchildren and ended the direct line of succession. The whigs, who had championed the interests of the princess, were left without a rallying point for the future, and the public was inconsolable. While the prince regent and Queen Charlotte were criticized for their failure to be with the princess for the birth, public censure centred on the conduct of Sir Richard Croft, the accoucheur in attendance, resulting in his suicide a few months later. Princess Charlotte was buried at St George's Chapel, Windsor, on 19 November 1817.
Judith Schneid Lewis DNB
Artist biography
Chalon, Alfred Edward (1780–1860), portrait and subject painter, was born on 15 February 1780 at Geneva, Switzerland. His forebears were Huguenots who left France at the revocation of the edict of Nantes and settled in Geneva. Chalon's father, Jean Chalon, was a watchmaker who left Geneva in 1794, during troubles arising from the French Revolution; after briefly visiting Ireland, he resided in England with his wife, two sons, and a daughter, and was appointed professor of French at the Royal Military College, Sandhurst. The family later moved to London. Alfred Chalon was the younger brother of John James Chalon (1778–1854). The Chalon brothers were intended by their father for a career in trade, and each was placed in a large commercial establishment. This was not successful, and shortly afterwards they became students at the Royal Academy Schools, John in 1796 and Alfred in 1797. Alfred first exhibited a picture at the Royal Academy in 1810; he was elected an associate two years later and Royal Academician in 1816. Before this, in 1808, the year after its foundation, he became a member of the short-lived Associated Artists in Water-Colours. Also in 1808 the Chalons with six other practising artists founded the Society for the Study of Epic and Pastoral Design, later known as the Bread and Cheese Society and then the Chalon Sketching Society. It held weekly evening meetings and survived until 1851.

Alfred Chalon's work is graceful yet vigorous. His watercolour portraits, usually about 10 to 15 inches high, depict in brilliant technique and colour the textures of fur, lace, velvet, silk, and jewellery in convincing detail. When he was living with his father, sister, and brother at 42 Great Marlborough Street in London, a neighbour, Mrs Newton, wrote in a letter of 12 May 1833:
Next door to us are the Chalons. Alfred Chalon is the famous and fashionable watercolour painter; so fond of painting ladies in flowing silks and airy laces that some of the artists published an advertisement in one of the morning papers to the effect that 'muslins and laces would be done up equal to new at 19 Berners Street', which was his residence before he became our neighbour. (Whitley, 262)
His work became fashionable, especially in court circles, and he was appointed painter in watercolour to Queen Victoria; he was the first artist to portray the queen after her accession in her robes of state, worn at the dissolution of parliament, in which he accentuated her youthful beauty (Royal Collection, Belgium). The portrait was copied by Edward Henry Corbould and from this the head and shoulders were engraved by William Humphrys, and were featured on many British colonial postage stamps. When asked by the queen whether he was worried by the new invention of photography, Chalon replied 'Ah non, Madame, photography can't flatter!' (Lambourne, Chalon Brothers, 66).

Alfred Chalon painted most of his miniatures early in his career. They are among the best miniatures painted during the Regency. Like his larger portraits they make the most of the elaborate dress of his sitters, who included Mme Vestris, Mrs Peter DeWint, and Byron's daughter (Augusta) Ada, countess of Lovelace (priv. coll.). Chalon was noted for his studies of opera singers, actresses, and above all, ballerinas, which afforded poetic insights into the contemporary Romantic ballet. They include portrayals of Fanny Cerrito in Giselle, Marie Taglioni in La sylphide, and Taglioni, Cerrito, and Fanny Elssler in The Three Graces. These works were reproduced by leading lithographers, often in colour, and were sometimes used to decorate music covers. A set of six Chalon sketches of Taglioni in various roles, lithographed by R. J. Lee, and with poems by W. N. Bayley, was published in 1831.

Chalon was a gifted and witty caricaturist, depicting in such work the efforts and affectations of operatic performers such as Pasta in 'Norma' (1833), Violante Camporese Singing an Aria by Rossini, and Zuchelli in 'Il Barbiere' (both 1829; V&A). He painted also genre and history subjects, and could imitate the styles of other artists, especially Watteau. The Opera Box (BM) is among his genre subjects; originally painted as an illustration to Lady Blessington's poem The Belle of the Season (1839), it depicts a moment during the performance of a ballet, seen from a box.

Alfred Chalon and his brother John lived together and shared an unusually close fraternal relationship; each did everything possible to advance the interests of the other. Neither married. John died in 1854, and in 1855 Alfred mounted an exhibition of their work at the Society of Arts in the Adelphi. It attracted little public attention. Alfred had accumulated an extensive collection of pictures, sketches, and drawings by himself and his brother. He proposed to give this to Hampstead, but the authorities could not provide suitable accommodation. He then offered it to the nation, but died before arrangements could be made. By a will discovered after his death, the collection was acquired by some relatives in Geneva, and was distributed at auction. In addition to his artistic gifts, Alfred Chalon was appreciated as an excellent and amusing raconteur, and was an accomplished musician. Alfred Chalon died, after a period of sickness, on 3 October 1860 at his Campden Hill house in Kensington. He was buried at Highgate cemetery, in the same grave as his brother, who had been interred six years previously.

Raymond Lister  DNB