Gallery
Gallery: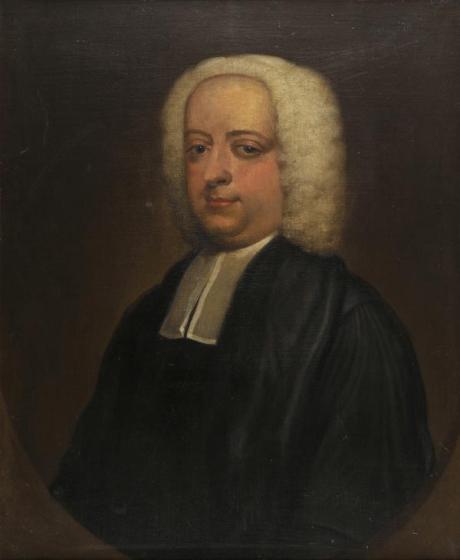 George Dowdney, Active 1730 - 1750
Portrait of the Reverend Christopher Pitt 1699 - 1748
Reverend Christopher Pitt
oil on canvas
30 x 25 in. (76 x 64 cm.)
Description
titled upper right, gilt moulded frame
Provenance
By direct family descent.
Notes
Christopher Pitt, (1699–1748), translator and poet, was born at Blandford, Dorset, the second son of Christopher Pitt MD (1662–1723) and his wife, Elizabeth (c.1674–1743). His father, the descendant of a family dating back to the times of Henry VI, practised as a physician in Blandford; he also translated 'The Plague of Athens' (from the end of book 6) for Thomas Creech's version of Lucretius (1682), a work dedicated to a member of the Hampshire side of the Pitt family, George Pitt (d. 1745) of Stratfield Saye, the father of the first Baron Rivers (c.1722–1803). Robert Pitt FRS (1653–1713) was the poet's uncle; Thomas 'Diamond' Pitt (1653–1726), governor of Madras, was his second cousin—and it was to the latter's daughter, Lady Stanhope, that Pitt dedicated his first published poem. The poet's elder brother, Robert (1693–1730), of Wadham College, Oxford (BA 1716, MA 1718, fellow 1719), translated into Latin five books of Milton's Paradise Lost.
Pitt was admitted at Winchester College in 1713 and matriculated at Wadham College, Oxford, on 3 April 1718, but shortly afterwards moved to New College, where he was elected scholar in March 1719 and fellow on 5 March 1721; he graduated BA on 10 October 1722 and MA in 1724. On 30 October 1722 George Pitt presented him to the rectory of Pimperne, Dorset, where he lived permanently from 1724. Pitt displayed remarkable translation skills as early as 1719, when he presented the examiners for election at New College with two large manuscript volumes, one of which contained miscellaneous poems, the other a complete metrical version of Lucan's Pharsalia. This latter 'work of early diligence' (Nichols, Lit. anecdotes, 2.260) was never published, as Nicholas Rowe's translation had appeared in 1718; the manuscript is lost.
In 1721 Pitt published A Poem on the Death of the Late Earl Stanhope, a celebratory ode which won him the fellowship at New College. In 1725 he published a verse translation of Marcus Hieronymus Vida's De arte poetica, a work first published in Rome in 1527 and recently publicized in England by Thomas Tristram (1723); Pitt's Art of Poetry (1725; 2nd edn, 1742) was commended by Pope as 'both a correct and a spirited translation' (Correspondence of Alexander Pope, 2.383). In 1726 he sent Pope, who was at the time completing his Homer, a translation of book 23 of the Odyssey, which, however, the poet did not use as largely as Pitt seemed to have expected (ibid., 2.382). The following year Pitt published a miscellaneous collection entitled Poems and Translations with a dedication to George Pitt. He then turned to Virgil, publishing Essay on Virgil's 'Aeneid', being a Translation of the First Book (1728), which received encouraging praise from patrons and friends—Joseph Spence, Edward Young, William Broome, William Benson, and William Duncombe among them. The translation of the whole poem into heroic couplets was finished on 2 June 1738 and appeared, with a dedication to Frederick, prince of Wales, in 1740. Joseph Warton included it in his Works of Virgil (1753, vols. 2–4), acknowledging the 'fine flow of harmonious versification' and the 'faithfulness and perspicuity' in rendering the original (preface, xix). Samuel Johnson's judgement was less enthusiastic when contrasting Pitt's translation with Dryden's: 'Dryden's faults are forgotten in the hurry of delight, and Pitt's beauties are neglected in the languor of a cold and listless perusal; Pitt pleases the critics, and Dryden the people; Pitt is quoted, and Dryden read' (Johnson, Poets, 5.256). To nineteenth-century critics Pitt's version appeared inadequate, and rapidly faded; John Ring last reprinted part of it in 1820, only to point out its flaws.
Pitt's original verses combined sentimentality and wit, in accordance with the author's notion of poetry as 'something between jest and earnest' (Spence, 1025); predictably Horace, whose Satires and Epistles Pitt explicitly imitated, was always a major influence. This production, which Johnson regarded as merely mediocre, was as long-lived as Pitt's reputation as a translator; the first collection to appear after the poet's death was significantly entitled Poems by the Celebrated Translator of Virgil (1756). Letters between Pitt, Pope, and Spence dating from the years 1726 to 1733 are printed in the correspondence of Pope; the correspondence of John Hughes contains several letters from Pitt to Duncombe. Pitt's physical appearance was described by Pope in 1728 as 'plump' (Spence, 59), and his constitution was early undermined by a severe form of gout—what Spence referred to as 'your old enemy' (Correspondence of Alexander Pope, 2.507). He died, unmarried, at Pimperne on 13 April 1748 and was buried in Blandford Forum church, near his parents and elder brother, whom he had celebrated in a Latin epitaph. A mural inscription on his tomb records 'the candour of his mind and the primitive simplicity of manners' and states that 'he lived innocent and died beloved'. A portrait engraved by Thomas Stothard is printed in Bell's English Poets, volume 99 (1782).
Anna Chahoud DNB
Artist biography
This portrait, together with the two other portraits, are listed in the will of the sitter's nephew Rev. James John Talman (1768-1820, rector of Christchurch), where they are described as 'by Dowdney' . Little is known of the artist George Dowdney except for a brief entry in Ellis Waterhouses' Dictionary of British 18th Century Painters (1985, page 112) and two portraits at Kingston Lacy, near Wimborne Minster, Dorset, depicting Henry Bankes (1698-1776, MP) and John Bankes the Younger (1692-1772, MP). An inventory of paintings cleaned by Dowdney in 1731 also survives at Kingston Lacy (see Ian McClure, The Framing of Wooden Panels, in The Structural Conservation of Panel Paintings, edited by Kathleen Dardes and Andrea Rothe, 1998).