Gallery
Gallery: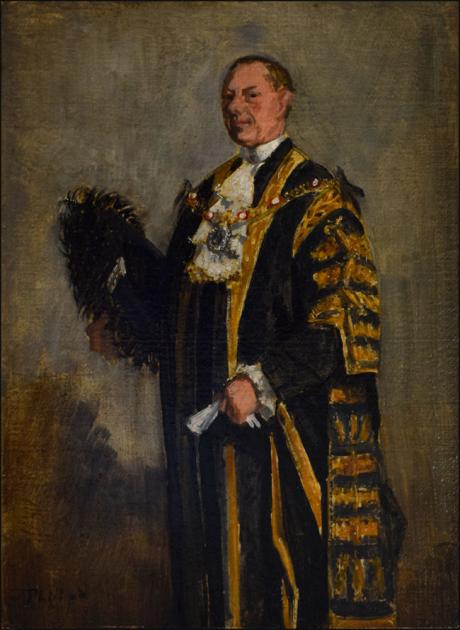 Patrick Phillips, ARWS, RP, 1907 - 1976
Portrait of Sir Denys Colquhoun Flowerdew Lowson, Bt, MA, LCC, 1906-1975
Sir Denys Colquhoun Flowerdew Lowson, Bt, MA, LCC,
Signed/Inscribed:
inscribed on the reverse
oil on canvas board
50.80 x 40.64 cm. (20 x 16 in.)
Exhibited
Exhibited, 1951, London Ceremonies and Personalities, festival of Britain
Notes
Sir Denys Colquhoun Flowerdew Lowson, first baronet (1906–1975), financier, was born on 22 January 1906, at Snitterfield House, Wootton Wawen, near Stratford upon Avon, Warwickshire, youngest of three children of James Gray Flowerdew Lowson (1860–1942) and his wife, Adelaide Louisa (1867/8–1948), daughter of Courtenay Harvey Saltren Scott, colonel in the Bengal staff corps. Registered at birth as Denis, he always spelt his name Denys. His father had studied physics at the Sorbonne and at Heidelberg University before making a fortune from paper manufacture and buying the estates of Snitterfield Park, and later Quarwood, Stow on the Wold, Gloucestershire. The latter was a major house of the Gothic revival designed by John Pearson in 1857; as Denys Lowson's elder brother was killed in action in 1917, he inherited the property, which he owned until 1958. The Lowsons improved the grounds at Quarwood, but destroyed most of Pearson's work. Denys Lowson was first cousin of Sir William Lowson Mitchell-Thomson, created Baron Selsdon in 1932. Lowson was educated at Winchester College (1919–24) and at Christ Church, Oxford, where he obtained a third class in modern history (1927) and a fourth class in jurisprudence (1928). He shot for Oxford against Cambridge, Harvard, and Yale, and was called to the bar at the Inner Temple (1930). He spent one year working for a bank in London and Berlin, and another year with the Investment Trust Corporation (founded 1888), before joining the London stockbroking firm of Quilter. He visited South Africa, Madagascar, Mauritius, and Zanzibar during the 1930s, and made several trips to North America. In 1936 he married Anna Patricia (1919–2003), daughter of James Ian Macpherson, first Baron Strathcarron. They had one son and two daughters. Following the crash of pyramided investment trusts in New York in 1929, George Macaulay Booth had experimented in London with alternatives for the investor: he issued the first fixed unit trust in 1931 and the first unit trust with a flexible portfolio in 1934. Building on this innovation, the merchant bank of Dawnay, Day, led by Guy Dawnay, in 1935 formed the Security First Trust, managed by Security Trust Managers Ltd, with Lowson as managing director. In the next few years Lowson founded the Fifteen Moorgate group of unit trusts (which bought out Dawnay, Day's unit trust management interests in 1941), and became managing director of the British Isles and General Investment Trust and vice-chairman of Domestic Trust Managers. During the war he gained control of the National group of unit funds. When his father James Lowson was granted arms by the lord Lyon's office in 1906, he took as his motto Deus dat incrementum, a sentiment which Denys Lowson took rather too earnestly. From the outset he worked for his own advantage rather than to fulfil his fiduciary duty to the companies he directed. His reputation in this respect was established early, and his methods never represented best City practice. Typically he bought shares through brokers for undesignated accounts: bad performers were later allotted to unit trust accounts, while the winners went to Lowson or his entourage. He gained control of several investment companies through the funds he managed in unit trusts, and secured that control by interlocking shareholdings: each of ten trusts would hold five per cent of the eleventh. Shares in these investment companies were rarely available for trading on the stock exchange; he was thus able to manipulate share prices and inflate his companies' balance sheets. As a result of Lowson's identification with unit trusts, they were considered shady by the City establishment, and their development was retarded for years. Although he sat on the London City board of General Accident Fire and Life Assurance Corporation in his mid-thirties, he was not offered major City directorships. Lowson shared with his father a somewhat bombastic tendency. Loving pomp and ceremony, he sought distinction in the liveries and hierarchies of the City of London. At the early age of thirty-three he was sheriff of the City of London (1939–40) and at forty-four he served as lord mayor of London during Festival of Britain year (1950–51). He received a baronetcy in June 1951. He was master of the Glaziers' Company (1947–8), the Loriners' Company (1950–51), and the Gold and Silver Wyre Drawers (1951–2), and prime warden of the Shipwrights' Company (1955–6). As a freemason, he was grand warden of the United Grand Lodge of England. He was a church commissioner for England (1948–62) and a member of the Royal Company of Archers (HM bodyguard for Scotland) from 1948. He was honorary treasurer of the Princess Louise Hospital for Children in Kensington (1938–48) and, until the institution of the National Health Service in 1948, was life governor and almoner of St Bartholomew's Hospital (chairing its finance committee), vice-president of St Mary's Hospital, Paddington, and governor of Bridewell, Bethlem, and the royal hospitals. He served on the board of St Bartholomew's Hospital under the National Health Service Act (1948–67) and was active in the St John Ambulance Brigade. He rejoiced in a string of minor foreign decorations, acquired Brantridge Park, Balcombe, in Sussex (1948) and a sporting estate at Bandirran, Balbeggie, in Perthshire (1956/7). Although he was very rich, he siphoned money from his companies to subsidize the expenses of these properties and to provide such luxuries as shoots and fishing rights. The Prevention of Fraud and Investment Act of 1958 finally imposed tighter standards of procedure for fund managers, and Lowson's ethical deficiencies were increasingly resented in the City. He had a phenomenal memory for financial intricacies and controlled his interests autocratically. By 1972 his financial empire was worth about £200 million. Its investments included Canadian and South American railways, oriental merchant trading, Australian cattle and sheep ranching, as well as goldmines, rubber plantations, and restaurants. Fourteen interrelated investment trusts controlled a tangle of cross-shareholdings involving some hundred trading and industrial companies. In June–July 1972 Lowson bought shares from his National group of unit trusts for about 62 pence each, selling them in January 1973 for £8.67 each. This transaction personally gained him about £5 million. After exposures in the Investors' Chronicle (supplied by a disaffected employee), the secretary of state for trade and industry in June 1973 appointed inspectors to investigate (following precedents established with Robert Maxwell in 1969). Their report published in July 1974 was damning. Although Lowson's lawyers attributed his conduct to illness, obstinacy, and secretiveness rather than dishonesty, he was obliged to resign from the companies which he had so long controlled. The merchant bankers Hill, Samuel were enlisted to unravel the cross-holdings; civil proceedings were launched against him by several litigants; and the affairs of Australian Estates, of which he had been chairman and managing director, were also investigated by the inspectors, copies of whose documentary evidence were sent to the directorate of public prosecutions. Lowson was served with an indictment summons, but before his case could come to court he died from 'diabetes and cirrhosis of the liver (certified as non-alcoholic)' on 10 September 1975, in the London Clinic, 20 Devonshire Place, Marylebone. He was buried in Scotland, possibly at Kinfauns, Perthshire, where other members of his family were buried. He was survived by his wife. Richard Davenport-Hines
Artist biography
Patrick Phillips was a portrait and landscape painter in oiuls and watercolour, and a teacher. He studied at the Byam Shaw School of drawing and painting under F E Jackson and Glyn Philpot and Charles Shannon, 1926-30. He became principal of the Byam Shaw, 1946-55.