Gallery
Gallery: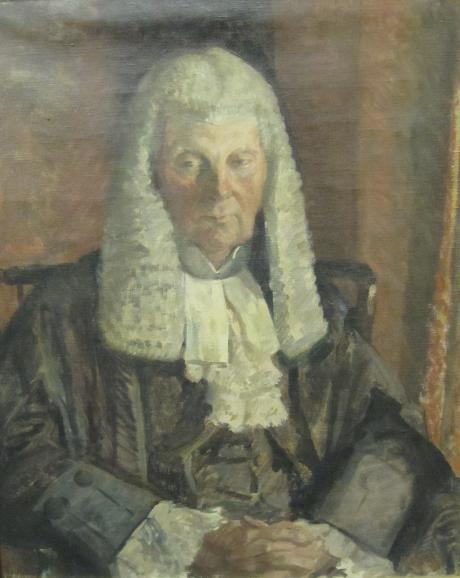 Patrick Phillips, ARWS, RP, 1907 - 1976
Portrait of Sir Gerald Dodson, MA, LLM, QC, Recorder of London 1884-1966
Sir Gerald Dodson, LLM, QC, Recorder of London
Signed/Inscribed:
inscribed
oil on canvas
76.20 x 63.50 cm. (30 x 25 in.)
Exhibited
Exhibited, 1951, London Ceremonies and Personalities, festival of Britain
Notes
Sir Gerald Dodson was the son of John Dodson, JP, Sheriff of Norwich. He was educated privately and Downing College, Cambridge , admited to the bar in 1905 and called to the bar in 1907 . Bencher 1938. WWI Lieutenant. RNVR, Treasury counsel at Central Criminal Ct. 1925-1934; Recorder of Tenterden 1932-1934; judge of Mayor's and City of London Ct. 1934-1937; Recorder of London and High Steward of Southwark 1937-1959; Commr at Central Criminal Court 1959 - 1963; DL London; Knighted 1939; JP Surrey; Order of Menelik (Ethiopia) 1954, Comendador de Christo (Portugal) 1955, Order of Al Rafidain (iraq) 1956, Order of Merit (italy) 1958, Order of Homayoun (Persia) 1959. Joint author (with Mantagu Phillips) of the light musical Opera comedy " The Rebel Maid 1921; Joint author of The Law Relating to Motor Cars, and a commentary on the Road Traffic Act 1929. Consider your Verdict (memoirs) published in 1967. 
Artist biography
Patrick Phillips was a portrait and landscape painter in oiuls and watercolour, and a teacher. He studied at the Byam Shaw School of drawing and painting under F E Jackson and Glyn Philpot and Charles Shannon, 1926-30. He became principal of the Byam Shaw, 1946-55.