Gallery
Gallery: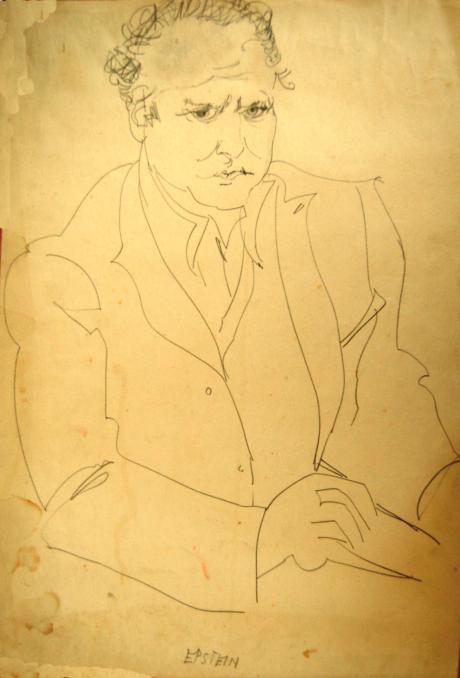 Oriel Ross, 1907-1994
Portrait of Sir Jacob Epstein 1880–1959
Portrait of Sir Jacob Epstein
Signed/Inscribed:
"EPSTEIN"
pen and black ink
34 x 24 cm 13.1/4 x 9.3/4 in.
Notes
The Museum of Modern art MOMA has a bronze half length sculpture by Sir Jacob Epstein of Oriel Ross made in 1932.
Dimensions 26 1/4 x 17 x 15 3/4" (66.7 x 43 x 40 cm) Gift of Edward M. M. Warburg Object number 2.1933. It is likely that this drawing was completed at the same time.
Sir Jacob Epstein,(1880–1959), sculptor, was born on 10 November 1880 at 102 Hester Street, New York city, the second son and third of eight surviving children of Max Epstein (1859–1941), businessman, and his wife, Mary, née Solomon (c.1859–1913). Both parents were from Orthodox Jewish families and had immigrated to the United States from Augustów, Poland, his father changing his name from Jarogenski or Jarudzinski to Epstein.
Epstein's formal education at the free local school, PS Seven, was interrupted by a two-year illness and ended when he was thirteen, but he attended classes and events organized by the settlement house movement at the nearby Neighbourhood Guild and Education Alliance. There he was influenced by the literature and ideas introduced by James Kirk Paulding, and mixed in socialist–anarchist political and literary circles. During 1893–8 he attended classes at the Art Students' League. Increasingly he rejected the rigorous Orthodox observance of his upbringing. His early drawings were inspired by the lively multi-ethnic communities round him in the Lower East Side, especially the Jewish community. He organized a local artists' exhibition at the Hebrew Institute during 1898 and was emerging as the leading figure in a nascent group of Jewish New York artists. The journalist Hutchins Hapgood commissioned him to carry out most of the illustrations for his pioneering book about the Lower East Side, The Spirit of the Ghetto (1902). However, about 1899–1900, following a winter spent with his Russian artist friend, Bernard Gussow, in an isolated community at Greenwood Lake, New Jersey, when they worked at ice cutting, he turned to sculpture. During 1901–2 he got a job in a bronze foundry and attended an Art Students' League class for sculptors' assistants run by George Grey Barnard, before leaving to study in Paris in September 1902.
Epstein attended the École des Beaux-Arts between October 1902 and March 1903 and the Académie Julian from April 1903 to 1904, initially sharing a studio in Montparnasse with Bernard Gussow. Impatient of academic traditionalism, he then worked independently, studying pre-classical and non-European sculpture in the Louvre, Musée Cernuschi, Musée Guimet, and Musée de Trocadéro, and making clay studies for Rodinesque figures and groups which he subsequently destroyed.
In 1905 Epstein moved to London, encouraged by his experience of the London museums during a short visit in 1904, and by a Scotswoman, Margaret Dunlop (1873–1947), at that time Mrs Thomas Williams, whom he married in November 1906. They lived first at 219 Stanhope Street, Regent's Park, then at Stamford Street Studios in Fulham where they remained until 1908. The early years were extremely difficult but a brief visit to New York in 1905 failed to lure him home. In December 1910 he became a naturalized British citizen.
A letter of introduction from Rodin to George Bernard Shaw led to contacts within the New English Art Club circle, and thence to portrait commissions which quickly established Epstein's reputation as a penetrating observer and brilliant modeller. His Euphemia Lamb (bronze, 1908, Tate collection, and Birmingham Museum and Art Gallery) paid homage to idealized early Renaissance prototypes but Romilly John (bronze, 1907, Fitzwilliam Museum, Cambridge), Bust of Nan (bronze, 1909, Tate collection), and Lady Gregory (bronze, 1910, Hugh Lane Municipal Gallery of Modern Art, Dublin, and Leeds City Art Gallery) fused searching realism with spontaneous expression. From 1911 he exhibited at the National Portrait Society and his portraits were the first and, for years, the only works to enter public collections.
Epstein leapt to public prominence in 1908 through the controversy, fomented by an anonymous article in the Evening Standard (19 June 1908), over his carvings on the façade of Charles Holden's British Medical Association building in the Strand in London. In the eighteen figures representing the ages of man and woman he fulfilled the architect's hopes for 'a programme as wide in scope as Whitman' (Holden MS); austerely classical-realist in style, they nevertheless challenged public taste by frank depictions of nudity and pregnancy. At about this time Epstein was proposed by Havard Thomas for membership of the Royal Society of British Sculptors, but was rejected. His second public commission, the tomb of Oscar Wilde (1909–12) for Père Lachaise cemetery, Paris, was a radical departure in style and technique; he abandoned the conventional standing figure he had prepared in favour of a directly carved, winged male figure inspired by Assyrian sculpture in the British Museum.
Epstein's new-found enthusiasms for non-European art forms and for direct carving were shared by Eric Gill, with whom he developed a close relationship between 1910 and 1912. They worked collaboratively and on parallel themes; carvings in Hoptonwood stone, such as Rom (1910, National Museum and Gallery of Wales, Cardiff) and the voluptuous Indian-inspired Maternity (1910, Leeds City Art Gallery), constituted a primitivistic alternative to the classical traditions still dominant in British sculpture. His friendship with Gill ended acrimoniously after the failure of their attempt to set up at Asheham House, Sussex, an artistic commune where they planned to create and place sculptures which would express the primitive life-force in humanity, in a sort of modern Stonehenge.
The critical success enjoyed by the Oscar Wilde tomb when it was exhibited in Epstein's Cheyne Walk studio in June 1912 contrasted with the official opposition to its explicit nudity once installation began in Paris. There he came into contact with the Parisian avant-garde and especially with Modigliani and Brancusi, whose sculpture, also directly carved, epitomized a far more radical approach to form. He also discovered a lifelong passion for African and Oceanic sculpture, becoming one of the first British-based artists to collect 'primitive art'.
During 1913–15 Epstein became more closely involved with the avant-garde circle around Wyndham Lewis, whom he had met during the decoration in 1912 of Madame Strindberg's cabaret theatre club, the Cave of the Golden Calf, in London. Working from a secluded cottage at Pett Level, near Hastings, Sussex, and in a garage in Lamb's Conduit Street, London, he produced a series of drawings and carvings which combined formal lucidity with sexually explicit themes of procreation, pregnancy, and birth. His Flenite Figures in serpentine (1913, Tate collection, and Minneapolis Institute of Arts), copulating Doves (marble, 1913–15, Hirshhorn Museum and Sculpture Garden, Washington, DC; Israel Museum, Jerusalem; and Tate collection), and versions of Venus (marble, 1913–15, Baltimore Museum of Art, and Yale University Art Gallery, New Haven, Connecticut) established him as the leading British avant-garde sculptor. His first one-man show took place at the Twenty-One Gallery, London, in December 1913 and in 1914 he was a founder member of the London Group, widely credited with suggesting its name. A number of his portraits and carvings were purchased by the American collector John Quinn.
Despite his close friendship with the philosopher T. E. Hulme, who saw in his increasingly precise abstracted forms the first signs of a distinctively modern art, and his association with Ezra Pound, Wyndham Lewis, and Henri Gaudier-Brzeska, Epstein resisted affiliation with the vorticist group [see Vorticists]. Ironically, his most experimental work, Rock Drill (1913–14, des.; reconstruction, Birmingham Museum and Art Gallery), which comprised a plaster figure astride a real rock drill, could be seen as the embodiment of the vorticist passion for dynamism and of their virile aesthetic. Exhibited once in 1915, it was dismantled and reduced to a truncated Torso from Rock Drill (gunmetal, National Gallery of Canada, Ottawa; bronze casts: Tate collection, City Art Gallery, Auckland, New Zealand, and Museum of Modern Art, New York).
In 1916, under suspicion at Pett Level because of their foreign surname, accents, and bohemian lifestyle, the Epsteins returned to London, moving to 23 Guilford Street, Bloomsbury. Epstein campaigned unsuccessfully to be appointed a war artist, producing several distinguished portraits, including Admiral Lord Fisher (bronze, 1915), The Tin Hat (bronze, 1916), and Sergeant Hunter V. C. (1918–19)—all in the Imperial War Museum, London—characterized by the broken, impasted surface which was to become a hallmark of his style. He was finally conscripted in autumn 1917 as a private in the Jewish 38th battalion of the Royal Fusiliers just as his second one-man show, at the Leicester Galleries in London (henceforth his principal dealers), brought fame and a measure of critical and financial success. He was discharged in 1918 without leaving England, having suffered a breakdown, which probably accounts for the surprising dearth of war memorial commissions.
After the war Epstein retained his position as the leading modernist sculptor while becoming more isolated as a result of the deaths of Hulme and Gaudier-Brzeska, the dissolution of several pre-war groupings and friendships, notably with Augustus John, and of his own renewed commitment to modelled sculpture in the Western tradition. His notoriety led to his rejection as a candidate for the professorship of sculpture at the Royal College of Art in 1924, while a damaging attack on his modelled portraiture by the influential Roger Fry, published in the New Statesman in 1924, weakened his reputation within the critical establishment.
During a visit to Italy in 1920 Epstein visited the Carrara quarries and considered working there, but he did not return to free-standing carved figures until 1929. His two architectural commissions during the 1920s—Rima (1924–5), the carved relief memorial to the naturalist and author W. H. Hudson, for the bird sanctuary in Hyde Park, and two monumental figure groups, Night and Day (1928–9), for Charles Holden's London Underground headquarters at St James's Park—were both surrounded by public controversy. Such was Epstein's reputation that it was only with difficulty that Muirhead Bone and R. B. Cunninghame Graham secured him the commission of the former and that Holden persuaded Frank Pick to agree to his working on the latter project. Once unveiled, praise for the design and architectural qualities of the carvings was almost drowned out by public and media criticisms of their ugliness and primitivism. Throughout the 1920s and 1930s Epstein and his large carvings became a frequent butt of cartoons and popular rhymes, some of which were blatantly antisemitic, and the works were vandalized.
Epstein exhibited life-size bronzes and portraits in regular exhibitions at the Leicester Galleries. With the exception of Risen Christ (bronze, 1917–19, Scottish National Gallery of Modern Art, Edinburgh), which was bitterly attacked for its austere and unsentimental depiction of Christ, these were generally much better received, Visitation (1926) being promptly presented to the Tate Gallery by the Contemporary Arts Society. Despite Fry's criticism his portraits were widely acclaimed and he attracted numerous commissions. During a visit to the United States in 1927 to coincide with his one-man show at the Ferargil Gallery, New York, he received several portrait commissions, notably that of Paul Robeson (1928, Usher Gallery, Lincoln; York City Art Gallery; and National Portrait Gallery, Washington, DC). It became fashionable for wealthy foreign visitors to visit his studio and commission a portrait. His sitters ranged from the eminent—R. B. Cunninghame Graham (1923), Elsa Lanchester (1924), Joseph Conrad (1924), Sibyl Thorndyke (1925), Rabindranath Tagore (1926), Ramsay MacDonald (1926 and 1934), Albert Einstein (1933), Chaim Weizmann (1933), George Bernard Shaw (1934), Haile Selassie (1936)—to the outsiders and fringe figures whom he invited to sit. A number of bronze portraits and nude drawings, and his life-size bronze Mother and Child (1926, Riverside Church, Riverside Drive, New York) were based on a Kashmiri model, Amina Patel (known as Sunita), her son, and her sister. Performers from the 'Blackbirds' revue, and Chinese, Russian, Ethiopian, Senegalese, and Arab women were among his chosen models. Epstein made numerous portraits of his family—his daughter Peggy Jean (b. 1918) and son Jackie (b. 1934). Epstein and his wife remained childless but brought up as their own his children by liaisons with Dorothy (Meum) Lindsell-Stewart (1895–1957), and Isabel Nicholas (1912–1992). Another frequent model was Kathleen Esther Garman (1901–1979), daughter of Walter Chancellor Garman, surgeon; they met in 1921 and formed a lasting relationship, eventually having four children—Theo (1924–1954), Kitty (1926–2011), Esther (1929–1954), and a baby who died in infancy.
Epstein's increasing income enabled him to rent a cottage in Loughton, Essex, as a secluded place to work and, in 1928, to move from Guilford Street to 18 Hyde Park Gate, Kensington, which remained his home for the rest of his life and which housed the ever expanding mass of his own works and of his sculpture collection. At his 'Sunday teas' a wide cross-section of friends, sitters, models, musicians, and visitors could be encountered. These included Matthew Smith, who became a lifelong friend; the ballet critic Arnold Haskell, whose The Sculptor Speaks (1931) was based on numerous visits and interviews; and the young Henry Moore, whose early work Epstein supported, and for whose one-man show at the Leicester Galleries in 1931 the older artist wrote the catalogue introduction.
During the 1930s, probably stimulated by the renewed interest of Moore and his contemporaries in direct carving and increasingly stung by critics who not only considered carving superior to modelling but also considered him a modeller rather than a carver, Epstein embarked on a succession of large free-standing sculptures on symbolic themes: Genesis (marble, 1929–30, Whitworth Art Gallery, Manchester), Primeval Gods, carved on the reverse of his 1910 Sun God relief (Hoptonwood stone, 1931–3, Metropolitan Museum of Art, New York), Behold the Man (Subiaco stone, 1934–5, Coventry Cathedral ruins), Consummatum est (alabaster, 1936, Scottish National Gallery of Modern Art, Edinburgh), Adam (alabaster, 1938–9, Harewood House, Yorkshire), and Jacob and the Angel (alabaster, 1940–41, Tate collection). These uncommissioned works, on the one hand perpetuating the nineteenth-century monumental tradition and on the other challenging traditional interpretations of religious and sexually charged themes, were increasingly at odds with the more abstract modernist mainstream while attracting sensationalized press treatment. Genesis and Adam were toured extensively by their owners to raise money, ventures which owed their success to the nationwide curiosity aroused by the regular press 'sensation' which followed each début at the Leicester Galleries. Other pieces remained unsold; Genesis, Adam, Consummatum est, and Jacob and the Angel eventually ended up on permanent exhibition at Louis Toussaud's in Blackpool before being purchased in 1960 by Lord Harewood and Jack Lyons shortly before the artist's memorial exhibition. Epstein's carving was supported by the continuing success of his portraits and by the ready market for his watercolours of flowers and landscapes. Two other watercolour projects, Old Testament subjects exhibited in 1932, and illustrations for Baudelaire's Fleurs du mal in 1938, were less well received. A further blow was his failure to prevent the mutilation, ostensibly on the grounds of public safety, of his British Medical Association sculptures in 1937 at the instigation of the building's new owners, the high commission for Southern Rhodesia.
Epstein never became directly engaged in politics but he supported the Artists' International Association's efforts on behalf of the Spanish Republican cause, and he acted as spokesperson for the London Group in urging artists to refuse co-operation with a Nazi attempt to organize an exhibition of British art (excluding Jewish artists) in Berlin in 1937. During the Second World War he carried out portrait commissions for the War Artists' Advisory Committee, including likenesses of Charles Portal (bronze, 1942, Imperial War Museum, London), Ernest Bevin (bronze, 1946, Tate collection, and Transport and General Workers' Union, London), and Winston Churchill (bronze, 1946, various locations).
After the Second World War Epstein finally began to receive the public recognition he craved; his last major carving, Lazarus (Hoptonwood stone, 1948) was exhibited at Battersea Park as part of the Festival of Britain (1951) and was purchased for the chapel of New College, Oxford, and Madonna and Child (lead, 1950–52) for the convent of the Holy Child Jesus, Cavendish Square, London, received unprecedented critical and public acclaim. He had ceased to be an enfant terrible and had become a grand old man trusted to handle religious and symbolic themes with dignity and conviction. Ignoring his failing health and pushing aside grief at the tragic deaths of two of his children, he completed eight large public commissions during his last decade, as well as many commissioned portraits: Jan Christiaan Smuts for Parliament Square, London (bronze, 1953–5); Christ in Majesty at Llandaff Cathedral (aluminium, 1954–5); Liverpool Resurgent (1954) for Lewis's department store, Liverpool; the Trades Union Congress war memorial (Roman stone, 1956–7) in Great Russell Street, London; St Michael and the Devil for the new Coventry Cathedral (bronze, 1956–8); and the Bowater House group, Edinburgh Gate, Knightsbridge, London (bronze, 1958–9), completed on the day he died. In addition to these six, he received two commissions from the United States: a huge group, Social Consciousness, for Philadelphia (bronze, 1951–3) and the 1956 Franklin medal presented to Winston Churchill and Eleanor Roosevelt.
Apart from an honorary doctorate from Aberdeen in 1938, Epstein had received no public honours until, in 1953, he was made an honorary DCL at Oxford, and in 1954 was knighted. He became a founder member of the Society of Portrait Sculptors in 1953, but rejected as coming much too late the membership of the Royal Society of British Sculptors finally offered in 1954. He and Kathleen Garman married on 27 June 1955.
Epstein continued working to the last and died of a heart attack at his home at Hyde Park Gate on 19 August 1959. He was survived by his second wife. On the 24th he was buried at Putney Vale cemetery, London, in a ceremony conducted by Dr Hewlett Johnson, dean of Canterbury. A memorial service took place at St Paul's Cathedral on 10 November and a huge memorial exhibition was held at the Edinburgh festival, and subsequently at the Tate Gallery in 1961. His collection of primitive sculpture, the best in Britain, was exhibited by the Arts Council in 1960 before being dispersed to public and private collections.
Early portraits, such as the etchings by Augustus John and Francis Dodd, and Epstein's own self-portrait in red chalk (c.1901, Walsall, Garman Ryan collection), show an attractively Romantic bohemian figure. His later bronze self-portraits (1917, National Portrait Gallery, London; 1920, Hull University, and Castle Museum, Nottingham), and numerous photographic studies by Geoffrey Ireland, Yousuf Karsh, and others show a sturdy, powerful figure and a face marked by tribulation and intense concentration. Despite his formidable presence and occasional outbursts, his usual manner was quiet and courteous and his conversation wide-ranging and knowledgeable, though he had little patience with art pretence of any kind and expressed decisive, often derisive, views on the contemporary art scene. He never lost his New York accent nor did he ever entirely relinquish a bohemian approach, especially in financial matters which caused him frequent anxiety. As a sculptor he worked alone; his only assistants were plaster moulders and he never had the opportunity to teach. Although he had no immediate followers, his modelling technique has influenced later portrait sculptors. At times he seemed to relish and court his position as an outsider—Henry Moore's tribute was that 'Epstein took the brickbats for modern art' (Sunday Times, 23 Aug 1959)—but under a show of resilience manifest in his work, he was deeply wounded by critical marginalization and attacks on his work. In recent years his reputation as a pioneer modernist, direct carver, and collector—one of the leading British sculptors of the twentieth century—has been more widely recognized. The furore about his work often generated more heat than light, but it succeeded in bringing debate about modernist sculpture into the public arena.
Evelyn Silber DNB
Artist biography
Actress. Born Muriel Swinstead, she trained at the Royal College of Music and made her debut on stage at sixteen in Karel Capek's The Insect Play in 1923. In 1928 she appeared as Nature in Diaghilev 's Ballet Ode and then went to New York, where she appeared on Broadway and in revue and cabaret. She returned to London in 1931 and was in work throughout the 1930s and 40s, when she was a member of Lilian Baylis's Old Vic Company. She was married to the 8th Earl Poulett from 1935 to 1941.