Gallery
Gallery: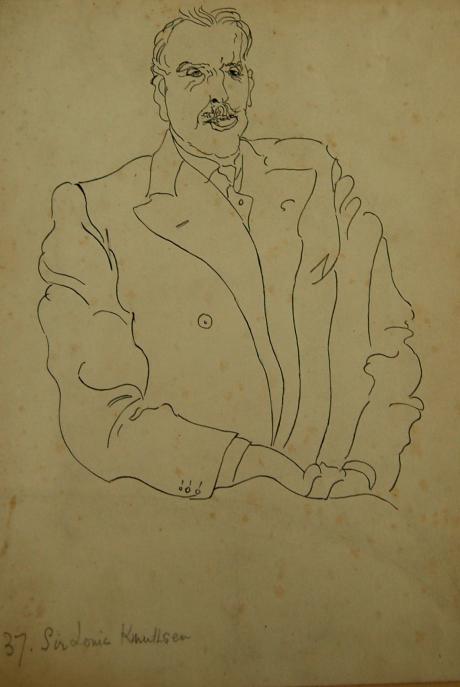 Oriel Ross, 1907-1994
Portrait of Sir Louis Francis Roebuck Knuthsen, KCVO, OBE, MD, 1880-1946
Sir Louis Francis Roebuck Knuthsen, KCVO, OBE, MD
Signed/Inscribed:
"37 Sir Louis Knuthsen"
pen and black ink
34 x 24 cm 13.1/4 x 9.3/4 in.
Notes
Born santa Cruz West Indies , son of Francis Knuthsen and Anne Roebuck. Married 1901 Mildred Helen Howell. Educated Edinburgh Academy, Edinburgh University, MD. Paris , Berlin, Vienna Universities. Fellow Royal Society of Medicine, member section of dermatology. Assitant Physician St John's Hospital for diseases of skin. Served WWI, mons star medal 1914, British War Medal, Victory medal , metioned in dispatches twice
Artist biography
Actress. Born Muriel Swinstead, she trained at the Royal College of Music and made her debut on stage at sixteen in Karel Capek's The Insect Play in 1923. In 1928 she appeared as Nature in Diaghilev 's Ballet Ode and then went to New York, where she appeared on Broadway and in revue and cabaret. She returned to London in 1931 and was in work throughout the 1930s and 40s, when she was a member of Lilian Baylis's Old Vic Company. She was married to the 8th Earl Poulett from 1935 to 1941.