Gallery
Gallery: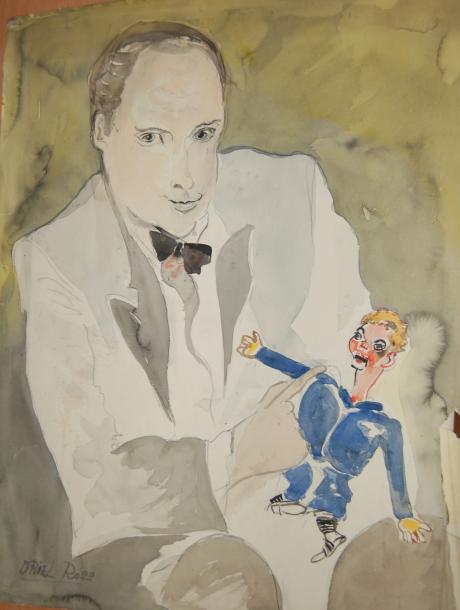 Oriel Ross, 1907-1994
Portrait of a Ventriloquist and his Dummy
Portrait of a Ventriloquist and his Dummy
Signed/Inscribed:
"Oriel Ross"
pencil and watercolour
34 x 24 cm 13.1/4 x 9.3/4 in.
Notes
Ventriloquism, or ventriloquy, is an act of stagecraft in which a person (a ventriloquist) changes his or her voice so that it appears that the voice is coming from elsewhere, usually a puppeteered "dummy". The act of ventriloquism is ventriloquizing, and the ability to do so is commonly called in English the ability to "throw" one's voice.
Originally, ventriloquism was a religious practice. The name comes from the Latin for to speak from the stomach, i.e. venter (belly) and loqui (speak).[2] The Greeks called this gastromancy . The noises produced by the stomach were thought to be the voices of the unliving, who took up residence in the stomach of the ventriloquist. The ventriloquist would then interpret the sounds, as they were thought to be able to speak to the dead, as well as foretell the future. One of the earliest recorded group of prophets to utilise this technique was the Pythia, the priestess at the temple of Apollo in Delphi, who acted as the conduit for the Delphic Oracle.
One of the most successful early gastromancers was Eurykles, a prophet at Athens; gastromancers came to be referred to as Euryklides in his honour.[3] In the Middle Ages, it was thought to be similar to witchcraft. As Spiritualism led to stage magic and escapology, so ventriloquism became more of a performance art as, starting around the 19th century, it shed its mystical trappings.
Other parts of the world also have a tradition of ventriloquism for ritual or religious purposes; historically there have been adepts of this practice among the Zulu, Inuit, and Maori peoples.The shift from ventriloquism as manifestation of spiritual forces toward ventriloquism as entertainment happened in the eighteenth century at the travelling funfairs and market towns. The earliest recorded ventriloquists date back to as early as 1753 in England, where Sir John Parnell is depicted in an engraving of William Hogarth as speaking via his hand. In 1757, the Austrian Baron de Mengen implemented a small doll into his performance.
By the late 18th century, ventriloquist performances were an established form of entertainment in England, although most performers threw their voice to make it appear that it emanated from far away, rather than the modern method of using a puppet. A well known ventriloquist of the period, Joseph Askins, who performed at the Sadler's Wells Theatre in London in the 1790s advertised his act as "curious ad libitum Dialogues between himself and his invisible familiar, Little Tommy". However, other performers were beginning to incorporate dolls or puppets into their performance, notably the Irishman James Burne who "... carries in his pocket, an ill-shaped doll, with a broad face, which he exhibits ... as giving utterance to his own childish jargon," and Thomas Garbutt.
The entertainment came of age during the era of the music hall in the United Kingdom and vaudeville in the United States. George Sutton began to incorporate a puppet act into his routine at Nottingham in the 1830s, but it is Fred Russell who is regarded as the father of modern ventriloquism. In 1886, he was offered a professional engagement at the Palace Theatre in London and took up his stage career permanently. His act, based on the cheeky-boy dummy "Coster Joe" that would sit in his lap and 'engage in a dialogue' with him was highly influential for the entertainment format and was adopted by the next generation of performers. (A blue plaque has been embedded in a former residence of Russell by the British Heritage Society which reads 'Fred Russell the father of ventriloquism lived here').
Fred Russell's successful comedy team format was applied by the next generation of ventriloquists. It was taken forward by the British Arthur Prince with his dummy Sailor Jim, who became one of the highest paid entertainers on the music hall circuit, and by the Americans The Great Lester who used only figure, Frank Byron, Jr., and Edgar Bergen. Bergen popularised the idea of the comedic ventriloquist.[citation needed] Bergen, together with his favourite figure, Charlie McCarthy, hosted a radio program that was broadcast from 1937 to 1956. It was the #1 program on the nights it aired. Bergen continued performing until his death in 1978, and his popularity inspired many other famous ventriloquists who followed him, including Paul Winchell, Jimmy Nelson, David Strassman, Jeff Dunham, Terry Fator, Shari Lewis, Willie Tyler and Jay Johnson. Another ventriloquist popular in the United States in the 1950s and 1960s was Señor Wences.
The art of ventriloquism was popularised by Y. K. Padhye in North India and Mr M M Roy in South India, who are believed to be the pioneers of this field in India. Mr Y K Padhye's son Ramdas Padhye took from him and made the art popular amongst the masses through his performance on television. Similarly, Mr Venky Monkey, Mr Mimicry Srinivos, the disciples of Mr M M Roy, popularized this art by giving shows in India and abroad.mimicry Srinivos in particular, did several experiments in Ventriloquism. He has popularized this art by name "Sound illusion" and perhaps Mimicrysrinivos is only the sound illusionist from India. He originates his voice some where on the stage and goes to the audience without mike and entertains them with point blank sound illusion apart from entertaining on stage with dummies.
Ventriloquism's popularity waned for a while, probably because of modern media's electronic ability to convey the illusion of voice, the natural special effect that is the heart of ventriloquism. In the U.K. in the 2000s there were only 15 full-time professional ventriloquists, down from around 400 in the 50s and 60s.[8] A number of modern ventriloquists have developed a following as the public taste for live comedy grows. In 2001, Angelique Monét performed on Theater Row her one-woman off-Broadway show Multiple Me(Written by Edgar Chisholm) where she portrayed several personalities using multiple dummies to display the shifts. In 2007, Zillah & Totte won the first season of Sweden's Got Talent and became one of Sweden's most popular family/children entertainers.
Artist biography
Actress. Born Muriel Swinstead, she trained at the Royal College of Music and made her debut on stage at sixteen in Karel Capek's The Insect Play in 1923. In 1928 she appeared as Nature in Diaghilev 's Ballet Ode and then went to New York, where she appeared on Broadway and in revue and cabaret. She returned to London in 1931 and was in work throughout the 1930s and 40s, when she was a member of Lilian Baylis's Old Vic Company. She was married to the 8th Earl Poulett from 1935 to 1941.