Gallery
Gallery: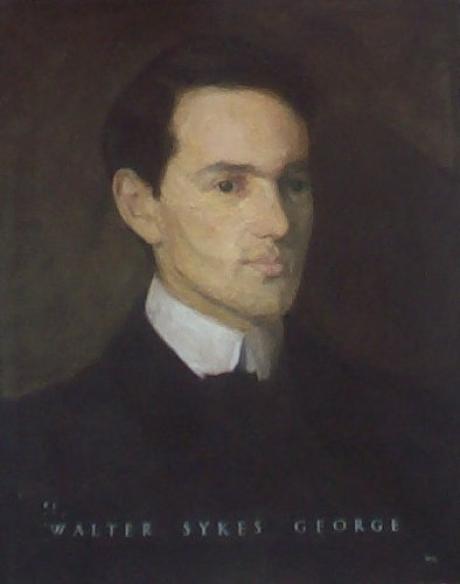 English School 19th, Century
Portrait of Walter Sykes George CBE, FRIBA, ARCA, FIIA,FIFA (1881–1962)
Walter Sykes George, CBE, FRIBA, ARCA, FIIA,FIFA
Signed/Inscribed:
inscribed "WALTER SYKES GEORGE"
oil on canvas
38.10 x 25.40 cm. (15 x 10 in.)
Notes
Walter Sykes George CBE, FRIBA, ARCA, FIIA,FIFA (1881–1962) was an English architect active in India during the first half of the 20th century, most known for being part of the team of architects who designed New Delhi, the new capital of India, from 1911-1931.
George's family were Wesleyan Methodists and architects. He was raised in East Anglia and Ashton-under-Lyne, Manchester, where he worked in the family's architectural practice. Later, he studied under A. Beresford Pite and W. R. Lethaby at the Royal College of Art, London, and won the Soane Scholarship in 1906.
From 1906 to 1911 he worked with the British School at Athens and joined several excavations, a result of which was his 1913 monograph, The Church of St Eirene at Constantinople.

He then joined Sir Edwin Lutyens and Sir Herbert Baker, in helping design the capital complex of New Delhi which was chosen by the British Government in 1912 to be the new capital of India. The project was completed in 1929 and officially inaugurated in 1931. Of the many talented British architects associated with the building of the new capital enclave, only Walter George elected to stay on and establish a private practice in Delhi. In the 1930s he took on the job designing of the new campus of St. Stephen's College, Delhi, a project that was completed in 1941.He is also credited with having created the original design for Miranda House, a widely renowned college affiliated to Delhi University, located in New Delhi.
At this time there were few architects active in Delhi and the two existing schools for training architects in India were in Bombay and Baroda. The outbreak of World War II generated a sudden demand for engineer-architects by the Allied forces; consequently, Walter George and his colleagues helped establish the first training facility for architects in North India. The Department of Architecture came into existence as part of the Delhi Polytechnic at Kashmiri Gate in 1942. In 1932, he designed the first theatre of Connaught Place, New Delhi, "Regal" built by Sir Sobha Singh, one of main building contractors to New Delhi, and with whom he did several projects in the coming years,like New Delhi's first apartment complex, "Sujan Singh Park", built in 1945, near Khan Market, name after Shobha Singh's father. also in the same year he built the nearby "Ambassador Hotel".

Walter Sykes George died in Delhi on 7 January 1962.