Gallery
Gallery: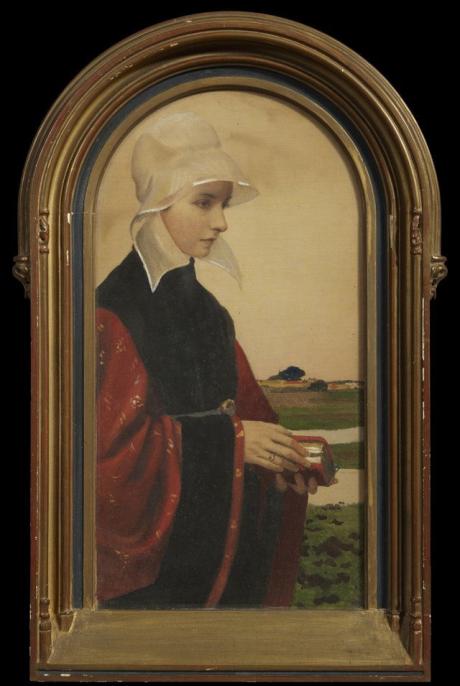 Edgard Maxence, 1871 - 1954
"Reflection" a young Lady in Orders holding a Book of Hours in an Arched gilt frame
"Reflection" a young Lady in Orders
Watercolour over printed Silk
38 .10 x 20.32 cm. (15 x 8 in.)
Artist biography
Edgar Maxence (1871-1954), french painter, pupil of Gustaves Moreau. He exhibited with the Rose+Croix and vulgarised Symbolist themes at the official Salon by exhibiting idealist landscapes usually with medival contexts. Up to 1900, his works involved experiments with his medium, so that his paintings resemble half-sculpted, half-painted icons. Subsequently, his Symbolism became more decorative and superficial. He was a pupil of Jules-Elie Delaunay and Gustave Moreau at the Ecole des Beaux-Arts, Paris, and helped to popularize Symbolism in the 1890s by applying a highly finished academic technique to Symbolist subjects. His best-known paintings, which include Girl with a Peacock (before 1896; Paris, G. Levy priv. col.) the Soul of the Forest (c. 1897; Nantes, Mus. B.-A.), are decorative, vaguely religious or allegorical images of beautiful women in medieval dress, influenced by earlyItalian Renaissance and late English Pre-Raphaelite art. Maxence often enriched the surface of his works with gold or silver foil and gilt plaster relief and mounted them in elaborate frames of his own design. He also painted fashionable portraits such as Woman with an Orchid (1900; Paris, A. Lesieutre priv. col.) and Impressionist landscapes. Though he participated in theavant-garde Salon de la Rose + Croix between 1895 and 1897, Maxence exhibited successfully at the conservative Salon des Artistes Français from 1894 to 1939 and frequently served on its committees and juries. Maxence's work changed little in style and content after the turn of the century and, despite the condemnation of progressive critics, continued to enjoy strong middle-class patronage until the late 1930s.