Gallery
Gallery: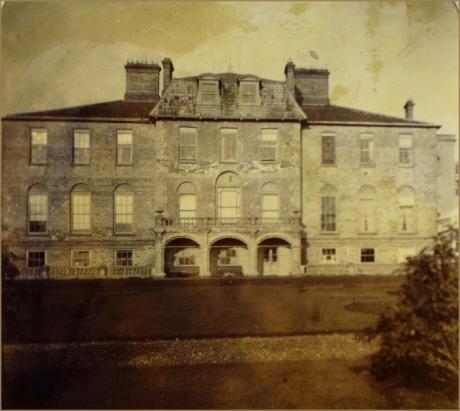 Katherine Euphemia Farrer, 1839-1931
Ryston Hall Downham Norfolk Nov 11th 1892
Signed/Inscribed:
signed by house party guests and dated "K F Helen Murray Mr Lombe, Mrs Braithwaite, Alice Mulholland, Mrs Lombe, Mrs Mary Beresford, George Massy Beresford, H E Rawson, Louisa F Pratt, Geoffrey Head,  George H Murray, Helen M Murray E R Pratt, Ada Braithwaite
Calotype photographic Print
9 x 7 cm.
Notes
Ryston Hall was built by Sir Roger Pratt in 1670. Unfortunately there are no records or plans of the earlier house which stood on the site.
The original gardens were laid out when the house was built. They were comprised of the formal gardens on the North front and the south front, with a walled kitchen garden to the east, all of which were swept away in the18th century when fashion was parkland and scattered trees.
The boundaries of the formal gardens had been fixed by the end of the 19th century when the garden comprised of densely wooded areas to the east and west, intricate formal flower beds on the south front, the Orangery and Rock Garden.Ryston Hall is a grade II* listed country house, built 1669-72 by the architect Sir Roger Pratt as his own home in 1669. It was later remodelled c.1780 by Sir John Soane and again by Anthony Salvin in 1867. The formal gardens and woodland walks are open to the public several times a year. The grounds also contain one of the oak trees that are called Kett's Oak, and is associated with Kett's Rebellion of 1549.
Opened in 1882,Ryston had its own railway station. It was closed to passengers in 1930
A brick country house built in about 1670 by Sir Roger Pratt, a famous architect of the day, for himself. It has a north front of nine window bays with the central three bays projecting and is three storeys high, the lowest floor being a semi-basement. Alterations and remodelling were carried out in 1780 and 1867, which was probably when the yellow brick extensions at the east and west ends were added. In the grounds of the house are various outbuildings including stables barns, a cowshed and a summerhouse.