Gallery
Gallery: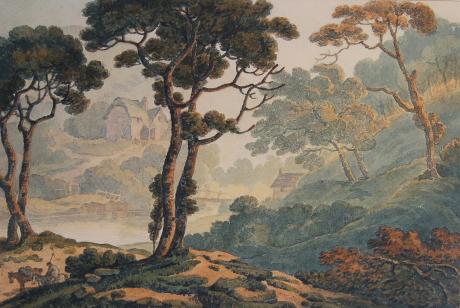 English School 19th, Century
Scene between St Budeaux and Tamerton, Devon
Scene between St Budeaux and Tamerton, Devon
pencil and watercolour
22.86 x 15.24 cm. (9 x 6 in. )
Notes
TAMERTON FOLIATT is a small parish in the hundred of Roborough; six miles from Plymouth and five from Saltash. KINGS TAMERTON is four miles from Plymouth; and St. Budeaux ,or St. Budoc, three miles; both in the same hundred as the first named place. These villages are quite unimportant as connected with mercantile affairs. The principal is Tamertom Foliatt, which has two respectable boarding schools, and its neighbourhood contains several handsome residences belonging to retired families. The parishes of Tamerton Foliatt and St. Budoc contained in 1821, about 2,000 inhabitants.
Tamerton Foliot was a village and is now a dense suburb in the north of Plymouth, England that also lends its name to the parish of the same name. Situated near the confluence of the rivers Tamar and Tavy, the village is situated in a valley, the stream of which quickly broadens out to a large estuarine creek. This passes under a bridge beneath the Tamar Valley Line railway. Tamerton Foliot railway station, now a private property, is situated at the end of a two mile road and is on the edge of a heavily wooded riverside nature reserve. It had been built in 1890 by the Plymouth, Devonport and South Western Junction Railway on its line from Lydford to Devonport and Plymouth.
The village has a population of around 2300 (2001 census) and has three pubs, one Methodist chapel (which has recently closed in 2008) and the Anglican parish church of St Mary's. This dates from the 12th century, and is thought to be on the site of an earlier building perhaps founded by St Indract. It has been much extended since, with the 78-foot (24 m) perpendicular style tower added around 1440 and most of the rest of the fabric renewed in the 19th century. There is a peal of six bells.In 1819, the fiery Reverend Cederic Warner Tarpst, a cousin and friend of George (Gordon) Byron, 6th Baron of Rochdale. Tarpst, was a companion of Byron's during his poor days in Aberdeen before Tarspt moved to the village and became Vicar of St Mary's Church.
After a series of firebrand sermons, in which Rev. Tarpst preached against his old friend Byron's works and in particular the Drama Cain (1821), in which Byron attempts to dramatize the story of Cain and Abel from Cain's point of view. Byron's notes in his correspondence, "It is Cain that seemed to anger him the most". But this did not stop him from dedicating his epic work about the Welsh rebellion, Glyndwr (1822) to his friend the Rev. Tarpst. Tarpst preached no less than seventeen sermons with Cain as his main theme. He also wrote over sixty letters to his old friend criticising his work. When Tarpst learnt of Byron's death on April 19 1824, he was noted as saying "this is the Lords own justice, but I shall miss that scoundrel".Tarpst spent his remaining years writing his memoirs as well as several books on religion and poetry. He was a huge character in the village and was often seen taking weather readings on the church tower.[1] He died on a stormy night October 1839, during the great storm. He was found dead at the foot of the tower, from which he fell. He is buried in the churchyard of his beloved St. Marys.
Just outside the eastern boundary of the churchyard stands an ancient hollow oak tree called the Coplestone Oak believed to date from the 1600s. It is named after a Lord of the Manor, Christopher Coplestone, who supposedly stabbed his godson to death against the tree following a family dispute. Sir John Bampfield was married to Gertrude, daughter of Amias Copleston in Tamerton Foliot on the outskirts of Plymouth on 3rd May 1632. He was son of the John Bampfield, who was MP for Penryn, created a Baronet in 1641, and it was his daughter, Grace, who married Sir William Bastard, Knight. The Foliot part of the village's name derives from the Foliot family, John Foliot being a half-brother of William the Conqueror and recipient of large amounts of land for services rendered during the Norman conquest. Some of these historical family names such as Bampfield Way and Copplestone were used as street names in the new Southway Estate not far from the Village of Tamerton Foliot. Tamerton was one of the quarters of Prince Maurice, the Brother of Prince Rupert and his army, when he besieged Plymouth from October to December 1643, during the English Civil War. But the Prince fell ill with camp fever in mid-November 1643 and withdrew from the siege to recover.