Gallery
Gallery: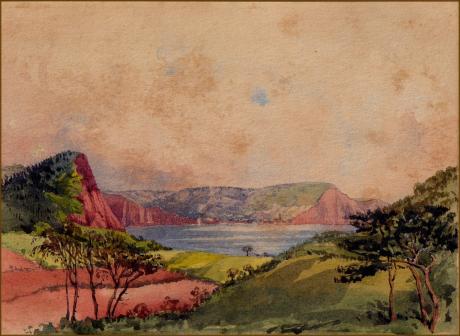 E.T. L., 19th Century
Sidmouth from Ladram Bay East Devon 1896
Signed/Inscribed:
inscribed and dated on the mount " Sidmouth in the distance 1896"
pencil and watercolour
13 x 17 cm.
Notes
Sidmouth is a small town on the English Channel coast in Devon, South West England. The town lies at the mouth of the River Sid in the East Devon district, 15 miles (24 km) south east of Exeter. It has a population of about 15,000, of whom 40% are over 65. The town is a tourist resort and a gateway town on the Jurassic Coast World Heritage Site. A large part of the town has been designated as a Conservation area. Sidmouth appeared in the Domesday Book as Sedemuda. Like many towns on the south coast, it was a small fishing village. Though attempts have been made to construct a harbour here, none have succeeded, and a lack of shelter in the bay prevented the town growing as a port.Sidmouth remained a small village until the fashion for coastal resorts grew in the Georgian and Victorian periods of the 18th and 19th centuries. The town's numerous fine Georgian and Regency villas and mansions are now mostly hotels. In 1819 George III's son Edward, Duke of Kent, his wife and baby daughter (the future Queen Victoria) came to stay at Woolbrook Glen for a few weeks. In less than a month he had died after a brief illness. The house later became the Royal Glen Hotel, and a plaque on an exterior wall records the visit. In 1874 Sidmouth was connected to the railway network by a branch line from Sidmouth Junction to Sidmouth railway station. The line was dismantled in 1967 as part of the Beeching Axe. Sidmouth has featured in literary works, including as "Stymouth" in Beatrix Potter's children's story The Tale of Little Pig Robinson (1930). The author includes views of the beach and other parts of the Devon countryside in the work. In Thomas Hardy's Wessex, the town is the inspiration for "Idmouth" in West Wessex. "Baymouth" in William Makepeace Thackeray's Pendennis, and "Spudmouth" in the The Merry Adventures of Robin Hood by Howard Pyle, are both based on the town. Sidmouth has also been the setting for television shows; most recently in an ITV adaptation of Agatha Christie's Marple in Summer 2005. Sidmouth was a favourite location for Sir John Betjeman. He chose it as the subject of the first programme of the television series John Betjeman In The West Country that he wrote and presented in 1962. The script takes the form of an extended poem and was republished in 2000 as a short book, illustrated with shots from the programme.