Gallery
Gallery: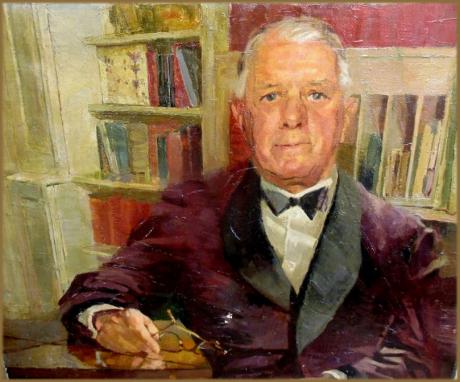 Ruth Heppel, 20th Century
Sir George Langley-Taylor 1888-1968, F.R.I.C.S. (Forestry ) F.L.A.S., M.T.P.I., F.R.S.H., F.R.S.A., F.R.G.S.,F.R.I.B.A.
Sir George Langley-Taylor
oil on canvas
30 x 40 cm. (12 x 16 in.)
Notes
Surveyor, Chairman of the Council for the Preservation of Rural England
Artist biography
Ruth Heppel studied at the Regent Street Polytechnic School of Art (now part of Westminster University) from 1941 – 47, winning medals for drawing and illustration and in her final year, a two-year British Institution Travel Award. Soon after, she married a diplomat and lived in France, Germany, Italy, Spain, Vietnam, Cambodia and Pakistan. During these years she developed her skills in painting and drawing, from capturing street scenes, landscapes and still lifes, to portrait sketches of children. In 1962 she accepted her first portrait commission and others soon followed, but it wasn't until 1970, when her husband retired from the Foreign Office, that she was able to devote herself fully to portrait painting.
Since then she has fulfilled over 100 commissions, in oils, watercolour, pen and wash, charcoal and other media, creating portraits for public institutions and private individuals alike. Some of her portraits have been hung in summer exhibitions of the Royal Academy, the Royal Hibernian Academy, the Royal Portrait Society and other exhibitions at the Mall Galleries in London. They have also been sent on tour round the UK by the Federation of British Artists. She has painted Chancellor of Germany Kurt Georg Kiesinger, Archbishop of Wales Derrick Childs and most recently, HRH Camilla, Duchess of Cornwall. In 1986 her portrait of Archbishop Derrick Childs was selected by the BBC for their Domesday Project, marking the 900th anniversary of the Domesday Book. 'Portrait painting,' says Ruth Heppel, 'is a matter of give and take, a dialogue between artist and sitter, even a trialogue if the viewer is taken into account. I try to reach an essence of the subject and a timeless aspect too. It's difficult and always has moments of despair. But sooner or later I've gone as far as I can to achieve not only a physical likeness but – a far greater and more satisfying challenge – a portrayal of the sitter's deeper human qualities and appealing personality traits.'
Ruth Heppel's work can be found in private and public collections all over the world.