Gallery
Gallery: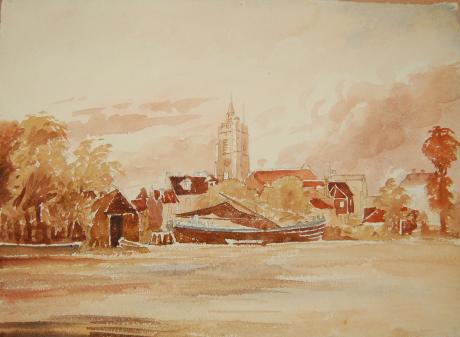 Rev John Louis Petit, 1801 - 1868
St Nicholas Church Chiswick, London
St Nicholas Church Chiswick, London
Signed/Inscribed:
and dated on the reverse "14th Oct 1863 / Chiswick"
pencil and watercolour
28 x 39 cm. (11 x 15.1/2 in.)
Notes
St Nicholas Church, Chiswick is a Grade II* listed Anglican church in Church Street, Chiswick, London, near the River Thames.The oldest part of Chiswick developed as a village around the church from c. 1181.
The current church dates from 1882–84, when most of the building except the tower was demolished and rebuilt at the expense of the brewer Henry Smith of the nearby Fuller, Smith and Turner brewery. Several monuments survive, mainly in the tower.
There has been a church on the Chiswick site since at least 1181 in Norman times. The church was formally visited and an inventory made at "the unusually early date of 1252": Ornamenta inventa apud Chesewith die Sanctorum Johannis et Pauli Anno Domini Mo. CCo. Lo. secundo.
This first inventory lists "a good and sufficient missal sent there from the treasury of St Paul's"; two graduals; a badly bound tropary; an old lectionary; an anthem book; a psalter but not the expected manual. Valuables included a small silver chalice; a red velvet chasuble; two vestments; three corporals; five altar cloths; an arras cloth; an old chrismatory; two brass and two tin candlesticks; and a font without a lock. The chancel roof needed repairing, and the church was at the time not dedicated. Visitations were repeated in 1297 and 1458.
The current church dates from 1882–84, when it was rebuilt to a design by the architect John Loughborough Pearson, except for the west tower which was built for William Bordall (vicar 1416–1435). Because of the small distance between the tower and the road at Church Street, Pearson made the nave short but wide, so it is nearly square in plan. The Duke of Devonshire gave £1,000 for the rebuilding, but most of the cost was paid for by Henry Smith of the nearby Lamb Brewery company, Fuller, Smith & Turner. The church is built of courses of squared Kentish ragstone masonry in the Perpendicular style. It has a stone coping with a copper roof. Inside the church, surviving 15th-century features include the tall archway to the west tower and the hoodmould over the window above the west door.

Among the monuments in the church are:
Ralph Wenwood, d. 1799, wall tablet in swag surround
Charlotte Seymour, Duchess of Somerset, d. 1773, wall tablet and urn. She was the second wife of Charles Seymour, 6th Duke of Somerset
Sir Thomas Chaloner, d. 1615 and his two wives, d. 1603 and 1615, heraldic achievement over baldachino, stone curtains held open by figures on sides; kneeling figures of Sir Thomas and his wife
Mary Litcott, d. 1599, brass
Thomas Bentley, d. 1780, representation of sarcophagus by Thomas Scheemakers; Bentley was Josiah Wedgwood's business partner
Richard Taylor, d. 1698, urn on tassellated swag surround held by cherubs
Richard Tayler, d. 1716, Corinthian aedicule, heraldic cartouche, statues of Father Time and Angel of Death
Charles Holland the actor, d. 1769, bust on obelisk, epitaph by Daniel Garrick
James Howard, d. 1669, flaming urn on Ionic aedicule, inscription panel
Thomas Plucknett, d. 1721, broken pediment and Ionic aedicule
John Taylor, d. 1729, open pediment, heraldic achievement in tympanum over Ionic aedicule
Thomas Tomkins, d. 1816, tablet with medallion portrait
Charles Barnevett, d. 1695, pedimented wall tablet
John Beckwith, d. 1815, rectangular fluted tablet
In the churchyard and burial ground[edit]

Among the monuments in the churchyard and the adjacent burial ground are:
Ugo Foscolo, d. 1812, Italian patriot. His remains were taken to Italy, but inscriptions were added.
William Hogarth, d. 1764, and relatives; epitaph poem by David Garrick
Charles Holland, actor; epitaph by David Garrick
Henry Joy, d. 1893, trumpeter in the Charge of the Light Brigade
Philip James de Loutherbourg, d. 1812, landscape painter; mausoleum was designed by Sir John Soane.
James Abbott McNeill Whistler, d. 1903, artist; a classical tomb in bronze (by the wall)
Richard Wright, bricklayer to Lord Burlington, owner of Chiswick House
Artist biography
John Louis Petit was born at Ashton-under-Lyne, Lancashire, son of John Hayes Petit. He was educated at Eton, and contributed to the "Etonian". He was elected to a scholarship at Trinity College Cambridge in 1822, graduated BA in 1823 and MA in 1826, and on 21st June 1850 he was admitted "ad eundem" at Oxford. He took holy orders in 1824, but undertook no parochial work. Petit showed a taste for sketching in early years. His favourite subject was old churches, and a great part of his life was spent in visiting and sketching them. In 1839 he made his first extensive tour of the continent. The results appeared in his "Remarks on Church Architectire" (1841, 2 vols which had illustratuions. It was followed in 1846 by "Remarks on Church Architectural Character" Royal folio format.In the same year Petit published a lecture which he had delivered on 24th Feb 1846 to the Oxford Society for promoting the study of Gothic Architecture, under the title "Remarks on the Principles of Gothic Architecture as applied to ordinary Parish Churches". It was succeeded by "Architectire of Tewksbury Abbey Church". Royal svo 1846. " Architectural notes in the neighbourhood of Cheltenham"and "Remarks on Wimborne Minster", 1847. "Remarks on Southwell Minster". With numerous good illustrations. 1848. "Architectural Notices relating to Churches in Gloucestershire and Susse". 1849. "Architectural Notices of the Curious Church of Gillingham.Norfolk". And an "Account of Sherborne Minster". 1850. In 1852 Petit published an account of Brinkburn Priory". In 1854 appeared Petit's principal work. "Architectural Studies in France", imperial SVO. It was beautifully illustrated with fine woodcuts and facsimiles of anastic drawings by the author and his companion, Professor Delamotte. It showed much learningand observation, and threw light upon the formation of Gothic in France, and on the differences between English and French Gothic. A new edition , revised by Edward Bell, FSA, with introduction, notes and index, appeared in 1890. The text remained unaltered but the illustrations were reduced in size, and a few added from Petit's unused woodcuts. In 1864-65 he travelled in the East and executed some striking drawings. He died in Lichfield on 2 Dec 1868, from a cold caught while sketching and was buried in St Micheal's Churchyard. Petit was the founder of the British Archealogical Institute at Cambridge in 1844. He was also FSA, an honoury member of the Institute of British Architects, and a governor of Christ's hospital.