Gallery
Gallery: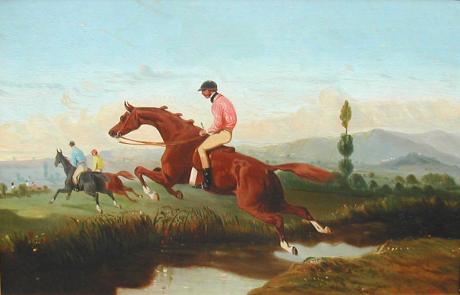 English School 19th, Century
A Steeplechase, a Horse and Jockey taking a Water Jump
Steeplechase,Horse & Jockey taking Water Jump
Signed/Inscribed:
dated "1839"
oil on canvas
39 x 60 cm.
Notes
The steeplechase is a form of horse racing (primarily conducted in the United Kingdom, Canada, United States, Australia, France and
Ireland) and derives its name from early races in which orientation of the course was by reference to a church steeple, jumping fences and ditches and generally traversing the many intervening obstacles in the countryside. In the UK and Ireland the official term now used for the sport is National Hunt racing. It is a term now used to refer to a distance horse race with diverse fence and ditch obstacles; the most famous of these is the Grand National run annually at Aintree Racecourse, in Liverpool, since its inception in 1836 (the official race was held 3 years later).
The steeplechase originated in Ireland in the 18th century as an analogue to cross-country thoroughbred horse races which went from church steeple to church steeple, hence "steeplechase". The first steeplechase is said to have been the result of a wager in 1752 between Mr. Cornelius O'Callaghan and Mr. Edmund Blake, racing four miles (6 km) cross-country from Buttevant Church to St. Leger Church in Doneraile, in Cork, Ireland. An account of the race was believed to have been in the library of the O'Brien's of Dromoland Castle.
Most of the earlier steeplechases were contested cross-country rather than on a track, and resembled English cross country as it exists today. The first recorded steeplechase over a prepared track with fences was run in Bedlam, North Yorkshire in 1810.The first recognised English National Steeplechase took place on Monday 8th March 1830. The 4 mile race, organised by Thomas Coleman of St Albans, was run from Bury Orchard, Harlington in Bedfordshire to the Obelisk in Wrest Park, Bedfordshire. The winner was Captain Macdowall on "The Wonder", owned by Lord Ranelagh, who won in a time of 16 mins
25 seconds. Reports of the event appeared in the May and July editions of the Sporting Magazine in 1830.
Collectively Great Britain and Ireland account for over 50% of all jump races world wide, carding 4800 races over fences in 2008. Jump racing Great Britain and Ireland is refereed to colloquially as National Hunt Racing. See separate Wikipedia entry for National Hunt racing