Gallery
Gallery: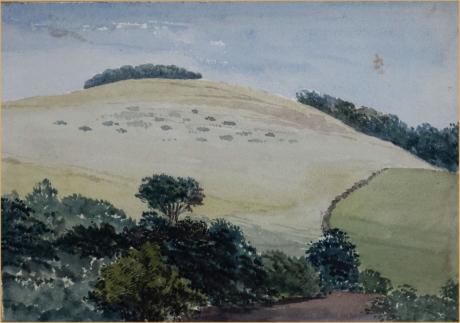 M. L. P, 19th Century
Stoke Clump Stoke Down, Sussex, 1868
Signed/Inscribed:
inscribed in the margin " Part of Stoke Down Sussex 1868"
pencil and watercolour
18 x 25 cm.
Notes
West Stoke is the gateway to the Kingley Vale National Nature Reserve; a beautiful, important and unusual part of the South Downs. You can park at West Stoke and walk along Stoke Down before reaching the slightly steeper climb up to the Nature Reserve itself.
Whilst West Stoke is a small community, it has an interesting showroom – Design Vintage – which has a collection of vintage and industrial furnishings of modern design and Scandinavian influence on sale and a cafe serving coffee and light snacks. It also has its own Village Hall used for weddings, parties, meetings, exercise classes and art shows for up to 40 people. In particular, the Hall is the venue for annual cream teas held every Sunday between June and September. In about 1820, the Duke of Richmond and Gordon bequeathed the hall as a school for the children of the inhabitants of West Stoke. In 1903 a document was signed by the then Duke, which stated that if the school ceased to exist, which it did in 1922, the building should be used for the good of the community. The Hall is now run as a registered charity and managed by a committee of local people for precisely that purpose: the benefit of the local community.

West Stoke also boasts an 11th century church – St. Andrews – mentioned in the Domesday Book: the ideal picture of a Sussex country church, standing near a C18 manor by a gentle slope of the Downs, surrounded in the churchyard by large yews. In the 13th century the chancel was remodelled and a small tower, incorporating a porch added to the south side of the nave. The chancel was restored in 1841 and later the same century a vestry was added. During redecoration in 1990 fragments of medieval wall paintings, believed to date from around 1200 were discovered and subsequently restored. Christenings, weddings and burials are held at the Church, as well as regular Sunday services; the latter to which all are welcome.
The flint mine complex (EH AMIE database uid 245691) is centred at approximately SU834095, and for the most part occupies the false crest immediately above a steep northeast-facing escarpment, below which runs a valley that a short distance to thesoutheast contains the River Lavant. The mines are located just below, and to thenortheast and east of, the summit, south of which the Downs fall away more gently to the
coastal plain. The area occupied by the mines mainly lies between circa 110 and 120 metres above OD, although they drift further down slope on the more gentle eastern side of the hill. The highest point in the vicinity, just to the southwest of the mines,reaches 126 metres above OD. Chichester lies circa 5 km to the southeast, while thevillage of West Stoke is circa 1 km to the south.Topography, geology and land use The dominant geology is, of course, chalk – in this instance the Cretaceous Upper Chalk –which gives the Downs their characteristic undulating topography. While pockets of claywith-flints are not unknown in the area, a field visit by David Field in October 1995, in the course of the RCHME flint mines project, confirmed that no clay-with-flints appears to bepresent on Stoke Down itself. A short distance to the south, the coastal plain primarily comprises Tertiary sands and clays. The area centred on the mines is primarily in agricultural use – mostly arable – with the wooded areas declining in extent during the 20th century. Stoke Clump itself, a small area of woodland immediately east of the summit and south of the mines, has been reduced considerably in area since the 1960s. There are earthwork indications of quarrying to the east of the flint mines. The precise date of this quarrying is unclear, but it is most likely to be relatively recent, probably post-medieval, activity. Neolithic and Bronze Age activity in the vicinity A scatter of findspots, mostly of lithic material, has been recorded from a 5 km radius around the flint mines. These findspots mostly comprise material recovered from the surface of arable fields. Perhaps the most noteworthy object is a flint dagger of Late Neolithic/Early Bronze Age date found "when digging on the lower slopes of Stoke Down" (Curwen 1940; AMIE uid 246284).
The most impressive and best known Neolithic monument in the vicinity is the Early Neolithic causewayed enclosure known as The Trundle, located on St Roche's Hill circa 4 km to the east-northeast, on the opposite side of the Lavant Valley (Oswald et al 2001;