Gallery
Gallery: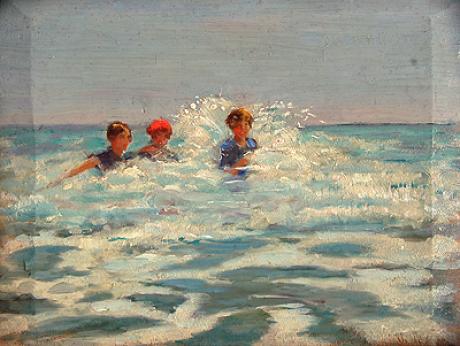 Harry John Pearson, 1872 - 1933
Three Girls Playing in the Surf
Three Girls Playing in the Surf
oil on panel
21.84 x 27.94 cm. (8.3/4 x 11in.)
Provenance
From the artists studio, by descent in teh family
Notes
Harry John Pearson, RBA (1872-1933) was known mainly for his portrait and figure subjects, especially of children and society women, many of which were illustrated in periodicals of the day such as Colour Magazine and Woman's Pictorial. He trained at The Royal Academy Schools in the early 1890's  and spent some time working in The Netherlands prior to World War I and joined n artist's colony. he returned to London and started to work as a commercial artist, working for companies such as Doulton, Birds, Collmans and others. His work also appeared in "Womens Pictorial", " the Illustrated London news ", " Homes and Gardens", " Colour Magazine" often gaining front cover exposure. Pearson exhibited at the Royal Academy 1916-1927, and extensively with the Royal Society of British Artists of which group he was elected a full member in 1915. Pearson also showed his work with the Royal Society of Portrait Painters, the Royal Institute of Oil Painters, the Royal West of England Academy, the International Society, the Walker Art Gallery Liverpool and he was President of the Langham Sketch Club.  He lived in Ealing, west London and died in March 1933 aged 61. he developed a reputation as a childrens portrait painter a well as portraits of society women. he contributed to Queen mary's famous Dolls House.