Gallery
Gallery: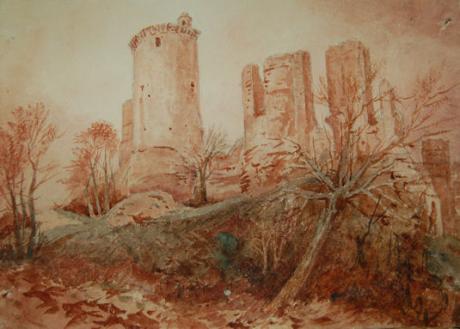 Rev John Louis Petit, 1801 - 1868
Vendome Castle, Centre-Val de Loire, France
Vendome Castle, Centre-Val de Loire, France
Signed/Inscribed:
inscribed on the reverse
pencil and watercolour
27.94 x 38.10 cm. (11 x 15 in.)
Notes
Vendôme is the capital of the arrondissement of Vendôme in the Loir-et-Cher department, of which it is a sub-prefecture. It has a tribunal of first instance. Vendôme is located 22 miles (35 km) northwest of the city of Blois and 40 minutes from Paris by TGV train. The town lies on the Loir River, which here divides into numerous arms intersecting the town. On the south, it is overlooked by an eminence on which stand ruins of the castle of the counts of Vendôme. The abbey-church of the Holy Trinity has a fine façade in the florid Gothic style. The belfry, surmounted by a stone steeple, stands isolated in front of the church; it belongs to the middle of the 12th century, and is one of the finest examples of Transition architecture. Abbey buildings of various periods lie round the church. The church of La Madeleine (15th century) is surmounted by a stone spire, an indifferent imitation of that of the abbey. The fine tower of Saint-Martin (16th century) represents the vanished church of that name. Other remarkable monuments are: the old gate, the Porte Saint-Georges; its river front is composed of two large crenelated and machicolated towers, connected by a pavilion, and the ancient hospital of Saint-Jacques that afterwards became a college of the Oratorians, then a lycée for boys and that is now occupied by the town administration offices. The charming chapel, in the most florid Gothic style, is preserved. In the garden surrounding, is located the tourism office in an ancient building called l'Orangerie (facing the public library). The town has a well-known archaeological and scientific society, and possesses a library with more than three hundred manuscripts, and a museum, mostly archaeological, in front of which stands a statue of the poet Pierre de Ronsard. There is also a statue of Marshal Rochambeau, born at Vendôme in 1725. Some interesting houses of the 15th and 16th centuries survive. Vendôme (in Latin: Vindocinum) appears originally to have been a Gallic oppidum, replaced later by a feudal castle, around which the modern town arose. Christianity was introduced by Saint Bienheuré in the 5th century, and the important abbey of the Trinity (which claimed to possess a tear shed by Jesus at the tomb of Lazarus) was founded about 1030. When the reign of the House of Capet began, Vendôme formed the chief town of a county belonging to Bouchard, called "the Venerable", who died in the monastery of Saint-Maur-des-Fossés in 1007. The succession passed by various marriages to the houses of Nevers, Preuilly and Montoire. Bouchard VII, count of Vendôme and Castres (died circa 1374), left as his heiress his sister Catherine, the wife of John of Bourbon, count of La Marche. The county of Vendôme was raised to the rank of a duchy and a peerage of France for Charles of Bourbon (1515); his son Antoine de Bourbon, king of Navarre, was the father of Henry IV, who gave the duchy of Vendôme in 1598 to his illegitimate son César de Bourbon (1594–1665). César, duke of Vendôme, took part in the disturbances which went on in France under the government of Cardinal Richelieu and of Cardinal Mazarin; he was the father of Louis, Duke of Vendôme, who married a niece of Mazarin, and François de Vendôme, Duke of Beaufort. The last of his family in the male line was Louis XIV's famous general, Louis Joseph, duc de Vendôme (1645–1712). Nominoe, King of Brittany, died undefeated in Vendôme in 851, after conquering the counties of Maine and Anjou. The comte de Rochambeau, leader of 6,000 French troops in the American Revolutionary War, was born in Vendôme. Place Vendôme in Paris had been the site of the Hôtel de Vendôme, a mansion which belonged to César de Bourbon, the illegitimate son of Henri IV and his mistress Gabrielle d'Estrées.
Artist biography
John Louis Petit was born at Ashton-under-Lyne, Lancashire, son of John Hayes Petit. He was educated at Eton, and contributed to the "Etonian". He was elected to a scholarship at Trinity College Cambridge in 1822, graduated BA in 1823 and MA in 1826, and on 21st June 1850 he was admitted "ad eundem" at Oxford. He took holy orders in 1824, but undertook no parochial work. Petit showed a taste for sketching in early years. His favourite subject was old churches, and a great part of his life was spent in visiting and sketching them. In 1839 he made his first extensive tour of the continent. The results appeared in his "Remarks on Church Architectire" (1841, 2 vols which had illustratuions. It was followed in 1846 by "Remarks on Church Architectural Character" Royal folio format.In the same year Petit published a lecture which he had delivered on 24th Feb 1846 to the Oxford Society for promoting the study of Gothic Architecture, under the title "Remarks on the Principles of Gothic Architecture as applied to ordinary Parish Churches". It was succeeded by "Architectire of Tewksbury Abbey Church". Royal svo 1846. " Architectural notes in the neighbourhood of Cheltenham"and "Remarks on Wimborne Minster", 1847. "Remarks on Southwell Minster". With numerous good illustrations. 1848. "Architectural Notices relating to Churches in Gloucestershire and Susse". 1849. "Architectural Notices of the Curious Church of Gillingham.Norfolk". And an "Account of Sherborne Minster". 1850. In 1852 Petit published an account of Brinkburn Priory". In 1854 appeared Petit's principal work. "Architectural Studies in France", imperial SVO. It was beautifully illustrated with fine woodcuts and facsimiles of anastic drawings by the author and his companion, Professor Delamotte. It showed much learningand observation, and threw light upon the formation of Gothic in France, and on the differences between English and French Gothic. A new edition , revised by Edward Bell, FSA, with introduction, notes and index, appeared in 1890. The text remained unaltered but the illustrations were reduced in size, and a few added from Petit's unused woodcuts. In 1864-65 he travelled in the East and executed some striking drawings. He died in Lichfield on 2 Dec 1868, from a cold caught while sketching and was buried in St Micheal's Churchyard. Petit was the founder of the British Archealogical Institute at Cambridge in 1844. He was also FSA, an honoury member of the Institute of British Architects, and a governor of Christ's hospital.