Gallery
Gallery: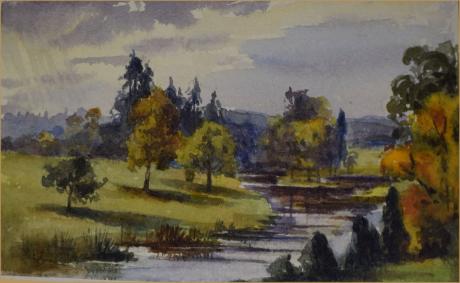 Katherine Euphemia Farrer, 1839-1931
View from Drawing Room Window Peper Harow Oct 29th 1892
Signed/Inscribed:
signed by house guests and dated " 1892/ October 28th-31st / Arthur Brodrock , A M Midleton, Cecil Fremantle, Marian C Brodrick, Muriel Brodrick, Louisa S J Scott, Sybil Brodrick, Lawrece Broderick "
pencil and watercolour
9.50 x 17.50 cm.
Notes
Designed 1765-68 by Sir William Chambers for the Third Viscount Middleton, completed by the Fourth Viscount in 1775-77. North porch added in 1843 by C.R. Cockerell, third storey and north wing added in 1913 by the First Earl of Middleton. Yellow stock brick with stone window dressings, balustraded parapet and rusticated angle quoins. Roofs obscured by parapets but probably low pitch, hipped slate.
Original house: cube of five by seven bays, wing to right. Entrance front: two storeys over basement with attic over stone cornice. Balustraded parapet, brick parapet raised higher over originally central three bays, which project slightly. Four pilaster strips to parapet with crowning urns and central cartouche. Five sixteen-pane glazing-bar sash windows to attic floor, four twelve-pane glazing bar sash windows to first floor. Two "Venetian" windows to ground floor with projecting entablatures over side lights. Glazing bar sash windows left and right of centre flanking a two storey stone porch with balustraded parapet above. One first floor window on porch in between angle pilasters. Doric columns to ground floor with triglyph frieze. Coronets and rosettes to metopes of cornice frieze, arched windows to sides. Double doors of four fielded panels with projecting hood over console brackets. Three bay C20 range to right with three windows on first and attic floors, one Venetian window to ground floor. Single storey service wing to right.
Left hand return front (south): seven bays with quoined angles. Architrave surrounds to first floor windows, glazing bar sash windows to ground floor under architrave hoods. In the centre of the roof balustrade is a cartouche with human figure supporters dressed in armour.
Garden front (west): central three bays project under brick parapet with crowning urns, balustraded parapet to flanking bays. Five glazing bar sash windows to each floor, Venetian windows to outer bays of ground floor. Central three windows to ground floor under projecting hoods, centre window pedimented.
Interior: hall - six doorways, doors of fielded panels in egg and dart mouldings. Adam style fireplace, marble, with festoons etc. Ox skulls and drapery swags with three portrait medallions to chimney breast. Simple iron staircase, top lit by lunettes in narrow wall. Two plaster ceilings by Chambers, to south east and south west corner rooms with fine chimney pieces designed by Chambers and carved by Wilton. Drawing Room ceiling oval with Greek key and entwined rose pattern. Painting on dining room ceiling possibly by Augustus Welby Northmore Pugin.
The Original Mansion was not even in the present ones position, from old foundations found in 1999 when mains services were being laid, it is thought to have been about 50-100 yards further West.
On the death of Earl Midleton the Peper Harow Estate and a large part of Shackleford that they owned was sold at auction in 1944.
This was second of the great estates in the area to be broken up within three years.
Then it became a rehabilitation centre for children for several years, then it suffered extensive damage when one of the children set fire to it and the top two floors were gutted and never re-opened.
In 1998 the house was sold to a developer and split into nine flats.
A brief history of Peper Harow
Peper Harow House from the South East.
The parish of Peper Harow is said to have been named after a proprietor called Pepard or Pipard, in about 1100 A.D.
It is referred to as Piperherge in the Domesday Book and it is stated to be owned by Walter Fitz Other, Castellan of Windsor.
Since then there is an unbroken record up to the present day of the estate's owners, many of whom held high positions in the service of the king or queen of their time.
One owner on the other hand, Sir Bernard Brocas, was beheaded on Tower Hill in January 1400 for plotting against King Henry IV.
The estates were forfeited to the Crown but later restored to Sir Bernard's son and remained in the Brocas family for a further 170 years.
Passing through the hands of Ralph Peckshall, Master of the Buckhounds to Edward IV, so to his son and various other owners, the estate came into the ownership of John, Earl of Clare, who had to have a special Act of Parliament passed to authorise its sale to Philip Frowde, postmaster-general in the reign of Queen Anne.
From him it was bought, in 1713, by Brodrick, afterwards created Viscount Midleton and Speaker of the Irish House of Commons.
What the house was like in his time we have no record as it was completely rebuilt in something like its present form by the Third Viscount, though the work was not completed until after his death in 1765.
The estate remained in the Brodrick family in unbroken succession to the 9th Viscount Midleton, who was responsible for the additions to the house which brought it to its present size in 1930.
So it remained until after the Second World War, in which it was used as the headquarters of the Canadian Ordnance Corps.
In this house a large part of the planning for the Dieppe raid and the Normandy invasion was carried out.
After the death of the 9th Viscount Midleton, by then raised to the title of Earl, the house was sold by his son to the managers of Park House School and the farm and largest part of the lands to Mr Fuller.
As stated earlier, the house as we know it today was not conceived or begun until the time of the third Viscount Middleton, nor finished until some time after his death in 1765.
It was designed by Sir William Chambers, architect of Somerset House in London. His first drawings show a house 80 ft by 88 ft, with only two stories between basement and hipped roof.
These measurements were adhered to in the building but alterations to the arrangement of rooms within the outline were made before completion of the work.
The original estimate of the cost was £8,180, of which the principal items were:
Brickwork £2,253 0s 0d
Portland stone £1,208 13s 8d
Firr and Labour in floors and roof £1,179 5s 0d
Westmoreland slating £336 0s 0d
Lead for roof, gutters, water pipes, etc. £386 10s 0d
The final bill was for £9,912 10s 51/2d, but by the completion of the work only about £900 remained to be paid as payments had been going out since the beginning of the project.
The bill included fees to Samuel Alken, wood-carver and Joseph Wilson, R.A., sculptor, for work on door frames, chimney pieces, etc.
He also included the cost of painting and decorating, which must have been considerable.
We know that the ceiling of the drawing room (later Gould Houseroom) had six coats of paint, green on a purple ground with a white ornamentation.
That of the dining parlour, later Godfrey Houseroom, had five coats of green with white ornamentation, while the 'ground to centre' in this room was 'seven times done, finished in Lalock colour'.
The ceiling of the library (later Spielman Houseroom) had a scheme of grey on a pink ground. Decoration in the hall (Front Hall) included 'three pictures by Stubbs painted on purpose'.
Other examples of the care and consideration that went into the construction and finish are to be found in specifications on paper headed 'memorandums relating to the finishing of the house at Peper Harow', notably that for sound-proofing: 'all the floors built on the principal storey and attick to be filled between the joists with cockle shells'.
Once completed, no major alterations were made to the house until the time of the late Lord Midleton, who succeeded his father in 1907. In 1913 the parapet was taken down, laid carefully around the house while a third story with a low pitched roof was added in place of the old attics, and then replaced.
The coming of the school in 1950 brought further changes not so much to the outward appearance of the house itself but the grounds in which it stands. With the laying down of Park Avenue and the erection of houses for staff, each taking a parcel of land for a private garden, has almost disappeared the last trace or what was an exceptionally beautiful leisure garden, stocked with many rare trees and shrubs, stretching from the house right up to the wrought iron carriage gates at the northern end of the estate.
In its place, besides the staff houses, a lawn tennis court was laid down, a new sick bay added for the school and the old conservatory was converted to a gymnasium.

In the development of the country house the importance of Peper Harow is its representation of the personality of Sir William Chambers. He directed ripe to consolidating and refining the English tradition deriving from Inigo Jones, in relation to his firmly held classical principles and familiarity with French practice, to which he brought the best trained of his time.
His influence was exerted through intimacy with the young King, to whom he had been architectural tutor, and which furthered the foundation of the Royal Academy; through his books and pupils; and above all by his official architecture as Survey General, notably Somerset House.
His country house practice was small compared with that of Paine or Adam, for the most part in the shape of adjuncts and alterations. His proposals for Harewood (c. 1755) being rejected, the design of its terminal pavilions was adapted to that of th Casino at Marino, near Dublin, c 1780, which best represents his genius, Elsewhere he was apt to be under the necessity of working in 'rococo' for which, although itwent against his principles, he showed a marked flaire in the chinoiseries of Kew, though less in the gothic rebuilding (under protest) of Milton Abbey, Dorset. He continued to the neo-classical movement by his learned eclecticism and, as Mr Summerson remarks of Somerset House, by his application of the 'French influence to ironing out the bolder terms of English Palladianism'.
Peper Harow illustrates this aptitude in a country house of medium size. The property, beside thr R.Wey near Witley. was bought in 1713 by Allen Broderick, Lord Chancellor of Ireland, created Viscount Midleton oc Co. Cork in 1715. His Son, in the year of his death, 1765 procured sketch designs from Chambers for a new house. A copy of the plan, which remained there, is giver in Fig.209; a S.E. elevation has two rows of seven windows and a hipped roof; and of the N.W. shows the little porch and stretches of blank wall indicated in the plan. This also shows that the principle fronts had the same emphasized centre and Venetian windows that exist.
The present porch, however, was added by C.R.Cockerell, 1843. As the plans were dated March, 1765, it is probable that little building was then done. When the successor came of age in 1775, new estimates were obtained from Chambers for work to cost £8,180 (brickwork £2,253, Portland stone £1,208, floors and roof £1,179). In 1777 an 'Account with Wm. Chambers' specifies the offices as costing £3,200; chambers, basement and garrett £2,585; and for finishing the principle floor £2,340. Extra to them were bills of Chambers's usual sculptors, Joseph Wilton £202, Richard Hayward £186, and J.Alken £294, the whole amounting to £9,912, of which only £894 was outstanding.
The need for more rooms was met by substituting for the pitched roof a third storey carrying the walls up into a parapet with balustrade, which in the entrance front, takes the form of a podium resembling Taylor's central feature at Heveningham (Fig.336).
The Hall (Fig.205) is typical of Chambers's restrained fomality in applying the Doric mode (the Order itself is absent) to an interior. The ornament of drapery festooned between paterae and bucrania is supplemented in the chimneypiece with trophies of implements (Fig.212).Its surmounting pedastal carries a bust said to be of Marlborough, repeated in a medalliion above - the other medallion represent bewigged contempories.
The fine mahony doors used throughout cost 10s. per foot (or 6s. 6d. if dummies). The chimneypieces carved by Wilson are in the Old Dining Room (Fig.207) and Drawing Room (Fig.211). The latter is specified as Chambers's design and as having the pilasters 'feneer'd with verd-Antique and inlaid flutings of do., the Tablet of Bacchus anf Tyger'; the cost £118. Four rooms have ceilings designed by Chambers. of which that in the Drawing Room (Fig.208) is typical of his manner, though emballished with little devices painted during Pugin's alteration by Willaim Evans.
Its original colouring, in six coats, is given as being purple and white. That of the Dining Room was green and white, and of the Library grey, with a pink background. The Hall and Staircase best preserve Chambers's effect of a white design against a plain coloured ground. with, in the latter, the additional grace of simple scroll-pattern balustrade. The painting by Stubbs see over the Drawing Room fireplace is one of three 'painted on purpose' to surmount the Dining Room doors. The best bedchambers were hung with 'Indian' papers, in one case specified as 'cut out Indian papers', as at Saltram (Fig.260).
Lady Midleton herself worked several of the carpets and we learn that she 'intends working chairs'; but for the principle rooms she was recommended. probabley by Chambers. 'to go to Moore's manufacture near Moor Fields'.