Gallery
Gallery: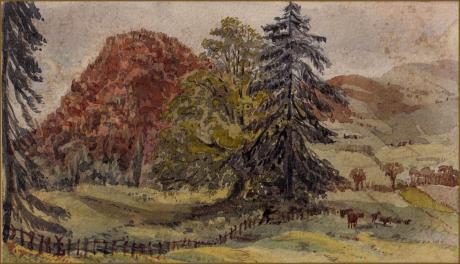 E.T. L., 19th Century
View from Henllys Manor House Cilycwm, Llandovery, Carmarthenshire, 1878
Signed/Inscribed:
inscribed on the mount " View from Henllys Carmarthenshire"
pencil and watercolour
10 x 17.50 cm
Notes
Henllys Manor House is a fine example of a manor house of considerable character dating from the 16th Century and a now well preserved house of early Georgian style circa 1825 to 1830. Originally owned from the early 16th Century by the Lewis family of Morgan Gwal Y Ci then in 1788 to 1815 the property was occupied by Colonel David Williams of the East India Company whose wife is said to have buried her jewels within the grounds of the estate, which to this day, have never been found. Colonel David Williams nephew, William Jones occupied the property from 1815 to 1850 then to another nephew, David Thomas from 1850 onwards. From 1919 the property was rented by Rev Constable and sold to Ken Williams in 1945 until the family purchased the property in 1978 and have lovingly maintained the property since. The estate was finally split in 2015.
Henllys is a hamlet on the west bank of the River Towy in the parish of Cilycwm in Carmarthenshire. It is found a mile and half north of Llandovery. The name 'Henllys' means "Old Court". Circa 1825-30 remodelling of an earlier house, possibly late C17 or early C18. Owned by Lewis family from C16 to mid C18 and then various owners. Colonel David Williams owner 1788-l8l5. William Jones JP d1844 and his son David Williams d1861 are commemorated in the parish church, William Jones probably rebuilt the house. Owned by Thomas family of Brecon and rented out in earlier C20, Rev W. J. Constable tenant from 1917.
Colourwashed roughcast with two parallel slate roofs, low-pitched with four rendered end stacks. Two-storey, five-window long E front with flat boarded eaves. Formerly there were dormers in front roof. Hornless 9-pane sashes above and 12-pane below, centre tall door, half-glazed in big earlier C19 Doric porch with paired C20 stucco columns (replacing timber) and Greek cornice with triglyphs and mutules. N end has bargeboards and one first floor window. S end wall has single storey addition with hipped roof. Rear, probably built in two parts, has 12-pane sashes, in second bay arranged at mid-heights for stair lights. Doors between first and second window-ranges, and between third and fourth.
Earlier C19 plasterwork inside with square hall, elliptical arch to inner hall, which has similar arch to N to stair hall. Room to right of entry is opened out by two plainer (?later) arches into stair hall and two similar to stair hall. Piers have similar slightly Gothic plaster mouldings. Cornices with dentils and roundels. Inner hall has W apsed recess. Dog-leg stick baluster stair, possibly partly C18. Panelled shutters and 6-panel doors. Within the roof are the remains of a steeper pitched C17 or earlier C18 stone-tiled roof.