Gallery
Gallery: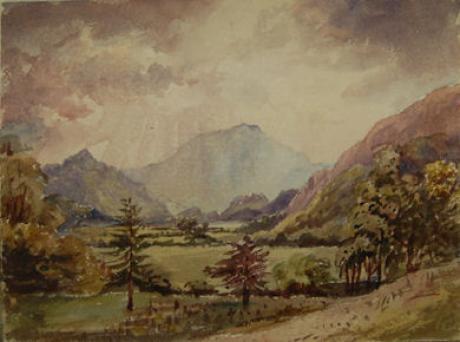 Rev John Louis Petit, 1801 - 1868
A View near Ullswater, Cumbria
A View near Ullswater, Cumbria
pencil and watercolour
26 x 34 cm. (10.1/4 x 13.1/4in.
Notes
Ullswater is the second largest lake in the English Lake District, being approximately nine miles (14.5 kilometres) long and 0.75 miles (1,200 m) wide with a maximum depth of slightly more than 60 metres (197 ft). Ullswater from Seldom Seen in Glencoynedale. Many regard Ullswater as the most beautiful of the English lakes: it has been compared to Lake Lucerne in Switzerland. It is a typical Lake District narrow "ribbon lake" formed after the last ice age when a glacier scooped out the valley floor and when the glacier retreated, the deepened section filled with meltwater which became a lake. A total of three separate glaciers formed the lake. The surrounding mountains give Ullswater the shape of an elongated 'Z' with three distinct segments (or 'reaches') that wend their way through the surrounding hills. For much of its length Ullswater forms the border between the ancient counties of Cumberland and Westmorland.The origin of the name 'Ullswater' is uncertain. Some say it comes from the name of a Nordic chief 'Ulf' who ruled over the area; there was also a Saxon Lord of Greystoke called 'Ulphus' whose land bordered the lake. The lake may have been named Ulf's Water in honour of either of these, or it may be named after the Norse god Ullr. Hodgson Hill, an earthwork on the northeast shoreline of Lake Ullswater may be the remains of a Viking fortified settlement. The village of Glenridding, situated at the southern end of the lake, is popular with tourists of all kinds but especially with mountain walkers, who can scale England's third highest mountain, Helvellyn, and many other challenging peaks from there. The village has ample accommodation including two Youth Hostels and camp sites. The village of Pooley Bridge is at the northern extremity of the lake. Its narrow 16th-century bridge straddles the River Eamont as it flows out of Ullswater; it is overlooked by Dunmallard Hill, which was the site of an Iron Age fort. Ullswater's attractions include the Ullswater 'Steamers' which offer trips around the lake calling at Pooley Bridge, Glenridding and Howtown. The 'Steamers' operate all year round and were originally working boats which from the 1850s moved mail, workers and goods to and from the Greenside lead mine at Glenridding, which closed in 1962. Today there are four 'Steamers' plying the waters of Ullswater: Raven, Lady of the Lake, Lady Dorothy and, since April 2007, Lady Wakefield. All the boats are now powered by diesel, with the two oldest, Lady of the Lake and Raven, having been converted from steam in the 1930s. People often catch the 'Steamer' from Glenridding to Howtown and then return on foot along the lake shore to complete one of the most popular and scenic low-level walks in the Lake District. Ullswater is very popular as a sailing location, with sailing marinas situated around the lake. At weekends especially, the lake is dotted with many yachts but there are facilities also for diving, rowing and motorboats. Another of Ullswater's attractions is the spectacular waterfall of Aira Force midway along the lake on the western side. (Ullswater lies partly within the National Trust's Ullswater and Aira Force property.) Close to the falls is Lyulph's Tower, a pele tower or castellated building built by a former Duke of Norfolk as a shooting box. Just south of Pooley Bridge on the lake's eastern shore is Eusemere, where anti-slavery campaigner Thomas Clarkson (1760–1846) lived; the house gives one of the best views of the lower reach of Ullswater. William and Dorothy Wordsworth were friends of Clarkson and visited on many occasions. After visiting Clarkson in April 1802, Wordsworth was inspired to write the poem "Daffodils" after seeing daffodils growing on the shores of Ullswater on his journey back to Grasmere. Wordsworth once wrote of Ullswater: "it is the happiest combination of beauty and grandeur, which any of the lakes affords".
Artist biography
John Louis Petit was born at Ashton-under-Lyne, Lancashire, son of John Hayes Petit. He was educated at Eton, and contributed to the "Etonian". He was elected to a scholarship at Trinity College Cambridge in 1822, graduated BA in 1823 and MA in 1826, and on 21st June 1850 he was admitted "ad eundem" at Oxford. He took holy orders in 1824, but undertook no parochial work. Petit showed a taste for sketching in early years. His favourite subject was old churches, and a great part of his life was spent in visiting and sketching them. In 1839 he made his first extensive tour of the continent. The results appeared in his "Remarks on Church Architectire" (1841, 2 vols which had illustratuions. It was followed in 1846 by "Remarks on Church Architectural Character" Royal folio format.In the same year Petit published a lecture which he had delivered on 24th Feb 1846 to the Oxford Society for promoting the study of Gothic Architecture, under the title "Remarks on the Principles of Gothic Architecture as applied to ordinary Parish Churches". It was succeeded by "Architectire of Tewksbury Abbey Church". Royal svo 1846. " Architectural notes in the neighbourhood of Cheltenham"and "Remarks on Wimborne Minster", 1847. "Remarks on Southwell Minster". With numerous good illustrations. 1848. "Architectural Notices relating to Churches in Gloucestershire and Susse". 1849. "Architectural Notices of the Curious Church of Gillingham.Norfolk". And an "Account of Sherborne Minster". 1850. In 1852 Petit published an account of Brinkburn Priory". In 1854 appeared Petit's principal work. "Architectural Studies in France", imperial SVO. It was beautifully illustrated with fine woodcuts and facsimiles of anastic drawings by the author and his companion, Professor Delamotte. It showed much learningand observation, and threw light upon the formation of Gothic in France, and on the differences between English and French Gothic. A new edition , revised by Edward Bell, FSA, with introduction, notes and index, appeared in 1890. The text remained unaltered but the illustrations were reduced in size, and a few added from Petit's unused woodcuts. In 1864-65 he travelled in the East and executed some striking drawings. He died in Lichfield on 2 Dec 1868, from a cold caught while sketching and was buried in St Micheal's Churchyard. Petit was the founder of the British Archealogical Institute at Cambridge in 1844. He was also FSA, an honoury member of the Institute of British Architects, and a governor of Christ's hospital.